Imagine this, you take your headphones off and they just mute automatically! Wait what.. isn't that awesome!
Yes, I'm talking about a headphone that automatically mutes when you take them off. And it is AKG Pro Audio K271 MKII.
Sale
Maybe you have heard about these headphones but just couldn't decide whether you should buy or skip.
Don't worry. Just go with the AKG K271 MKII. You wont regret it!
AKG K271 MKII Review: An Improved Studio Experience
I tried to cover all the functions and features of this headphone in this write-up. I hope there will be no question left in your mind about this headset after reading the whole article.
Well, at first, get an overview of this headphone in a flash.
At A Glance
Advanced Closed Technology.
Auto Mute Feature.
Self Adjusting Headband.
Special Design With Lowest Signal Bleeding.
Great For Studio Mixing.
Replaceable Earpads.
Great Noise Isolation.
Not Foldable.
Ear Cup Is Not Sweivling.
AKG K271 MKII is a closed-back professional studio headphone. This headphone is perfectly suited for the studio, live stage, home listening, and so on.
It comes with an auto-mute feature, which I will describe later as a special feature.
As a studio worker, I have to use different studio headphones all the time. That's why I couldn't miss the opportunity to use this AKG K271 MKII.
What's In The Box?
When I first got this headphone, I was too excited. I opened the box in a cheerful mode and was seriously surprised to see such a lot of accessories.
This headphone doesn't come with a carrying pouch, but it has a well-packaging.
In the box, you will see your desired..
AKG K271 MKII professional headphone.
Two audio cables.
¼ inches adapter.
A warranty card.
A user manual.
You will be happy to know that this K271-MKII also comes with two sets of extra ear pads.
One pair is velvet, and the other is leatherette.
Thanks, AKG, for providing extra earpads.
I have also included the cable details. Check it out.
Cable Details
AKG K 271 MKII comes with two detachable and replaceable cables. One cable is straight, and the other cable is coiled.
The straight cable is 3 meters, and the coiled cable is 5 meters when fully extended. Both of them use a 3.5mm audio jack.
These are very long for comfortable moving. Personally, I love the coiled cable.
This headphone is a totally wired headphone and doesn't support Bluetooth. If you want Bluetooth headphones, you may go with AKG K371BT headphones.
Before going deeper, take a look at the AKG K271 MKII specs and pros-cons.
Key Specifications
Headphone Type: Over-Ear, Closed-Back.
Connector: Wired/3.5 mm Audio Jack.
Frequency Response: 16Hz-28kHz.
Sensitivity: 104 dB.
Impedance: 55 Ohms.
Transducer Size: 50 mm.
Maximum Input Power: 200 mW.
Cable Type: Straight And Coiled.
Weight: 8.5 Ounces (240 Grams).
Color: Black.
Pros
Great Comfort.
Sturdy Build Quality.
Excellent Sound Reproduction.
Detachable Cables.
Cons
Bulky Design.
Uncomfortable Velvet Pads.
We know that it is a studio headphone, and you must need a comfortable headset to focus on your work. Right?
So, lets see how much comfort it can provide.
How Much Comfortable Is It?
These headphones will provide you a long time wearing comfort.
I was wearing this headphone for multiple hours and never felt any discomfort.
It only got a little bit hot.
Besides that, I didn't face any wearing fatigue or pain.
When you wear the velvet earpads, they will get sweaty after a few moments.
But the leatherette ones are way more comfortable. They are soft and thick.
The earcups are not large enough, and they might not fit in big ears.
It is extremely comfortable with thick pads and self-adjusting headband.
The headband is self-adjusting and well padded. It is perfect for most head sizes.
Whether your head is small or large, It will ensure the right fit and long time wearing comfort.
You can also wear glasses and even enjoy music lying on the bed with this headphone.
The clamping force is also superb. The soft earpads and headband provide the right fit and ensure a standard clamping force.
Right now, I am going to describe the sound profile of this headphone. You will find all the answers to your sound-related queries here.
Sound Profile
AKG K-271-MKII provides an excellent sound profile. It offers a pretty detailed and revealing sound. I felt the sound very neutral and crystal clear.
The frequency response is 16 Hz – 28 kHz, which is very well balanced for all genres of music. The total bass response is also superb.
It is very well-suited for audio engineers and regular listeners. The midrange and high are also very thin and muddy.
The soundstage is surprisingly enough, and it makes this headphone perfect for live usage. Besides, when you listen to the song, you will feel every tune sounding like listening to live music.
Overall the sound profile is excellent, and the audio engineers praise it a lot.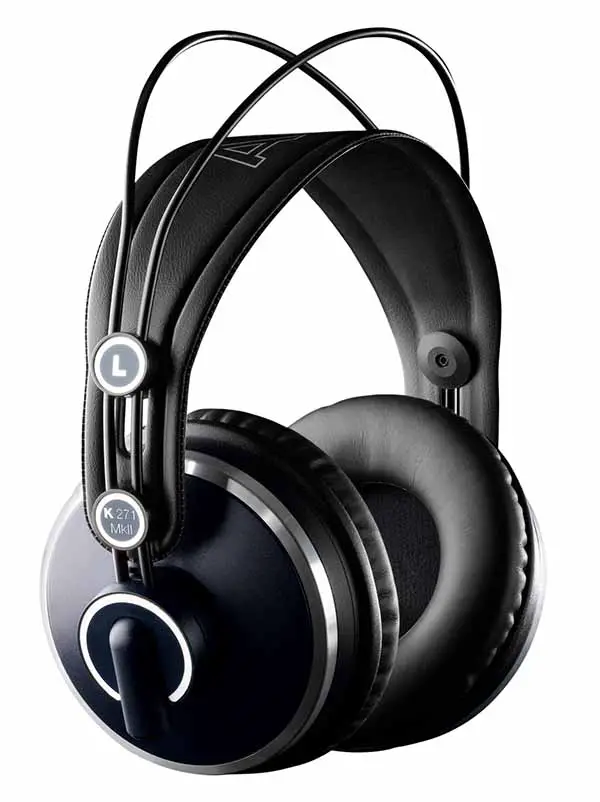 Does It Leak Any Sound?
The sound leakage performance is great. The K271 MKII won't leak any sound if you listen to moderate volume.
But when you are listening at a loud volume, it has a chance to leak a little bit of sound.
However, you can only notice the sound leakage when you are in a quiet area.
Noise Cancelling
AKG 271 MKII doesn't provide active noise cancelling features but provides great noise isolation. Because of its over-ear closed-back design, it can isolate a bit more ambient sound.
When you are in a noisy area, it can prevent unwanted background noise.
Its advanced closed-back technology provides exceptional isolation.
Are you curious about its control system?
Okay, I am not letting you be curious anymore.
Let's know it.
How To Control It?
This headphone doesn't have any controls buttons.
You have to get help from your device for controlling it.
Besides, it doesn't come with a mic too. So you cannot make a phone call by it.
If you want to get a headphone with mic and controls, you may check out Beats EP Wired Headphones.
Well, I will talk about the build quality and design now. Good build quality and an attractive design can sometimes force you to get that headset.
How Strong Is The Build Quality?
AKG Pro K271 MKII comes with a sturdy build quality. This headphone is made of plastic with an aluminum band around the edge.
The making materials are also very robust and durable.
I have been using this headphone for a long time. Still, it is good, but it seems like it will start to peel off very soon.
The headband is made from imitation leather and supported by two metal hangers. The headband and earpads are also very robust and can handle a few accidental drops.
But if your headphone gets damaged within two years, then nothing to worry!
AKG is committed to giving 2 years of hassle-free warranty.
Design
This headphone comes in black color. It looks a bit stylish but nothing special. I think the good look of this headset fades away because of its bulky appearance.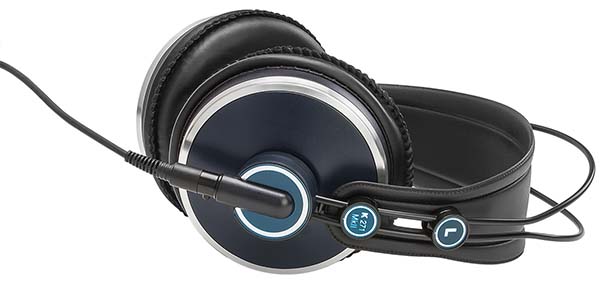 Portability and stability are also important facts to consider when buying a new headphone. However, sometimes you need to sacrifice one thing for another better one.
Is It Portable?
This is not a portable pair of headphones. Its weight is only 8.5 ounces. Though it is lightweight, it is not foldable.
You can't fold it into a compact format. It also does not come with a carrying bag. But if you have to carry it, you will need an extra bag for that.
How Much Stable?
AKG K271 MK II has great stability during casual listening. But it's not stable when doing intense workouts.
If you are doing heavy sports or works, it can slide off your ears and fall off. The long cord is also not suitable for heavy activities.
Is It WaterProof?
This is not a waterproof headphone, not even sweatproof. So never, wear it while swimming or taking a shower.
It is also not wise to use it where it has a chance to get dense sweat.
Water and heavy sweat can damage your headphone.
Anyway, I have said earlier that this headphone has a special feature.
Now it's time to reveal it.
Special Feature
This is the time to expose the special feature of AKG K271 MKII headphone's auto-mute feature. As I earlier said, this headphone is automatically muted when you take it off.
It mutes when there is no pressure on the headband. That means if the headband isn't on your head, then it will be totally mute.
It might also be mute if you get loose-fitting on the head. So when you need to mute your headphone just take it off your head.
Let's dig into its compatibility now.
How Much Compatible With Other Devices?
You know AKG Pro K271-MKII comes with a 3.5mm audio jack and ¼ inches adapter. They are very compatible with any devices that support these connections.
You can comfortably use this headphone with Windows 10, and Mac. It is also compatible with Android, iPad but not with iPhone. If you want to use it with iPhone, you will need a third-party dongle.
It is also compatible with a guitar amp.
Right now maybe a question arises in your mind, is it suitable for gaming or not?
OK, here's the thing, just jump below.
Is It Suitable For Gaming?
AKG K271 MKII is not a professional gaming headphone. Still, it is suitable for gaming. It is compatible with many gaming consoles.
It is great for pc gaming.
You can connect it with Xbox One, PS4, Nintendo Switch, and others. But you only can hear the audio.
You can never talk to other players as it has no mic.
This is a professional studio headphone, but how it performs for studio monitoring!
Maybe you are eagerly waiting to know that.
How Ideal For Studio?
AKG K271 studio headphones will be a great catch for studio monitoring or tracking. Its sealed design and maximum isolation are perfect for mixing and recording.
The closed-back and over-ear design provide a great sound reproduction. It is also comfortable for long-time studio monitoring.
Even if you do mixing for a long time, you can still focus on your monitoring.
Though it is a studio headphone, it can be used for various purposes too.
Therefore, I am going to reveal who should buy or skip it. Have a look here.
Who Should Buy This?
You have already known AKG K271 MKII is a professional studio monitoring headphone.
Besides that, this headphone is superb for audiophiles or audio engineers.
Are you looking for quality headphones for everyday casual or critical listening? You may also go with this K271 MK II headphone.
If you want a headphone for Pc gaming, it will also be your great choice.
Who Might Skip It?
Are you looking for a headphone for outdoor listening? Then you shouldn't buy it. It is also not for sports, gym, running, cycling, biking, skiing, etc.
You cannot use this headset for online teaching or classes. If you need a headset for online teaching, you may go with the Logitech H390 headset.
This K271MKII is also not suitable for official use or zoom meetings.
It is not ideal for traveling or commuting too.
Now, I am going to put a comparative discussion between This AKG K271 MKII and other headphones. It will help you to understand well.
Compare With Other Headphones
To know the difference between AKG K271 MKII and other headphones, go through the below section.
1. AKG K271 MKII VS. K240 MKII
AKG K271 MKII is a closed-back headphone, while K240 MKII is a semi-open back headphone. Both are similar performing headphones.
The K240 MKII provides an advanced 30mm XXL transducer with Varimotion Diaphragms.
The K271 MKII provides an auto-mute feature, but K240 MKII doesn't provide it.
Both make the same type of performance in the studio.
2. AKG K271 MKII VS. Beyerdynamic DT-770 Pro
AKG K271 MKII and Beyerdynamic DT 770 pro are both over-ear closed-back professional headphones. Both are similar performing headphones for studio monitoring.
DT 770 pro comes with an attached coiled cable, while K271 MKII has detachable coiled and straight cables.
The DT 700 Pro provides a more advanced and impressive sound volume than K271. In the case of sound, the DT 700 Pro is better than AKG K271 MKII.
3. AKG K271 MKII VS. Audio-Technica ATH-M50X
AKG K271MKII and ATH-M50x are both closed-back headphones for studio monitoring. ATH-M50X is a well-known studio headphone.
Though both headphones provide almost the same features, M50x is better for studio monitoring.
It provides an exceptional clarity of sound. Both provide great sound isolation and come with detachable cables.
4. AKG K271 MKII VS. Audio Technica ATH-M40X
Both are studio monitoring headphones. K271 MKII is a better headphone than ATH-M40x for studio monitoring.
But ATH M-40x is a budget studio headphone.
ATH-M40x provides 90-degrees swiveling earcups but K271 MKII doesn't offer it. However, K271 MK-II has sturdier build quality than ATH-M40x.
Do you have a plan to purchase this K271-MK-II headphone?
Then you need to know it will be worthy or not.
How Worthy Is it?
AKG Pro Audio K271 MKII channel studio headphones are an excellent pick for studio monitoring. It comes with all legendary features that will improve your listening experience.
For home listening to live listening or monitoring, it is a perfect set of headphones. And it does real justice to it.
It allows you to listen clearly to the live mix with exceptional sound isolation.
Comparing this headphone with its price, I must say it is worth buying.
I hope you have gone through the entire review. But don't you want to choose it?
Then you can go for an alternative. See the following segment.
Alternative To AKG K271
Here is a list of some alternatives.
They are all studio headphones and provide very similar features to K271 MKII.
Conclusion
Finally, you have got an honest idea from my AKG K271 MKII review.
I hope it will play an important role in your ultimate decision-making. So now you can go with your right decision.
If you think it is ideal for you, you can take it; otherwise, you can skip it. I always honor your right decision.
Thanks For Reading This Article.