Are you going to purchase a pair of AKG K371 wired headphones? Indeed someone recommended this headphone to you, or you are a fan of AKG.
Sale
However, maybe you have no clear idea about this headphone and you are worried about whether it will be worthy or not.
Don't worry. Today I am here with my AKG K371 review.
Firstly I want to say, AKG K371 is a great pair of headphones for everyday listening or studio monitoring.
I have been working in a studio for a long time. Therefore, I am going to share my experience with you about these AKG K371 Studio headphones.
Before going to the review, let's know about the AKG brand in brief.
Brand Overview Of AKG
AKG is a well-known, traditional brand for the headphones world. It is an Acoustics engineering and manufacturing company.
AKG was founded in 1947 by Dr. Rudlof Gorike and Ernest Plass in Vienna, Austria.
It is a part of Harman International Industries and a subsidiary of Samsung Electronics.
Now it is one of the most prominent players in the world of sound.
At first, they start their journey with the microphone. Their first headphones came on the market in 1949.
AKG headphones and microphones have a long history in the studio with international musicians.
This company received the prestigious Technical Germany Award in 2010.
In 2017 they transferred their Vienna facilities ( headquarters, manufacturing, and engineering ) to California, USA.
However, AKG K371 headphones were released in 2019. At that time, I bought this K371 headphone for my video editing purpose.
I ordered this headphone online. Now I am going to share with you what they delivered in the box with the headphone.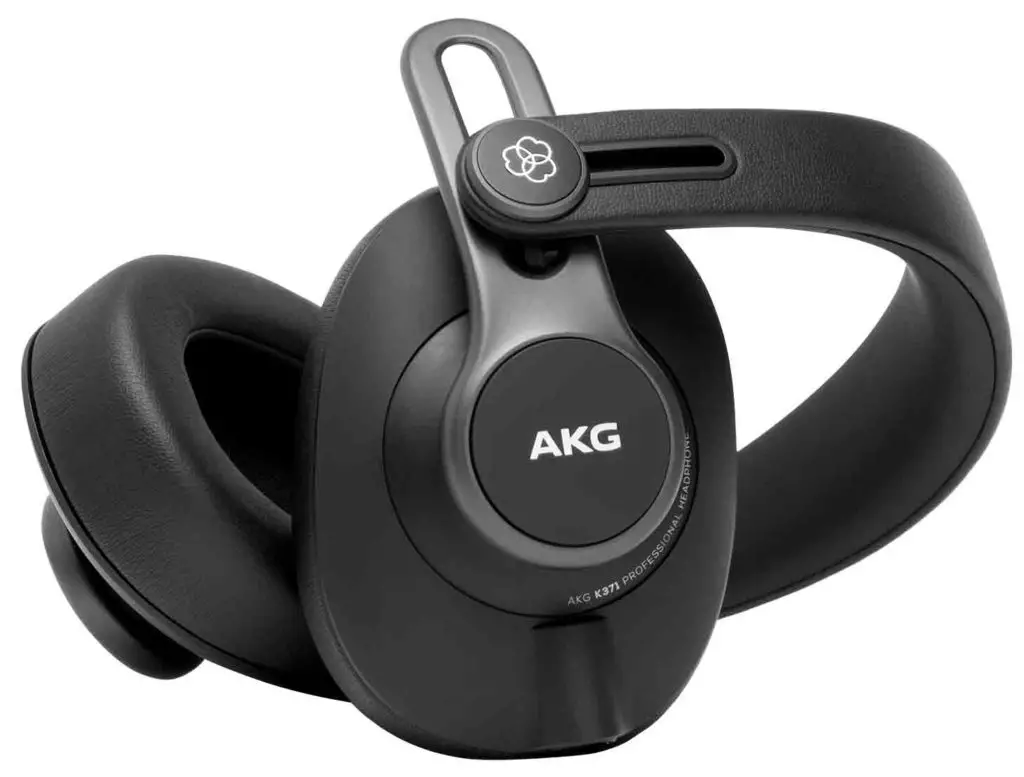 In The Box
When it came to me, I was very excited. Oh! Again I get a new pair of studio-style headphones.
The AKG K371 comes with a basic cardboard box. I opened the box with a smiley face.
I saw a closed-back, wired headphone in a carrying pouch.
The carrying pouch is gray in color and very soft. It is well made and has a cinch top to keep things from getting inside. It is enough to protect your headphone.
The pouch is waterproof. It can protect your headphone from water damage.
Moreover, this headphone comes with three detachable cables.
Now know about the cables in detail.
Cable Details
AKG-K371 provides three cables varying in length and design. All three cables use a 3.5mm jack.
Two of the cables are straight; one is around 1.2m, and the other is 3m.
The last cable is also 3m but coiled. Sometimes I used this coiled cable when sitting on a desk, and a little more stretch was needed.
The headphone input is a mini XLR, but the included cables are adapted to a standard 1/8″ plug on the other end.
Now I am going to reveal the features of this AKG K-371 headphone with their key specs and pros and cons.
Features Of AKG K371
The AKG K371 is a closed-back, over-ear headphone. It is intended for studio use and audiophile listening.
I want to mention one thing; if you want Bluetooth or wireless headphones, it is not for you. This k371 is totally a wired headphone.
However, you may go for AKG K371BT wireless Bluetooth headset in that case.
AKG K371 is superb for every day listening. This headset is known as the "Harman Curve."
Harman curve is a target of frequency response, which makes a pair of good headphones.
Harman Curve feature provides extra bass and treble to be more like speakers in a room. The frequency response target entirely matches the AKG K371.
That's why you will get an excellent listening experience with this AKG Pro-K371.
Now let's see their key specification.
Key Specifications
Type: Closed-back, Over-ear.
Frequency Response: 5Hz – 40KHz.
Impedance: 32 ohms.
Sensitivity: 114dB.
Weight: 255gm. ( 9 ounces ) Without cable.
Connector: Mini-XLR / 3.5mm jack.
Require Headphone Amp: No.
Adapter Screw: On 6.3mm adapter.
Pros
Excellent Sound Quality.
Comfortable With Or Without Glasses.
Good Variety Of Cable Sizes.
Swiveling Ear Cups.
Cons
No Mic.
Earpads might be small, depending on the user's ear size.
Let's see at once how much comfort this headphone can provide.
Are They Comfortable?
Usually, it is always tough to get good comfort with Closed-back headphones. Cause very often, their headband does not provide enough padding, or the ear pads are small.
But in the case of AKG K-371, it is reasonably comfortable.
It has plush ear cups with thick and soft padding. The earpads themselves are foldable up to 180 degrees.
The soft foam earpads also very comfortable for those who wear glasses.
Sometimes I wear this headset with glasses for a long time without feeling fatigued.
Though the earpads are over-ear, they don't take a lot of space. Their length is decent, but the width can be problematic for large ears.
Large ears may get hot. Besides, there is also a chance of sweating in case of tight-fitting.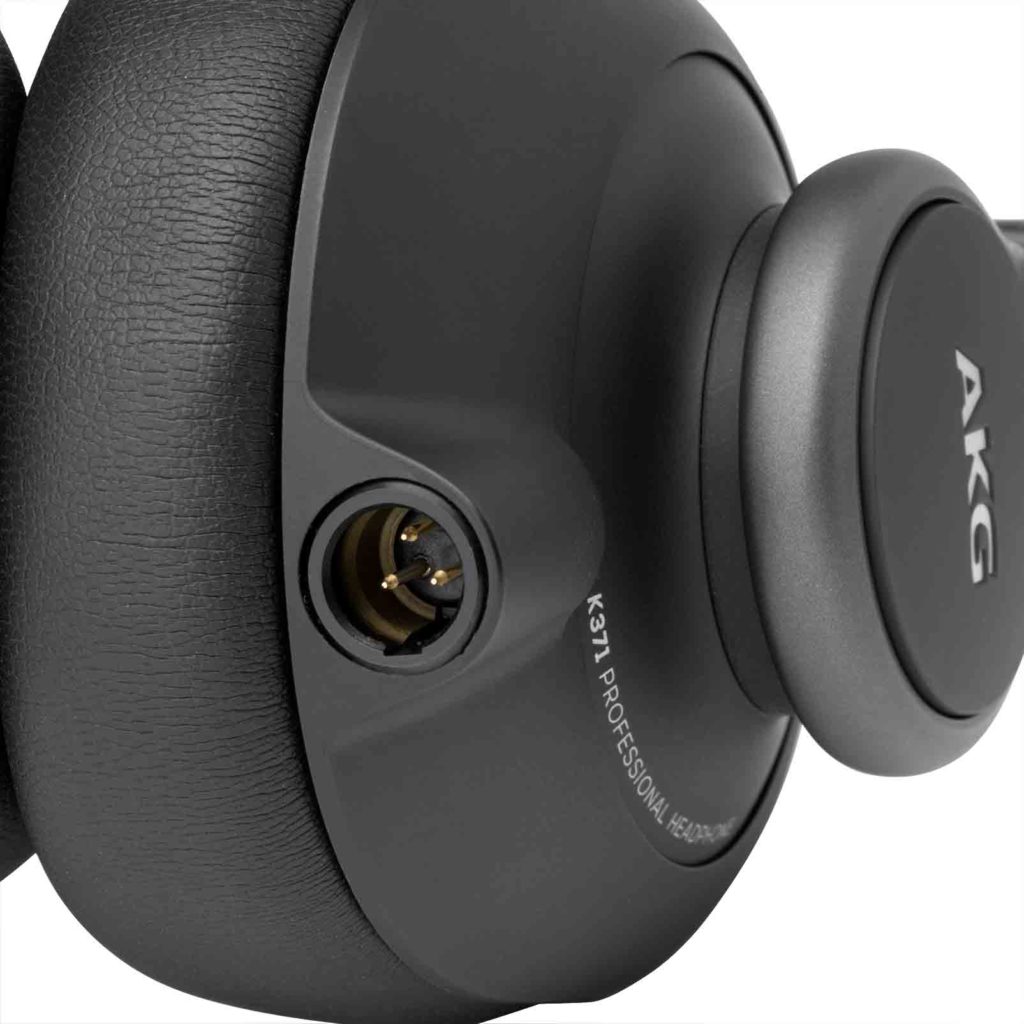 However, it is an issue for larger ears. In this case, if your ear size is large, you can check Audio Technica ATH-M60x. It is perfect for any ear size.
Come to the headband now.
The headband has a good amount of padding. It is made of steel and attached to a plastic adjustment piece.
The headband will be fit for most heads with a comfortable clamping force.
You can expect this decent clamping force only from a good pair of studio-style headphones.
Since the headband is adjustable, I have not felt any discomfort during my long time of wear.
One of the most essential parts of a headphone is its sound profile. We will explore the sound profile of K371 now.
Sound Profile
As I mentioned earlier, the AKG K371 is tuned to match the frequency response target of Harman Curve Research. So, there shouldn't be any question about its overall sound profile.
The AKG-K371 provides a neutral and well-balanced sound profile. It is suitable for all genres of music.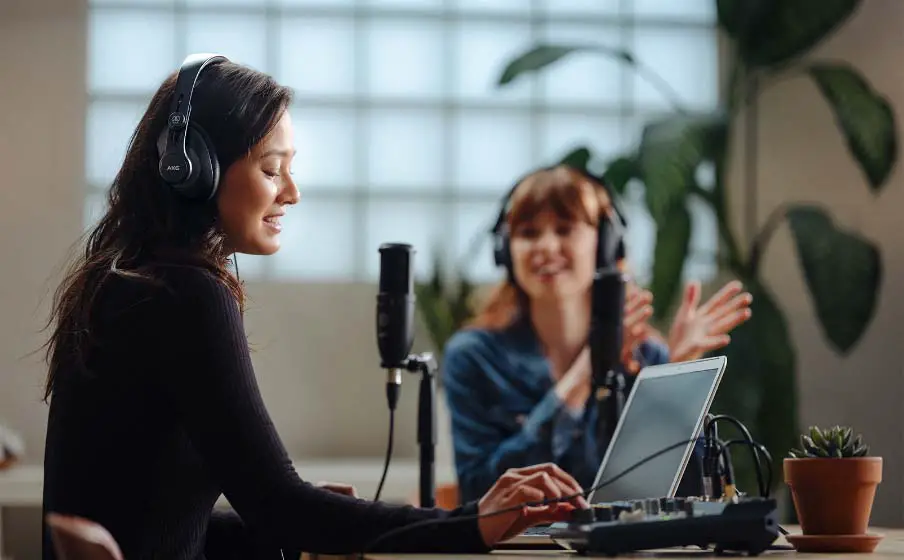 It has 50mm drivers and a dynamic transducer with pure OFC voice coils.
Let's know the details of its sound profile step by step.
Frequency Response
The frequency response of AKG K371 is 5Hz – 40KHz. Generally, this is a great frequency response for a point of 50mm dynamic drivers.
It can produce heavy metal, rap, and acoustic music with great accuracy.
Bass Accuracy
The bass accuracy of AKG Pro-K371 headphone is superb, with an emphasis on the sub-bass rather than the mid-bass.
I find the bass very clear and enjoyable.
But if a quality fit and seal are not achieved, your experience may vary.
Mid Accuracy
The K371 is also accurate in the mid-range. It provides a good amount of lower mids and higher mids.
If I compare this mid-range with ATH-M50x and DT770 Pro, both seem to be the same. But when comparing with other closed-back, I personally preferred the mid-range tonality of k371.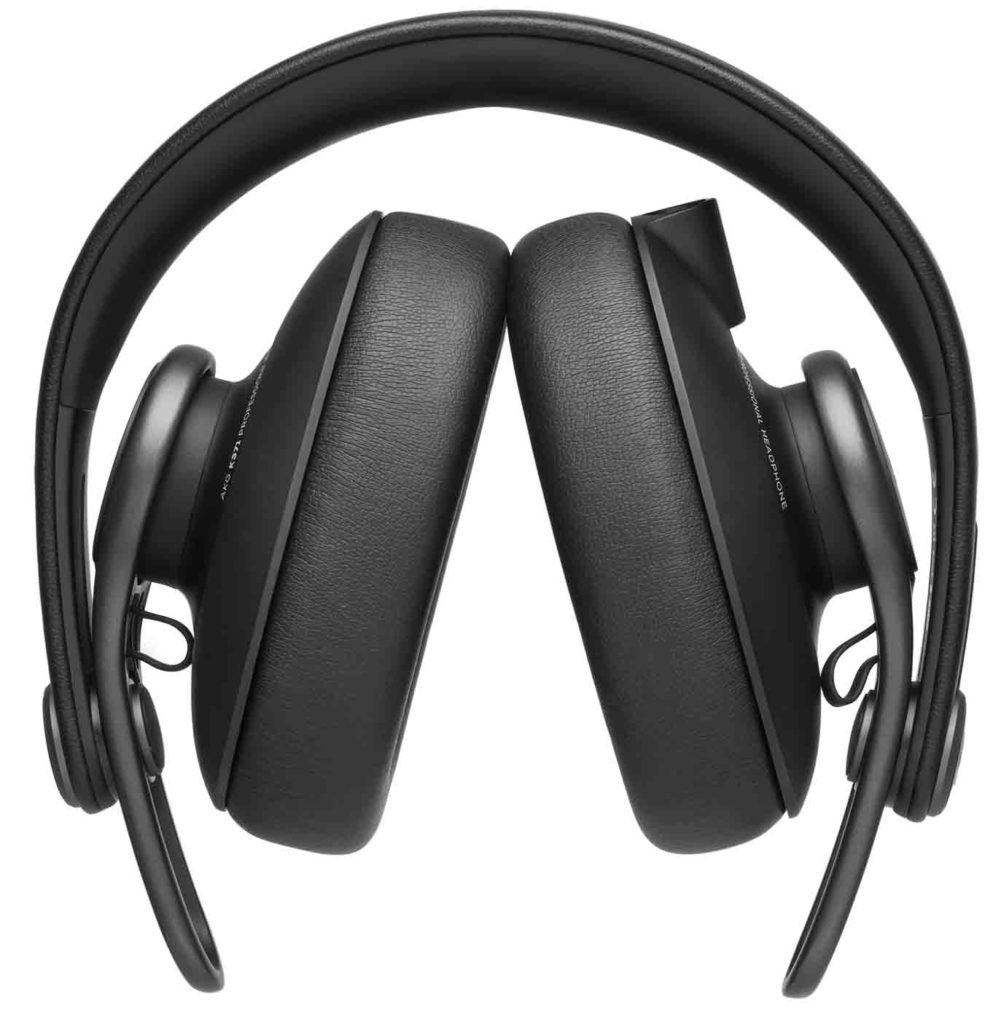 Treble And Low Range
The treble accuracy of k371 is excellent. It is very smooth and non-intrusive.
I find it is very impressive for a closed-back to have this accurate tunning.
The mid-treble and upper treble feels slightly deep-set to me. It may please most people, though.
The low accuracy is pretty excellent too. So, I have no complaint.
Soundstage Accuracy
Like other closed-back headphones, the AKG-Pro-K371 also has a sub-par soundstage. The soundstage is not so wide and impressive.
However, I can say it is better than Beyerdynamic DT770 Pro.
Sound Leakage
The AKG K-371 headphones leak very little sound. Most of the sound leakage will be thin-sounding.
It is not a significant problem, though.
You can turn your music loud in most environments without bothering people around you.
Noise Cancelling
The AKG K371 headphone doesn't have Active Noise Canclling features. It can not block out the background noise.
If you want noise-cancelling headphones, you can go for AKG N60.
Microphone Feature
The AKG Pro-K371 headphone does not have a microphone. If you want a headphone with mic, you may look at Sony WH-1000XM4 with mic.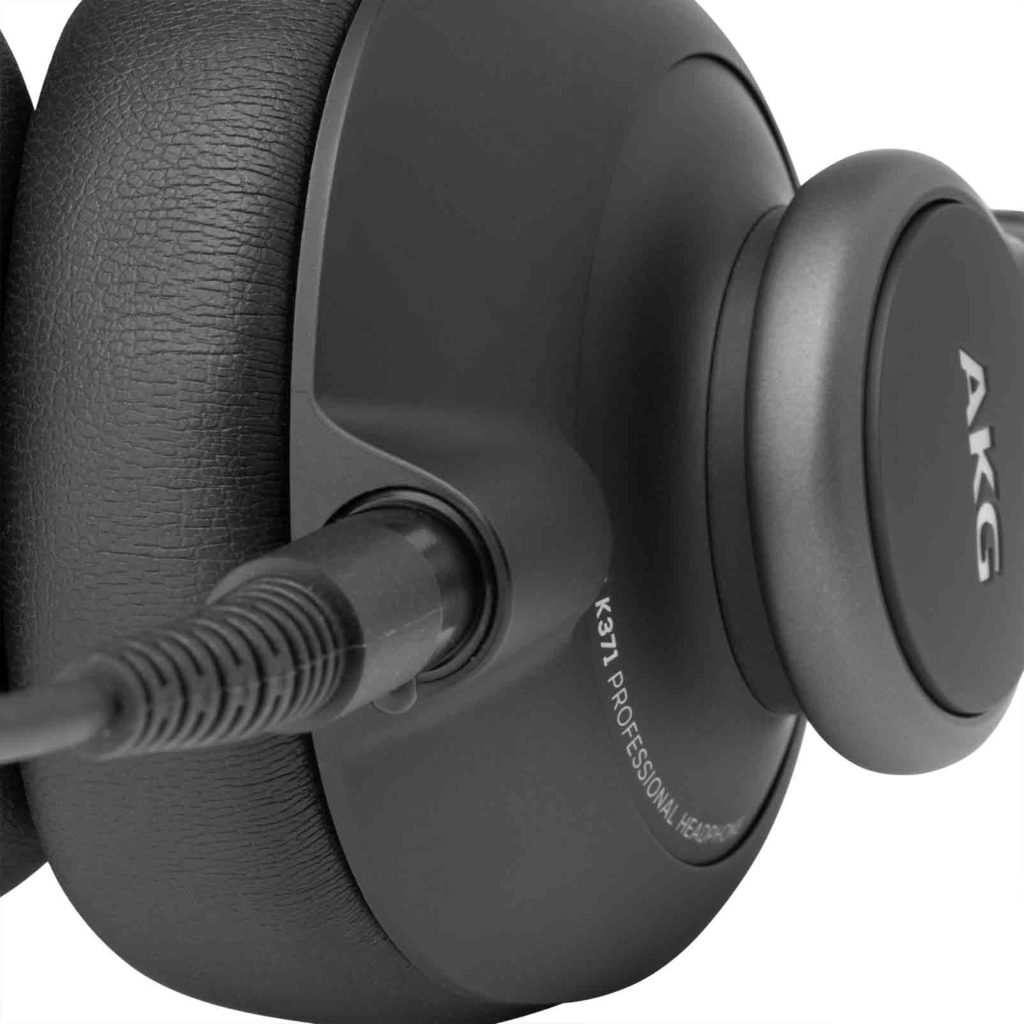 From here, you will get to know about its build quality, design, portability, and stability. Stay with me and know the details.
How Strong Is The Build Quality?
The AKG K371 headphone is not sturdy enough.
They are mainly plastic-made. There are some metal and synthetic leather touches, which make it a bit more premium.
The earpads are made of synthetic leather, and the inner headband is made of rubber.
I am using this headset for a long time. Still, it is pretty good. But it seems to me that it will start to peel off very soon.
Portability
The weight of this headset is 255 grams.
You can carry it easily with its carrying pouch.
However, it is not portable enough to carry anywhere.
It is neither so lightweight nor so heavy.
Stability
The stability of AKG K371 headphone is not good. There is a chance of sliding off from the ears easily, even during a light jog.
That's why this headset is not recommended for more tough uses, like at the gym.
Design
The AKG-K371 headphone has not been designed with a focus on looks. It is specially made for studio monitoring.
This over-ear, wired headphone comes with a fairly retro look with some modern elements. It has a similar look to the Sennheiser Momentum 3.
Is It Waterproof?
The AKG K-371 wired headphone is not waterproof and also not sweatproof.
Therefore this headset is not for swimming. Also, don't use it in a heavy workout where there is a chance of sweating.
You have already known a lot about this headset.
Are you curious about its compatibility?
If so, then look below.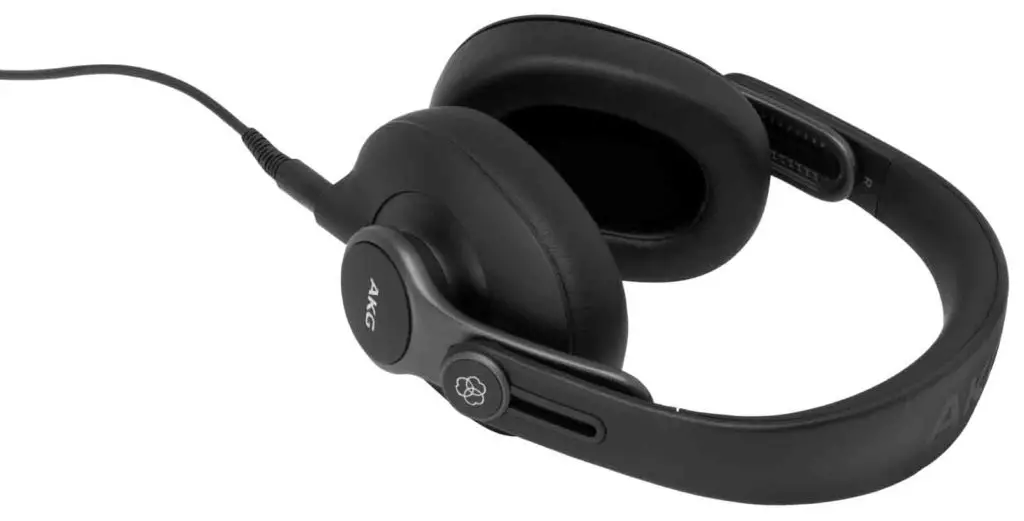 How Much Compatible Are They?
You know this K371 headphone has no microphone. That's why you can not properly use it for PS4 and Xbox one. .
You can use this headset with a PS4 or Xbox One by plugging them into the controller.
But unfortunately, you can only use it for audio. You won't be able to talk with other players.
You can also plug it into your pc through the 1/8″ port for audio.
Is It Suitable For Gaming?
The AKG K371 is good for gaming but not excellent. You can play games and hear superb loud audio.
As there is no mic, you can not talk to other players.
However, if you don't need to talk with others, it will be okay for gaming.
Well, I have already said that AKG-K371 is a studio headphone. So, let's know some more about this topic.
How Much Suitable For Studio?
This AKG-K371 headphone is ideal for studio monitoring. You can use it for studio monitoring with a creative mode. This headphone is also great for voice over.
As it is a closed-back headphone, the AKG K371 is not ideal for mixing.
So for mixing, you may go for Beyerdynamic DT990 or AKG K701.
This headset has no mic, so it is not suitable for recording also. You may go with Sennheiser HD280PRO Headphones for recording purposes.
Who Should Get The AKG K371 Headphone?
This K371 headphone is perfect for musicians and sound engineers for studio monitoring.
Content producers and video editors can use this headset too.
I use this headset for video editing, and it never makes me frustrated.
It is also very suitable for audiophile listening. Additionally, if you wear glasses, the AKG K-371 will be a great pick for you.
Who Might Skip It?
The AKG K371 is not excellent for traveling, but it should be okay. If it had ANC mode, then it would be suitable for traveling.
It is also not ideal for sport, gym, or heavy work out.
Because of the lack of a mic, this headset is not perfect for a phone call, online classes, or zoom meeting.
Well, you have got a vast idea about almost all the features of this AKG Pro K371 headphone.
Now, I want to put a comparative discussion between this K371 and some other headphones for your better understanding.
Go through my below segment to explore that.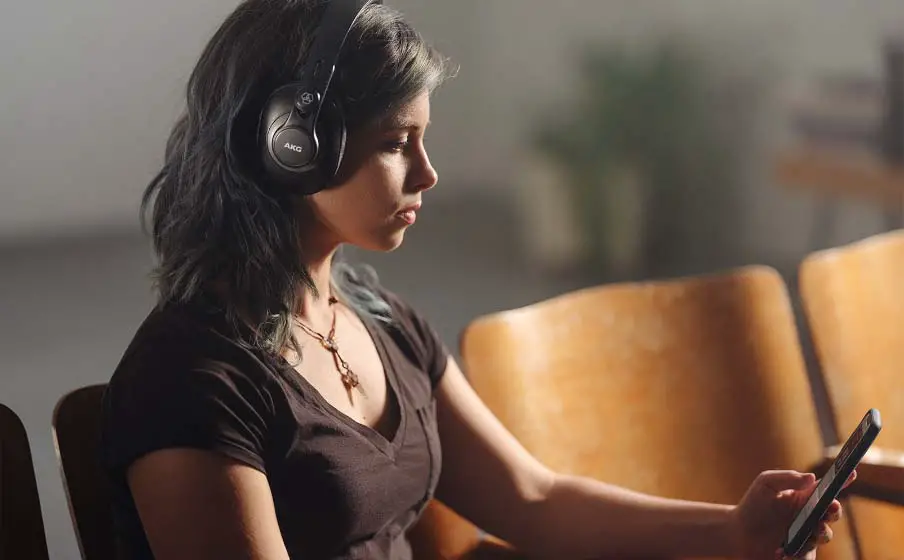 Compare With Other Headphones
I will compare our AKG K371 headphone with K361, K271, K371BT, K702, Sony MDR 7506, ATH M40x, and Sennheiser HD600 one by one.
1. AKG K371 vs K361
There is no major difference between AKG K371 and K361. Both provide the same features, and both of them are dynamic for studio use.
2. AKG K 271 vs K371
The AKG K271 is also a studio-style over-ear headphone like k371. There are no key differences between them.
However, the k271 comes with Advanced Closed-back Technology, including an Auto-mute switch. You won't find this feature in our K371.
Its frequency response is 16Hz-28000Hz, while the frequency response of k371 is 5Hz-40kHz.
3. AKG K371 vs K371BT
AKG K371 is a totally wired headphone, while K371BT is a wireless Bluetooth headphone including a wired feature.
K371 is a comfortable headset with a lovely headband.
In contrast, the headband of k371BT is a big issue. It is not enough to survive someone's wear and tear.
But the mid-range of k371BT headphone is superior to k371.
4. AKG K371 vs K702
The K702 is an over-ear, open-back headphone, while k371 is a closed-back one.
The k371 is ideal for everyday listening, but k702 is not good enough for everyday casual use.
The open-back design of the K702 leaks more sound, and it may cause distraction.
5. AKG K371 vs Sony MDR-7506
The AKG K371 is a better over-ear studio headphone than the Sony MDR-7506. The k371 has a more accurate and well-balanced sound profile, and it leaks less sound.
On the other hand, the frequency response of MDR-7506 is more consistent than our described headset.
Moreover, it feels slightly more stable on the head, and its portability is also better than our AKG K371.
6. AKG K371 vs ATH M40x
ATH M40x headphones are slightly better than AKG K371, depending on their price point. The M40x is good for tracking and mixing, while k371 is not good for that.
The K371 comes with three detachable cables, while m40x has two detachable cables.
Besides, ATH M40x is more suitable and perfect for studio monitoring than AKG Pro K371.
7. AKG K371 vs HD600
Sennheiser HD600 is over-ear, open-back headphones. For its open-back design, it leaks more sound. In this case, k371 is safe.
The ear cups of the HD600 headset are suitable for any ear size, but k371 may not fit in large ears.
If you consider sound quality and comfort, there is no significant difference between them.
Right now, you have got a clear idea, why AKG K371 is different from others.
Are you still confused about whether to buy it or not? Maybe you are thinking, will it be worth buying?
Okay, don't get confused. I am going to remove all your confusion. Have a look here.
How Worthy Is It?
The AKG Pro Audio K371 is a very well-balanced, over-ear headphone. It provides you accurate sound reproduction.
It is very suitable for a wide range of music genres and content. This wired headset is decently comfortable and fairly well-made with a premium look.
The K371 is worth buying for its price point.
Overall, if you want a pair of headphones for listening to music at home or studio monitoring, the AKG k371 will be the right choice for you.
Still, you don't want to buy this headphone!! Well, no problem. It can happen.
In that case, I have some alternative options for you. You can pick one of them as an alternative to AKG K371.
Alternative To AKG K371
Here are some alternative headphones:
All these four headphones provide almost similar functions and features to our k371 Pro.
Now the choice is yours.
Conclusion
Finally, you have got a clear idea from my AKG K371 review. I explained all the features of this headphone with its good and bad side.
As I am using this headset for a long time, I gave this review from my own experience.
So from this review, if it seems to be perfect for you, you can choose it. Otherwise, you can skip it.
I always respect your choice.
Thanks For Reading This Article.