Do you need a headset for everyday outdoor listening but also want something maybe a bit flashy?
Then you will be glad to know that AMORNO Wireless neckband Sport headset comes with a stylish design to fulfill your need.
Maybe you've heard about this neckband headset before. But you might have a bit of confusion about its overall performance.
I'm here today with AMORNO Foldable Wireless Neckband headset review to ease all of your confusion. Just read through the whole review; all your confusion will melt into the air.
Have you ever heard about the AMORNO brand? Let's know about it in short before starting the review.
Brand Overview Of AMORNO
AMORNO is an innovative technology enterprise. It was founded in 2011.
They are focusing on high-end Bluetooth earphones, health & sport, and smart home ecological chain construction.
"Bring Technology Fun To Everyone" is AMORNO's vision.
Anyway, now get ready to explore my review.
AMORNO Foldable Wireless Neckband Headset Review: A Multi-Purpose Budget Headset
At the very beginning, I would like to mention the important features of this headphone. See them in the blink of an eye.
At A Glance
Retractable Earbuds.
Foldable And Stylish Design.
CVC6.0 Active Noise Cancelling Technology.
Multi pairing ( 2 Devices At A Time).
Vibration Reminder.
Not Waterproof, Only Sweatproof.
Doesn't Provide Fast Charging.
AMORNO In-ear Bluetooth Earphone is a decent foldable neckband headset for everyday listening. It plays an upstanding performance at an affordable price.
This headset comes with auto-retractable earbuds that I will describe later as a "Special Feature."
Before taking a deep dive into the review, let's know what they deliver with the headphone.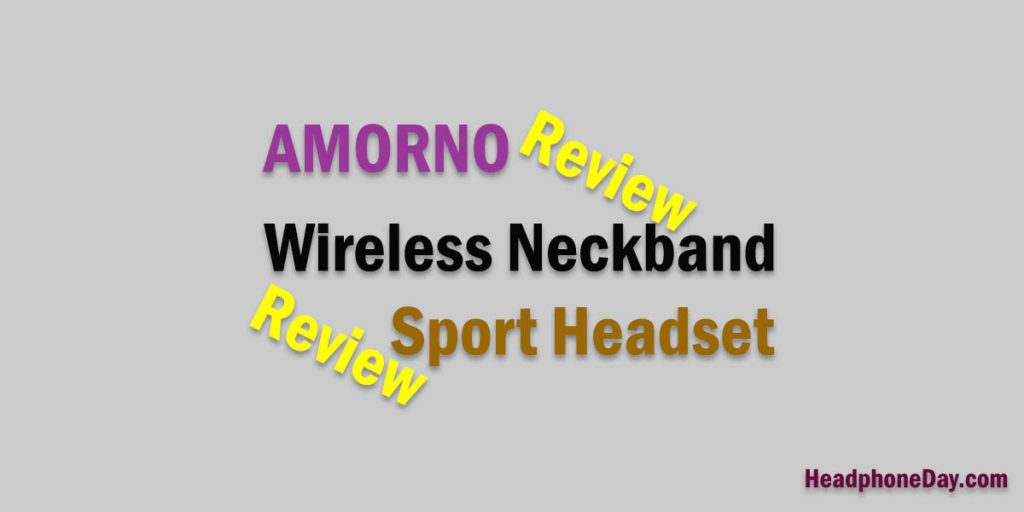 In The Box
I ordered this neckband headphone online. When I received the box, I was so excited. I unsealed the box with a smiley face and saw a slightly matte finish carrying pouch. My headset was in that pouch.
In the box, there were my desired…
AMORNO Neckband headset.
Two pairs of extra earplugs.
A USB charging cable.
A warranty card.
A user manual.
The manual helps you to use this headset properly.
Besides these, this headset doesn't provide any extra accessories.
AMORNO neckband headset is a totally wireless earbud with a Bluetooth connection. It doesn't support any wired connection.
Now let's see AMORNO Foldable Bluetooth Headset specs and pros-cons at a glance.
Key Specifications
Headphone Type: In-Ear.
Connector: Wireless/Bluetooth.
Bluetooth Version: 4.1
Wireless Range: 10 Meter.
Frequency Range: 2.402 GHz-2.480 GHz.
Battery: Lithium-Polymer.
Charging Time: 3.5 Hours.
Music Time: 10 Hours.
Talk Time: 12 Hours.
Standby Time: 180 Hours.
Weight: 2.56 Ounces.
Color: 3 Colors (Rose Gold, Black, Gray).
Pros
Great Comfort.
Stylish Design.
Strong Battery Life.
Lightweight And Portable.
Relatively Affordable.
Cons
The Wire Is Thin.
Mic Can't Reduce Background Noise.
Are you worried about its comfortability? Don't worry. This AMORNO neckband headphone is a comfortable pair of headphones.
How Much Comfortable Is It?
Like other neckband headphones, AMORNO Wireless Headset provides enough comfort when wearing it for a long time.
This headset will fit perfectly in your neck and decrease the pressure on your ears.
You know it comes with extra two pairs of earplugs so that you can find the perfect fit for you.
The earplugs are very soft and never hurt you when wearing them for extended hours.
The neckband itself is also rubberized and never puts any pressure on the neck.
It also provides great comfort when wearing it with glasses. But as it is a neckband style headphone, it may not be comfy if you want to listen by lying.
Here comes the most important part. The sound profile!! Are you curious to know the details of it?
Then look below.
Sound Profile
The sound profile of AMORNO Bluetooth headphones is not great enough like other expensive neckband headsets. But if you think about its price range, it is excellent.
It provides you quality stereo sound.
I felt the sound is clear and crystal.
It also offers super bass and mid accuracy. The treble and low accuracy are somewhat superb at this price range. The frequency response is also suitable for all genres of music.
Overall the sound profile is pretty acceptable.
Does It Leak Any Sound?
The sound leakage performance of AMORNO wireless neckband is decent. This in-ear headphone doesn't leak any sound when listening at a moderate volume.
But if you listen to a high volume, it might leak a little bit of sound.
Noise Canelling
The AMORNO Neckband headset is designed with CVC6.0 noise cancelling technology. It can actively reduce unwanted background noise.
However, it can't remove as much noise as they claimed. But it is moderately excellent at this price point.
When I was in a noisy situation, I could listen to music very loud and clear.  The background noise can't interfere with the sound.
Microphone Quality/Call Quality
This Foldable Wireless headset comes with a microphone. The microphone works very well.
You can enjoy crystal clear phone calls with it.
But the mic can't cancel ambient noise. When you are in a noisy area and call someone, your partner might hear all the background noise. This headset also has not mic mute feature.
It provides vibration reminder.
When a phone call is coming, this foldable headset will remind you with vibration. You will never miss any call, even if you are in a noisy area.
It's a positive thing about this headset.
Recording Quality
As this headset comes with a microphone, it is suitable for recording.
When recording the audio, the sound is very clear and understandable. The recording quality is also superb at this price range.
If you don't know how to control the AMORNO Foldable Wireless headset, let's know how you can do this.
How To Control It?
It has an easy controlling system.
On the right side of the earphone, you will see a power button, a volume slider bar. You will also see a button for receive/end phone calls, and you can pause the music by holding this button. 
Press the power button to on/off the headset.
Press the volume (+) button to increase the volume and hold for the next song. And press the (-) button to decrease the volume and hold for the previous song.
Now let's go for the building quality of this headphone.
Build Quality
The AMORNO Foldable Neckband headphone has a strong build quality. It is made of plastic and rubber.
The combination of the materials makes this headset enough sturdy and durable.
But the wire is very thin. It has a chance to be torn apart.
Be careful of this thin wire.
So, except for this thin wire, the making quality is quite strong.
How Is The Design?
It looks very stylish. The rose gold color makes this headset exceptional.
This headphone also has another two colors, black and gray. But the rose gold color looks very stylish to me.
If you don't like the rose gold color, you can pick from the other two colors. Their features are the same.
Now I will talk about its portability and stability.
Portability
The AMORNO Wireless Neckband headphone is foldable and lightweight. So there is no doubt, it is portable enough.
Its weight is only 2.56 ounces. This headset is more flexible and convenient to carry in your bag or pocket.
The attached pouch bag also makes it easier to carry.
Stability
This neckband headset is fairly stable. If you can get the right fit from the provided ear tips, you will never face any stability issues.
There is no chance to slide or fall off even when you will do heavy exercise. It always stays on your neck and ears.
Is It Waterproof?
The AMORNO Foldable headset isn't waterproof but sweatproof. You can do heavy workouts with it. The sweat can't damage it.
But it is not suitable for summing or shower time.
If you need waterproof earbuds, you may go with NANAMI Bluetooth Headset.
As I said earlier, it comes with retractable earbuds, and I considered it as a special feature. Now it's time to explain this.
Special Feature
As I earlier said, it comes with retractable earbuds, and I considered it as a special feature. Now it's time to explain this.
The retractable earbuds allow you to retract the wire to the length you want. Just pull the earbud to find your preferred length.
On the left side of the earphone, you will see the retract button. When not using it, just press the retract button. The earbuds will automatically be stored.
However, there is a limit to retract it. You can retract it more than 5000 times.
Well, it is a Bluetooth headset, but I haven't explained the Bluetooth yet. 
Are you worried about it? Just keep going through. You will find it in the below section.
Bluetooth Details
The AMORNO wireless neckband has fairly decent Bluetooth capabilities. It comes with Bluetooth 4.1 version and has an excellent wireless range of up to 10 meters.
This headset supports multi pairing, and you can connect two devices at the same time.
It doesn't support any non-Bluetooth connection.
The A2DP supports most of the standard audio codecs like SBC.
Right now, you have known about its Bluetooth capabilities. But do you know how to pair it with other Bluetooth devices?
I have included the pairing process too. Look here.
How To Pair It With Bluetooth Devices?
It is very easy to pair AMORNO Neckband headset with other Bluetooth devices.
-At first, turn on your headset.
-Press and hold the power button in 5 seconds.
-Then the headset promotes "pairing." You will see the LED Red and Blue indicator flashing alternately.
-Now turn on "Bluetooth" in your device setting, and you will see your headphone name.
-Click on this name, and your headset will pair with the device automatically.
NOTE: If it requires a passcode, enter "0000."
Now it's time to know about battery details. Maybe you are waiting for it.
Battery Details
This neckband headset comes with a powerful rechargeable lithium-polymer battery.
It provides you up to more than 10 hours of music time, 12 hours of talking time with a single charge. It also offers 180 hours of standby time.
It needs 3.5 hours to charge fully.
It does not provide fast charging or a USB Type C charger. If this headset got these features, I would be glad.
Right now, I am going to let you know about its compatibility. You may get worried about thinking that if you can use this headphone with your devices or not.
Compatibility With Other Devices
The AMORNO Foldable Bluetooth neckband headset has decent compatibility with most Bluetooth active devices.
It has superb compatibility with Windows 10 and Mac.
You can also use it with Android, iPhone, iPad, and other Bluetooth-enabled devices.
How Much Suitable For Gaming?
This is not a gaming headset as it can't pair with most gaming consoles.
If you want a gaming headset, you may go with HyperX Cloud Stinger Core Wireless Gaming Headset.
Well, you have already known a lot about this headphone. But do you think it is perfect for all purposes? No, it has some limitations too.
Therefore, I am going to reveal who can use this headset and who should skip it.
Who Should Buy This?
Those who need a headset for outdoor listening or phone calls can choose this AMORNO Foldable Headset.
If you want a headset for sport, gym, running, cycling, or other heavy workouts, it will be perfect for that.
This wireless Bluetooth headset is also great for online teaching or classes.
Do you need a headset for official use or zoom meetings? You may also go with this headset.
It can be a great pick for your traveling or commuting too.
Who Might Skip It?
Do you need studio monitoring headphones? The AMORNO Foldable is not for that.
As it is a neckband earphone, you must never want to use it for studio monitoring. If you want studio monitoring headphones, you may go for AKG Pro K371.
This headset is not suitable for audiophile listening also.
If you want a gaming headset, it won't be ideal for you.
Customer Support
AMORNO provides user-friendly customer support. If you face any quality issues or other problems, you can contact or message them. They will respond to you within 24 hours.
Now, I am going to put a comparative discussion between this AMORNO neckband headphone and other headphones.
You can have a better understanding in that way.
Compare With Other Headphones
If you want to know the difference between AMORNO Foldable headset and other headsets, let's go with the comparison.
1. AMORNO Foldable Neckband Headset Vs. BEARTWO Foldable Headset
AMORNO Foldable and BEARTWO Foldable both are neckband headsets with retractable earbuds. They do the same activities in most cases.
The BEARTWO provides 18 hours of talk time and 16 hours of music time with a single charge.
But the AMORNO Foldable headset provides 10 hours of music and 12 hours of talking time. Both are sweatproof and support multi-pairing.
2. AMORNO Foldable Neckband Headset Vs. Mpow Jaws Gen5
Both of them are neckband-style headsets for everyday listening and phone calls.
The Mpow Gen5 doesn't provide retractable earbuds.
But it provides V5.0 Bluetooth and CVC6.0 noise cancelling features. It also provides 18 hours of continuous playtime.
And it is somewhat more lightweight than AMORNO Foldable neckband headset.
3. AMORNO Foldable Neckband Headset Vs. Mpow Wings Foldable Headset
AMORNO Foldable and Mpow Wings foldable headset both are neckband in-ear Bluetooth headphones. Both headsets can be used for the same aspects.
But the Mpow Wings performs somehow greater than AMORNO Foldable Headset.
The Mpow Wings provides Bluetooth V5.0 and CVC6.0 noise cancelling with a mic mute feature.
4. AMORNO Foldable Neckband Headset Vs. Anker Soundcore Life U2
The Anker Soundcore Life U2 is a slightly better neckband headphone than AMORNO Foldable.
The Anker Life U2 is designed with CVC8.0 noise cancelling feature and IPX7 waterproof rating.
It also provides 24 hours of playtime with a USB C charging cable. It is also lighter than AMORNO Foldable Headset.
If you have a plan to buy this AMORNO wireless neckband sport headset, you need to know it will be worthy or not.
How Worthy Is It?
The AMORNO Bluetooth neckband headset works great from home listening to outdoor listening. The price is affordable too.
It is a multi-purpose headset with some great features.
It comes with a stylish design and gives you a superb wearing experience.
If you think of its price and its overall features, it will be worth buying.
After going through my review, if you think this headset is not ideal for you or want an alternative, then check the below section.
Alternative To AMORNO Neckband Headset
You can choose one of the following headphones as an alternative to our described neckband headphones.
All these three can be a great alternative to AMORNO Foldable Headset.
Conclusion
Well, you have got a vast idea about this neckband headphone from my AMORNO Foldable Wireless Neckband Headset review.
Now the decision is up to you.
If you think it is not perfect for you, you may choose an alternative. Otherwise, you can skip it.
I always honor your choice.
Thanks For Reading This Article.