It is a little hard to get quality studio headphones within a low budget. But Audio Technica makes this challenging thing very easy by providing ATH M40X.
Are you keen to purchase a headphone that will provide you with good value for your hard-earned money? Audio-Technica ATH M40X will be your ideal choice.
It is a renowned headphone with exceptional sound quality.
Do you want to know the details about this ATH-M40x?
Welcome! You have picked the right site.
Just go through my Audio Technica ATH M40x Review. All your confusion will melt away.
Okay, let's start.
At the very beginning, I am going to mention the important features of this headphone. See them at a glance.
At A Glance
40mm Drivers And Copper Clad Aluminum Wire Voice Coils.
90 Degrees Swiveling Earcups.
Cutting-Edge Engineering And Robust Construction.
Excellent Sound Isolation In Loud Environment.
Collapsible For Space-Saving Portability.
Design For Professional Studio Tracking, Mixing, DJ Monitoring.
Good Value For Money.
Audio Technica M40X is a closed-back over-ear professional studio monitoring headphone. It is mainly designed for studio musicians, DJs, and everyday casual listening. The price is relatively affordable too.
This high-performance headphone is tuned flat for incredible and accurate audio monitoring.
Audio Technica ATH-M40x was released in 2014.
As a big fan of Audio Technica, I purchased this headphone for my studio monitoring and using it for a long time.
Today I want to share with you how my using period was.
So before immersing yourself in the review at first, let's see how was my first impression.
What's In The Box?
It was a very mind-blowing moment when I first opened the box. My desired headphone was looking at me.
The ATH-M40x comes with a soft carrying pouch.
In the box, you will see…
Audio Technica ATH-M40x headphone.
Two detachable cables.
¼ inches adapter.
A user manual, and A warranty card.
Besides these, this ATH M40 doesn't come with any extra accessories.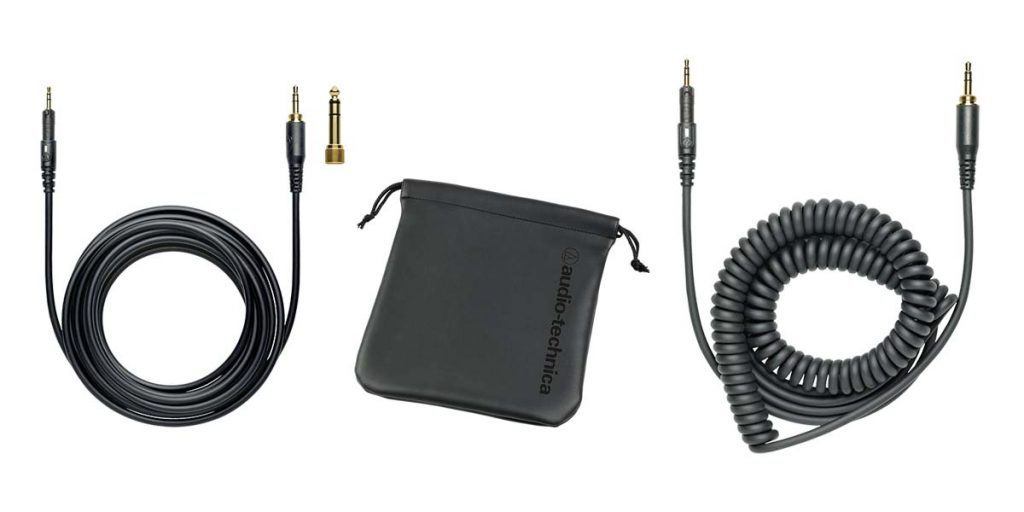 You will find the cable details below.
Check it out…
Cable Details
The Audio-Technica-ATH-M40x comes with two detachable cables. One cable is straight, and the other cable is coiled.
I personally love the coiled cable.
The straight cable length is 3 meters (9.8 feet). The coiled cable is 1.2 meters, but it is 3 meters when fully extended.
The two cables use a 3.5mm audio jack.
It is totally a wired headphone and doesn't support any wireless connection.
If you want Bluetooth headphones, you may go for Audio Technica ATH M50xBT.
Now let's see the Audio-Technica ATH-M40x specs and pros-cons in a blink.
Key Specifications
Headphone Type: Over-Ear, Closed-Back.
Connector: Wired/3.5mm Jack.
Driver Diameter: 40mm.
Frequency Response: 15Hz-24kHz.
Sensitivity: 98dB.
Impedance: 35 Ohms.
Weight: 8.3 Ounces.
Color: Black.
Pros
Great Comfort.
Excellent Sound Quality.
Sturdy Build Quality.
Detachable Cables.
Affordable Price.
Cons
No Mic.
Bass Is Not Heavy.
I know you must be concerned about its comfortability. Will it be comfortable or not?
Okay, let's find the answer.
Is It Comfortable?
Audio Technica-M40x is a set of comfortable headphones. It provides you enough comfort during long session monitoring or listening.
I was wearing this headphone for hours and never felt any pressure or pain around the ears.
However, it made my ear a little bit warm due to its closed-back design, but it's not a big issue.
The replaceable earcups and the adjustable headband are very soft and well-padded. They are made from PU leather. They can provide a perfect fit for any ear or head size.
90 degrees swiveling earcup provides easy 1 ear monitoring and comfort.
You can also wear this headphone comfortably with glasses.
The clamping force is very standard due to its well-padded earcups and headband.
Right now, I am going to illustrate the sound profile of this studio headphone.
You will find every detail of it here.
Sound Profile
This M40x is well known only for its accurate and studio-quality stereo sound.
It offers a very well-balanced, clear, and natural sound profile.
I felt no sound-related problems. Not only me but also many people have liked this headphone due to its balanced sound profile.
The frequency response of ATH-M40x is 15Hz-24kHz. This range is perfect for all genres of music.
The accurate frequency response makes this headphone great for rising audio engineers.
The bass of this headphone is slightly strong but not powerful.
But it has a very accurate and clear midrange with excellent low-mid depth. This headphone also offers crisp and clear highs with amazing detail.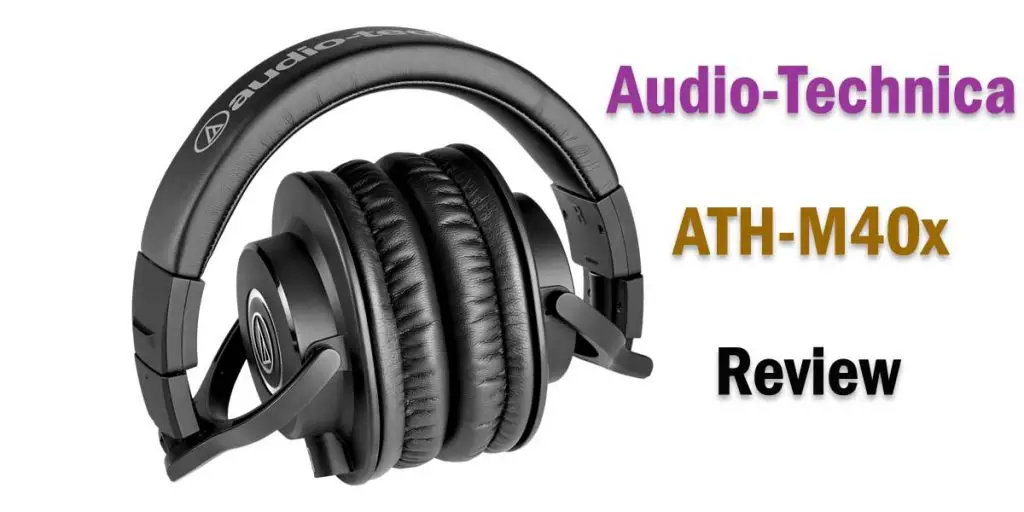 Does It Leak Any Sound?
Audio Technica MX40 doesn't leak a lot of sounds. Its over-ear closed-back design prevents sound leakage.
But if you listen at a high volume, it has a chance to leak a little bit of sound.
So always try to listen to a moderate volume to prevent sound leakage.
Noise Cancelling
This headphone doesn't have any active noise cancelling feature. But it passively isolates ambient noise.
This headphone can reduce much-unwanted background noise as well.
The circumaural design contouring around the ears delivers excellent sound isolation in loud environments.
So, that was all about the sound profile. What do you think about the control system?
Does It Have Any Control System?
This ATH M40x doesn't have any controls system. To control audio, you need help from your devices.
This headphone doesn't come with a mic. Besides, it doesn't support any app.
Build quality is an important feature to check before purchasing, especially when you want a long-lasting headset. Right?
How Is The Build Quality?
Audio ATH-M-40X has a robust and durable building quality. This headphone is totally made of plastic.
The making materials are very sturdy and able to handle a fair amount of physical force.
The headband has a metal frame that aids in reinforcing it. The ear cups are also sturdy enough to withstand a few drops without damage.
The cutting-edge engineering and robust construction make this headset durable.
However, the headband and earcup joint is somewhat weak. This is the only downside of its build quality.
Anyway, if your headphone gets damaged within 2 years, don't worry. Audio Technica is committed to giving 2 years of hassle-free warranty.
Design
This headset comes with a silky design. It has a black color scheme with silver highlights on the back of the oval earcups.
Its design is very similar to big brother ATH-M50x.
The M-40x looks good but nothing special.
Let's go for its portability and stability now.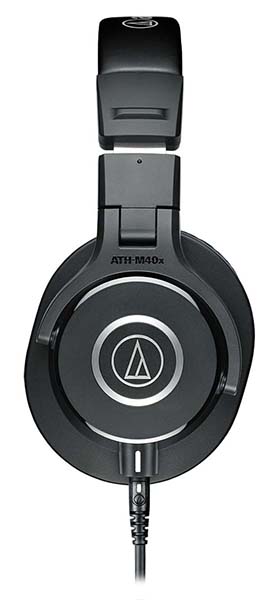 Is It Portable?
The ATH M40X is a fairly portable pair of headphones. Though it is a big over-ear headphone, it is still portable enough.
It can be folded into a more compact format. It will be fit in a backpack or handbag.
Whenever you are going outside, just carry it in your backpack.
How Much Stable Is It?
This headphone is decently stable for casual listening. But it is not stable for sports activities or heavy workouts like the gym.
It will easily slide off your ears when running or jumping.
Is It Waterproof?
The ATH-M40x isn't a waterproof headphone. It is not sweatproof either. So never think of using it for swimming or shower time.
Besides, it can be damaged where it has a chance to get dense sweat.
Are you worried about whether you can use this headphone with your devices or not?
Just go through my article, keeping all your worries aside.
How Much Compatible With Other Devices?
You know M40x headphones come with 3.5mm audio jacks and a  ¼ inches adapter. They are very compatible with most devices.
This headphone has decent compatibility with Android, iPad but not with iPhone.
You also can use it with Windows 10, Mac, and any guitar amp.
How Much Suitable For Gaming?
Though ATH-M40x is not a professional gaming headphone, it is still good for PC gaming.
You can connect this headphone with PS4, Xbox One, and Nintendo Switch.
As it has no mic, you can't talk to other players. You will only hear the audio.
There are sufficient professional gaming headphones available in the market. If you want a professional gaming headset, you may look at SteelSeries Arctis 7.
As M-40x is a studio headphone, let's see how ideal it will be for studio use.
How Much Suitable For Studio Monitoring?
As the name suggests, M40x is a professional studio monitoring headphone; it does real justice to it.
It provides superb features for studio monitoring.
This headphone is very much appropriate for studio mixing or recording. It ensures your long session monitoring by providing quality sound and comfort.
Even if you are tracking audio to the end of the day, it can still keep you focused on your monitoring.
We know that it is a headphone that is designed specially for studio use. Besides this purpose, you can use it for some other activities as well. It has some limitations too.
Therefore, I am going to reveal who should give it a try and who might skip it.
Who Should Buy This?
You have already known Audio Technica ATH M40x is ideal for studio monitoring.
Besides, it will also be one of the best headphones for voice over.
This headphone is perfect for everyday critical or casual listening.
It is also superb for audiophile listening.
Moreover, as this headphone is portable, you can use it while traveling or commuting.
Who Might Skip It?
Do you want a headphone for outdoor listening like sports, gym, running or cycling? You can skip ATH M40x.
This headphone is not perfect for official use or zoom meetings also.
Besides, you cannot use this headset for everyday phone calls.
If you need the best headphones for online teaching and classes, this is also not for you.
Do you want me to compare the ATH-M40x with other headphones?
It may help you for your easy understanding.
Compare With Other Headphones
To know the differences between M40x and other headphones, let's go for a comparison.
1. Audio Technica ATH-M40X Vs M30X
The ATH-M40x is a better headphone than ATH M30x. The M-40x provides a very neutral sound than M30X.
The main difference is in the treble range, where M30x lacks a lot of detail and brightness.
Besides these, they are very similar from the same lineup.
2. Audio Technica ATH-M40X Vs M50X
ATH-M40x and M50x are both similar performing headphones. Both have the sturdy build quality and excellent audio reproduction.
The M40x offers 40mm, dynamic drivers, while M50x has 45mm, dynamic drivers.
Though their features are very similar, the M50x offers one of the best values on the market due to its price to performance ratio.
Overall, ATH M50x is a better headphone than M-40x.
3. Audio Technica ATH-M40X Vs Sennheiser HD280 Pro
ATH M40x and HD 280 pro are both over-ear closed-back studio monitoring headphones.
The M40x is more comfortable that makes it better suited for long critical listening sessions.
But HD 280 pro is not very comfortable like M40x.
ATH M40 doesn't have heavy bass, while HD280 provides very neutral bass.
4. Audio Technica ATH-M40x Vs Sony MDR 7506
Both of them are professional studio monitoring headphones. The Sony MDR 7506 provides a better balanced and more accurate sound profile.
However, ATH M40 is more comfortable and stable than MDR-7506.
Besides, it comes with two detachable cables, while MDR 7506 has only an attached coiled cable.
5. Audio Technica ATH-M40X Vs Beyerdynamic DT 770 Pro
The Beyerdynamic DT 770 pro is a better studio headphone than ATH-M40x. The DT 770 has a more accurate sound signature.
The building quality is also more substantial than M-40x.
For Studio monitoring, Beyerdynamic DT 770 pro offers more excellent features than ATH M40x.
6. Audio Technica ATH-M40X Vs Grado SR80e
ATH-M40x is a closed-back headphone, while Grado SR80e is an open-back headphone. The sound of M40x is more accurate than SR80e.
As an open-back headphone, SR80e does leak a fair amount of sound, while M-40x doesn't leak more sound.
The SR80e doesn't isolate any sound while ATH-M40 passively isolates more sound.
7. Audio Technica ATH-M40X Vs Shure SRH440
ATH M40X and Shure SRH440 are both over-ear closed-back studio headphones. They are very similar performing headphones.
Both headphones provide the same comfort and build quality.
There is no significant difference between them. But the sound of M40x is more clear and crisp than SRH440.
8. Audio Technica ATH-M40X Vs HyperX Cloud 2
ATH-M40x and HyperX Cloud 2 both are over-ear closed-back headphones. But their destination is totally different.
ATH-M40x is a studio headphone, while HyperX Cloud 2 is a gaming headset.
They are completely different types of headphones with their individual features.
Are you going to purchase the ATH-M-40X headphone?
Then you need to know how worthy it will be.
How Worthy Is It?
If you want quality headphones but don't want to expense more, Audio Technica ATH M40x is perfect for you.
It delivers a superb sound with great comfort.
If you are a professional musician or music lover, it will be a remarkable addition to your life.
Overall, it is an ideal pair of headphones for home listening to studio monitoring.
If you compare M40x with its price range, I must say it is worth buying.
Considering the whole review, do you think it's not ideal for you or want an alternative?
Then take your eyes below.
Alternative To ATH-M40X
Here is the list of alternatives.
All these headphones are almost similar or a little bit better in some cases. You can choose one of them as an alternative to ATH-M40x.
I am going to conclude it here.
Conclusion
Well, you have got a detailed idea about this studio headphone from my Audio Technica ATH M40x Review.
I hope it is enough to ease all of your confusion.
Now it is up to you whether to pick it or not. The ultimate choice is yours. I always give priority to your decision.
Thanks For Reading This Article.