Finding an affordable headphone with tons of features and fantastic sound quality is quite difficult.
But the renowned Audio Technica has got it right with its two popular headphone models, ATH-M40x and M50x.
They can even satisfy the thirst of an audiophile.
You might have seen that the ATH-M50x is more expensive than the other model.
When two models seem almost similar, why is there a price difference?
So, that's where you are getting confused and cannot decide which one you should go for.
Well, there are a few delicate differences between these two headphones, and I am going to reveal all those variances to help you in your decision-making.
Now let's enjoy the battle: Audio-Technica M40x vs M50x.
Audio Technica ATH-M40x Vs M50x: Know The Subtle Differences
Before going into the in-depth discussion, look at the side-by-side comparison of their important key specs.
It will help you get a primary idea about them.
Features
ATH-M40x
ATH-M50x

1 detachable coiled cable.
1 detachable straight cable (3 m).

1 detachable coiled cable.

2 detachable straight cables (1.2 m & 3 m).

Mixing, Tracking, DJ, Personal Listening.

Black, Gun Metal, White, Metallic Orange.
Well, now let's go for the details.
At first, look at their design and build.
Design & Build: Audio Technica M50x Vs M40x
When it comes to talking about design and build, both the headphones are quite similar.
They are made of heavy-duty plastic with an aluminum headband and aluminum extenders.
Such good quality materials make the headphones feel solid and robust. They are surely going to last for a few years.
You will find the company's logo and name on the top side of the headband, which makes it look classy and luxurious.
The headband and earcups both have soft and thick padding. Even the metal adjusters are also well-padded to give a premium look to the headphones as a whole.
You will find the M40x only in one color, while the M50x comes in four color variations as I said earlier on the table.
Anyway, if you get a closer look by keeping the two headphones side by side, you will be able to notice that the M50x is a little bit more elegant than the M40x.
Just below the extenders on both sides, you will see bits of burnished steel that add a little bit of robustness to M50x.
Apart from this, the outer rings of the earcups of M50x having a silver lining are bigger than that of the M40x.
It is a little hard to spot the variation, but you will still be able to identify it on close inspection.
Due to this, there is a slight difference in their build quality too.
The M40x snaps around the ear cups, whereas the M50x has a different mechanism, and this makes them slightly more durable than the low-priced M40x.
So, considering the overall, my vote for this segment will definitely go to the basket of M50x.
Flexibility of The Earcups: ATH M50x Vs M40x
ATH M40x and M50x are very different if I consider the movement of their ear cups.
The ear cups on M40x can swivel up to 90 degrees, whereas the ear cups on M50x swivel up to 180 degrees.
So, the rotation of the earcups on M50x is pretty much double, which means its earcups are more flexible than that of M40x.
Who wants to buy an uncomfortable headphone? In fact, you won't want to be in continuous discomfort no matter what you are doing.
So, checking the comfort feature before purchasing a headphone is important.
Comfort & Fit: Audio Technica ATH M40x Vs M50x
To offer you a comfortable listening experience, both of them have plush padding on the earcups.
There will be a standard gap between your ears and the inner side of the earcups. Hence, your ears won't be touching anything, giving you a more comfortable feeling.
At the same time, they are breathable enough to ensure that the ears don't get hot or sweaty after a few hours of listening.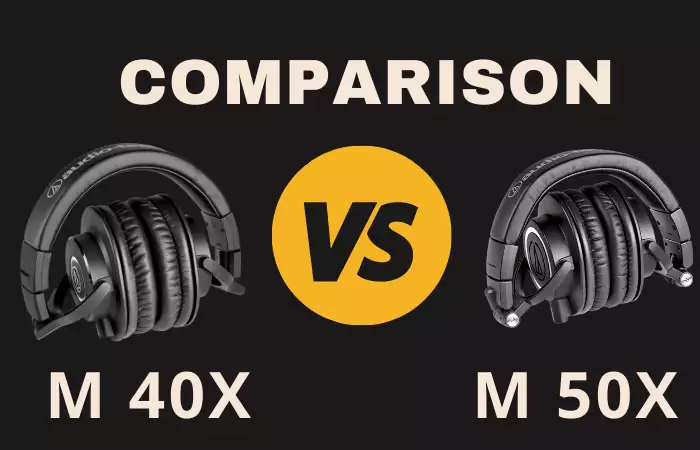 The padding of the headband also feels very thick and soft.
It sits very comfortably on your head and suits almost all head sizes, including large heads.
However, still, there are some differences between the two.
As you already know, the earcups of M50x are more flexible. So, it will give you a more comfortable fit regardless of your ear size and shape.
In addition to that, they will not hug your ears as tightly as the M40x.
Another variation you can feel when you will be wearing the two headphones for a long time.
The M50x is a little heavier than the M40x. Hence, it may interfere with the clamping force and comfort issues with time.
So, we have seen that with increased comfort and perfect fit, both have got some drawbacks also.
Therefore, according to my judgment, it should be a tie.
Now come to the most important feature of a headphone, which is its sound quality.
What will you do with a headphone if it sounds worse?
But don't worry! Neither of them will sound bad, but there are some differences, of course.
Go through the following section to know them and get one step closer to your final decision.
Sound Quality: Audio Technica M40x Vs M50x
Here you will get all the details of the sound profiles of these two headphones.
At first, have a look at the difference in their frequency responses.
Audio Technica ATH-M40x Vs M50x Frequency Response
The Audio-Technica ATH-M40X has a frequency range of 15Hz to 24kHz, which is more than the audible spectrum.
So, be assured that you are not missing anything important.
It seems that the response is reasonably flat and not too hyped.
That's why the bass heads may find it a little underwhelming.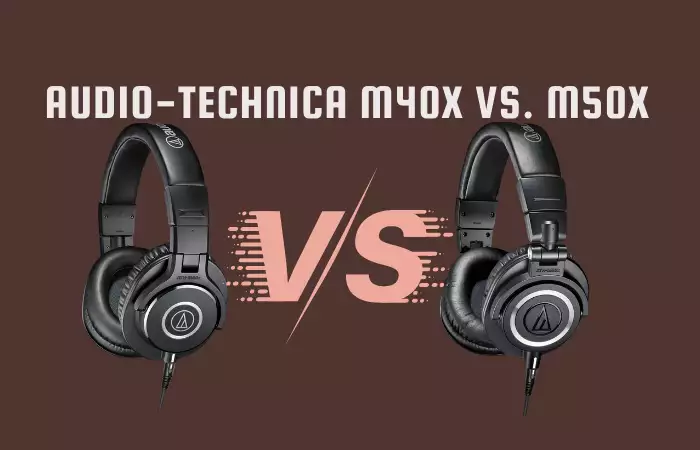 On the other hand, the M50x can stretch up a little higher, right up to 28kHz.
But as we humans can only hear up to around 20kHz, this is kind of no issue.
Yes, you might notice some differences if you put the M50x on the ears of your dog!
Anyway, I was just kidding.
Now that I have explained the frequency response, let's know the other details of their sound profile.
Overall Sound Profile: M50x Vs M40x
The design of these two models is the same, but their sound output is totally a different story.
It may even make you wonder how on earth did Audio Technica pull it off with similar-looking headphones?
The sound you will get from M40x is a little relaxed and more neutral.
You will just listen to the original soundtrack that you have played, nothing more or less.
The bass, treble, and mids all three seemed to get the same attention in M40x.
Its sound quality is not perfect enough for critical analysis, but still, it will give you an output that is not colored or modified in a single way.
In contrast, the ATH-M50x doesn't offer you a neutral sound. However, at the same time, they don't focus overly on the low notes or bass response alone.
Yes, I won't deny that as it has a slightly bigger driver, it offers a slightly stronger and substantial bass response, but they are not overpowering at all.
Actually, the M50x falls somewhere between the two.
Apart from the bass, the treble and mids are nicely audible, and there is a great balance to the overall sound.
Now the burning question is which one is better sounding headphone?
Well, the answer entirely depends on you, what you like to hear and how you would like to hear it.
If you don't want any sound colorization and prefer to listen to just the way it is, then you should definitely go for M40x.
For critical listening, it is just an okay type of headphone. You can only know the overall sound instead of getting deeper to find out the mistakes and problems.
But if you want a headphone for everyday listening along with an ideal critical listening, M50x will be a better pick.
They have a fun and engaging side that also adds some color to your song. So, it feels a little bright and doesn't sound dull or boring at all.
Well, as I am here to compare the two, I must make anyone the winner.
So, considering the overall, here I am in for ATH-M50x.
We already know that both of them have come with wired connectivity. Now I will discuss the details about it.
Connectivity: Audio Technica M40x Vs M50x
The connectivity of these two headphones is more or less the same. There is no Bluetooth or USB, just good old-fashioned 3.5 mm audio jacks.
So, you can connect them to devices that have a 3.5 mm jack, such as PC, older smartphones, and gaming consoles.
These headphones come with detachable cables. So, it will be very easy to store, and you don't have to worry about any tangling.
Anyway, there is a difference in the cables of M40x and M50x.
Two different types of cables are provided with the M40x. One is straight, and another is coiled.
Both the cables are very long, which may seem positive to you, but in reality, this increased length makes it difficult to manage it.
On the other hand, the M50x comes with three cables- one coiled cable and two straight cables.
The straight cables come in varying sizes, and the size is decent as well.
One is 1.2 m while the other one is 3 m.
The only problem with the cables of these two headphones is they use proprietary cables of Audio Technica.
That means you can not replace them with any generic cable, but only those from the manufacturers.
So, considering all the facts, I am making ATH-M50x the winner once again.
People often get curious about whether these headphones are good for mixing or guitar.
If you are also keen to learn about it, then check out the below sections.
M40x Vs M50x Mixing
The Audio Technica ATH-M40X closed-back headphones were designed mostly with mixing and recording in mind.
It is one of the flattest sounding headphones I have ever tried. It is tuned flat. There will be no coloring or EQ applied, and the frequency response is also flat.
This means the ATH-M40x is probably the best headphone for mixing and mastering.
On the other hand, though the ATH-M50x doesn't sound as flat as the M40x, you can also use it for mixing.
The sound quality is immaculate, and they don't sacrifice any of the lows or highs; it is a quite perfect flat line.
They also provide great monitoring balance and tone when mixing and recording.
With its unique sonic signature and hardware improvement, M50x continues to impress many audiophiles. Many studio professionals consider it as one of the best headphones for mixing, monitoring, and personal listening.
So, you can use any of them for mixing. Both of them can satisfy you in this case, though I will put M40x a bit ahead.
M40x vs M50x for Guitar
You can use both of these two headphones for guitar.
If you have already used headphones for guitar, you must have noticed that most of them are not giving you the low end or the exact sound period to play guitar.
However, the ATH-M40x and M50x can help you greatly in this case, solving those problems.
Obviously, they won't sound 100% like they would through a good loud amp, but they can get as close as you possibly get with the amp.
Their EQ curve is exactly what your ears like, and they reproduce guitar like a dream without a bunch of break-up and distortion even if you crank them up loud.
I am ending the comparison part right here. I think you have no more questions left to know.
Now I am going to announce the winner.
Who Is The Winner?
We have seen that the ATH-M50x is the winner in most segments.
So, the result is pretty obvious. Right?
Yes, I wholeheartedly recommend the ATH-M50x over the ATH-M40x.
Though they look quite similar, the M50x has better comfort and fit and wider frequency response.
If you have any budget issues, you can still go for ATH-M40x.
But you should look no further than the ATH-M50x if you have that luxury to spend much.
Still confused? Are you not happy with the performance of any of them?
Don't worry. I can suggest you some alternatives.
Look at the below section for that.
Alternative Options
Here are the two alternative options of both M40x and M50x:
Shure SHR440 headphones will offer you a reference-quality sound, which will be fun to listen to. Its sound profile is fairly neutral, with mild elevations to the bass, mids, and highs.
You will also get superb sound isolation, increased comfort and portability, and Legendary Shure durability with this studio headphone.
Another impressive thing is it is relatively cheap, like the M40x.
However, Beyerdynamic DT770 PRO can also be considered as an alternative. It will provide you with improved sound isolation with minimum sound leakage.
You will also enjoy a good soundstage for closed-back headphones. It has great sound quality with a deep bass response, where the bass is not overpowering at all. Instead, it is clean and controlled like the ATH-M50x.
I have nothing more to inform you.
Let's wrap it up for now.
Conclusion
Hopefully, my discussion on Audio-Technica M40x vs M50x will help you a lot to finalize your decision.
Enjoy your time with the best headphone.
Thanks for reading this article.