Bose has consistently been recognized as the gold standard when it comes to noise-canceling headphones.
When the company's flagship product, Bose Noise Canceling Headphone 700, was already ruling the world of noise cancellation, it released the Bose QuietComfort 45, the long-awaited predecessor of Bose QC 35 II to sit alongside the Bose 700.
Then, how does this new pair of ANC headphones compete with the already existing flagship model? Aren't you curious to know?
Okay, then get ready for the head-to-head battle: Bose 700 vs QC45.
I am going to present this descriptive comparison based on my personal journey with these two headphones.
Bose 700 Vs Bose QuietComfort 45: Who Is The Game Changer?
Before getting into the in-depth face-to-face competition, firstly, let's have a quick look at their key specifications.
| Features | Bose 700 | Bose QC 45 |
| --- | --- | --- |
| | | |
| | | |
| | 15 min charge = 3.5 hours playback. | 15 min charge = 3 hours playback. |
| | | |
| | | |
| | | |
| | | |
| | Triple Black, Silver Luxe. | Triple Black, White Smoke. |
| | | |
| | | |
| | | |
I hope this side-by-side comparison helps you get a basic idea about the two.
But I know that they are not enough to judge a headphone. And that's why I am going to share my detailed experience from now on so that you won't end up having the wrong product.
I would like to start with their design and build.
Design & Build: Bose 700 Vs Bose QC45
Let's begin with the newbie.
You may mistake the Bose QC 45 as the QC 35 II at first glance, as they look a lot like their predecessor. It features the same minimalist, collapsible design but with few changes.
The pivot points now have metal hinges to give this headphone a sturdier feel. Several vents are added to the ear cups without increasing their size to add depth and fullness for a more expansive sound.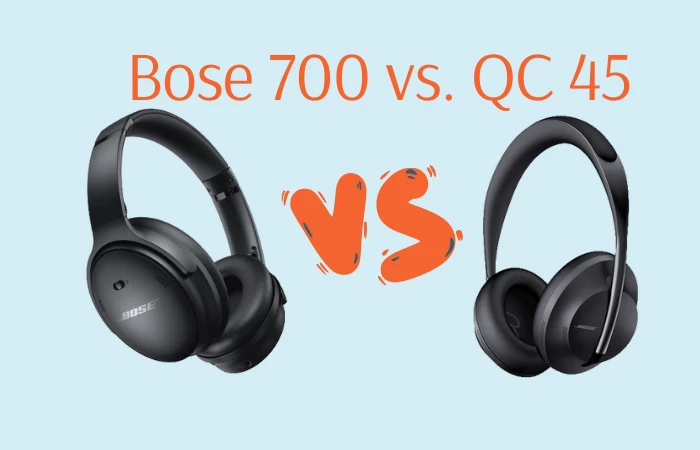 And if you get a closer look, you will notice that the headband padding is now covered in leather instead of suede. Besides, the padding on the underside of the band felt smoother to me.
Anyway, the most evident alteration revolves around the logo. It is no longer reflective or debossed — instead, it is laser etched.
On the other hand, Bose 700 is built with durable stainless steel and soft-touch plastic. It is way more exceptional than the brand's other traditionally designed over-ears.
It came up with a next-level ultramodern look with a unibody appearance. It looked to be molded from one piece of metal, which seemed really beautiful and unique to me.
The integrated extenders are more striking that are placed on a tracking system to adjust length seamlessly. Besides, the combination of invisible hinges and the distinctively shaped stainless steel headband gives the Bose 700 plenty of wow factor.
Even the basic details, such as the fully padded headband, mic placements, and laser-etched logo, are eye-catching. My only complaint is that this headphone doesn't fold up.
So, what do you think? Who is going to win this very first round?
Well, undoubtedly, it is Bose 700.
Whenever I go to buy a new headset, I always check its comfort feature with utmost priority. No matter how good the other features are, it will be worthless if you experience continuous discomfort wearing it.
But don't worry, neither of them is like this. Both are comfortable, but definitely one is better. And now we will find that one.
Which One Is More Comfortable?
You can expect great comfort from both sets of headphones.
However, I found the QC 45 more pleasant to wear. They are amazingly comfortable and won't clamp onto your head very tightly. Definitely, it benefits from its lighter weight, which you can feel when comparing both of them in hand.
Moreover, the padding on the ear cups and headband also felt good on top of my skull and ears.
You can carry on listening to music for hours without feeling any fatigue.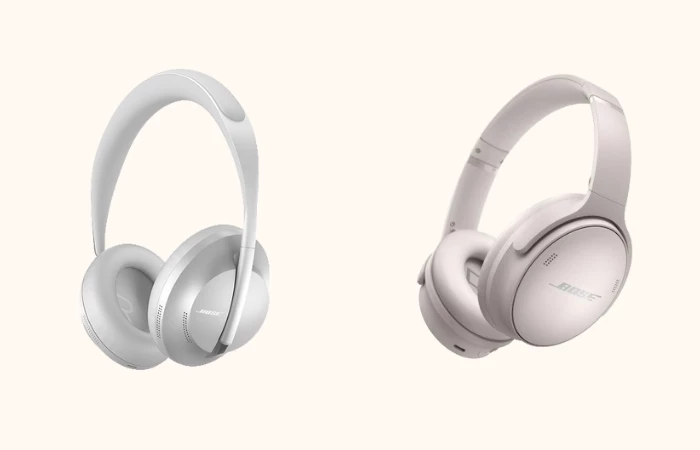 And as for the fit, its flexible frame allows for extra wiggle room when worn in tight settings, though you will want to adjust the extenders to achieve optimal fit.
Speaking about the Bose 700, they are also very cozy. It is super easy to adjust the extenders, thanks to its unique sliding mechanism that offers maximum stability and seamless adjustment.
The earcups are well-padded and breathable enough to allow the regulation of air to resist moisture buildup. So, you can use this over-ear headphone for a light gym workout.
The only downside I had to deal with was its strong clamp force on the ears, which became fatiguing after 2 hours of use.
Well, both are capable enough, as I said earlier, but Bose QC 45 is a little bit better in this aspect.
Here comes the most important feature of a headphone, which is their sound quality. I am going to explain it right now.
Sound Quality: Bose QC 45 Vs Bose 700
If you want something more bass-forward, then Bose QC 45 will be your perfect bet. It is geared towards bass heads with a warm heavy soundstage that offers rich, oomph-filled lows.
If you are thinking that mids and highs are underemphasized, guess again.
Bose combined proprietary TriPort acoustic architecture with a volume-optimized Active EQ to give these headphones an exceptional frequency range. So, mids and highs are crisp and blend well with deep lows offering you distortion-free music.
However, your experience won't be the same for all tracks, especially orchestral recordings. QC 45 seems to struggle in this field as bass may become a bit aggressive and weaken certain characteristics like harmonies and strings.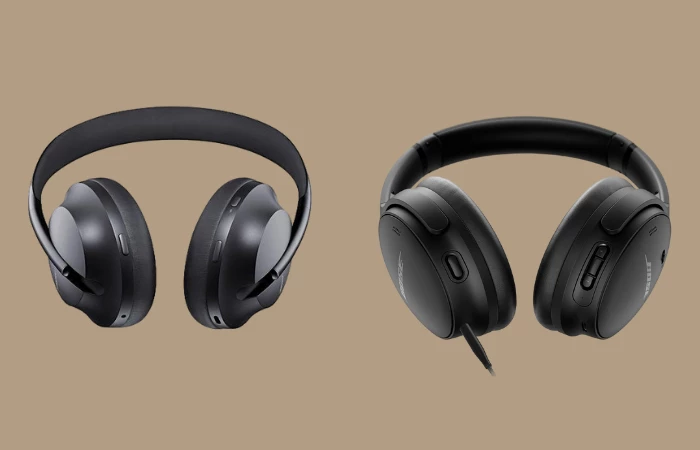 Bose Noise Canceling Headphone 700, on the other hand, has a more well-balanced soundstage to offer music a natural feel.
Lows are prioritized when it comes to the frequency range. However, that doesn't mean lows and highs are left behind. Brass and string instruments are reproduced well, while vocals are pronounced perfectly as well.
This headphone is well-suited to most genres of music. You can even enjoy classical music in its best way on this headphone.
Bose 700 also lets you fine-tune the audio to your ears by playing with the customizable EQ in the companion app.
So, considering the overall, I am making Bose 700 the winner of this segment as a better-sounding headphone.
As noise-canceling headphones, which one of the two can accomplish this task more accurately?
Let's find out.
Noise Cancellation: Bose QuietComfort 45 vs 700
No matter which headphones you go with, you are getting top-level noise-canceling for sure.
Only a true audiophile or a sound engineer can tell the differences in ANC performance between the Bose 700 and QuietComfort 45.
However, depending on the hardware and my experience with both models, I will give this round to the Bose 700.
This headphone is equipped with eight microphones, six of which are used for noise cancellation. On top of that, their adaptive microphone technology is revamped to offer 11 levels of ANC.
When I set the ANC level to its highest mode, it blocked almost 90 percent of ambient sound around me while also diminishing high frequencies to the point where they sounded like background effects on songs.
Whether you are riding public transportation, in the office, or at home, you can enjoy distraction-free listening all the time.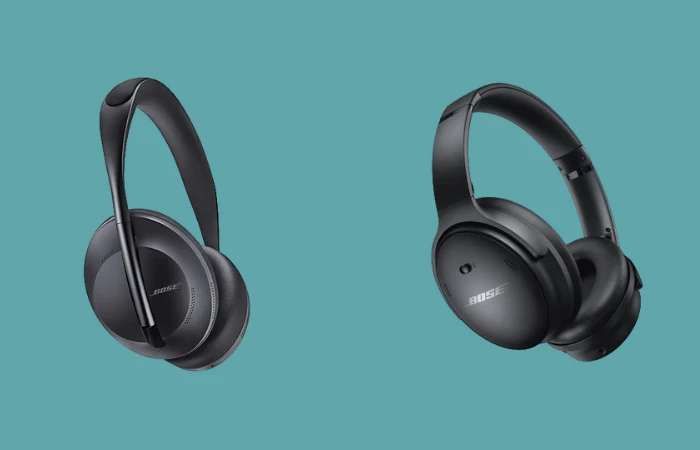 Based on the experience of one of my friends, even if you are on an airplane, its engine noise will be a second thought with its ANC on.
So, from canceling airplane noises to eliminating the police siren, crying of a baby, or doorbell sound, Bose 700 doesn't fail to show its expertise in each aspect.
In contrast, Quiet and Aware- these two modes are available in the QC 45. You won't get any option to adjust the ANC.
Its performance is almost close to its competitor, but still, it can't reach the level of Bose 700.
It can handle a good amount of ambient noises. Low and mid frequencies went totally unnoticed, while a handful of high-frequency sounds transpired a block away.
That said, it struggles a little with high-frequency noises.
So, this headphone will keep you focused on your work, but yes, any baby scream will certainly creep into your soundscape.
Here is the score for this round.
Which One Can Offer Better Call Quality?
Moving onto the call quality of Bose 700, six of its eight microphones are used to produce exceptional clarity and cancel the ambient noise around you at the highest level possible.
The person on the other side could hear me loud and clear while I was talking outdoor on Bose 700. He only faced some problems when confronting the wind, but not to the point where we couldn't carry on the conversation.
Anyway, its performance is extraordinary if you talk in a relatively quiet environment or indoors.
I also liked the call quality of Bose QuietComfort 45, but still, it is one step down from its predecessors.
You will get loud, crisp vocals and some good noise reduction, but the call quality becomes worse when the wind comes into the equation.
Recording Quality
Bose 700 is the superior one in this case also. The recorded voice sounds natural and understandable in short.
QC 45's recording quality is also standard. It offers clear and natural sound, but the speech lacks the details.
This time, I will talk about their battery life. Though you already got an idea from the table, my following section can be more informative.
Battery Life: Bose QuietComfort 45 Vs Bose 700
One area where Bose's headphones have always lacked is battery life.
However, it could finally manage to increase the battery life of the newcomer, QC 45. It has 24 hours of battery life, while the Bose 700 offers around 20 hours.
One downside of these two models is that you can't turn off their ANC. That means they will continue to drain power no matter what mode is enabled.
Well, don't be disheartened by that, as quick charging is powerful on these two sets of headphones.
QC 45 will offer 3 hours of playback from only 15 minutes of charging, whereas the 700 can provide 30 minutes more from the same amount of charging.
As Bose QC 45 has longer battery life, it is going to be the winner for this segment.
How Is Their Control System?
While the control scheme of Bose 700 consists of buttons and touch control, the QC 45 relies solely on buttons.
Let's look at the 700 first.
You will find the power and voice assistant buttons on the right ear cup and a dedicated ANC button on the left one.
Its touch sensor is on the right ear cup, which is very responsive to some swipe and tap gestures.
You can play/pause the track, skip forward and backward, answer/end calls, and adjust the volume using this touch sensor.
On the other hand, Bose QC 45 has three physical buttons on the right ear cup, which are very clicky and easy to use. These buttons are volume up and down buttons and a center button.
To perform the basic function like play/pause, answer/end or reject calls, and skip forward and backward, you need to use the center button.
Besides, the left earcup has an action button, which acts as a multi-purpose control like activating ANC or aware mode and accessing voice assistant.
Okay, now it's time to give the score. I am keeping the Bose 700 ahead in this case.
Each pair produces solid tactility and executes commands on time, but the lack of touch controls and motion detection (automatic pausing of the track when removed from the head) works against the QC 45.
The connectivity of a Bluetooth headphone is also important. That's why you should check it beforehand.
Now, I will inform you of their connectivity.
Connectivity: Bose QuietComfort 45 vs 700
These are some of the best wireless Bluetooth headphones for connectivity.
Bose 700 supports Bluetooth 5.0 and maintains a decent maximum range of 35 feet, while the QC 45 operates on Bluetooth 5.1 and attains up to 50 feet of wireless listening before any dropout occurs.
Both headphones support multi-pairing with up to two devices at the same time. They don't feature NFC for easier and quicker pairing.
Latency is much lower on iOS and Android devices, but PC latency is likely too high. However, your experience may vary as some apps and devices offer latency compensation.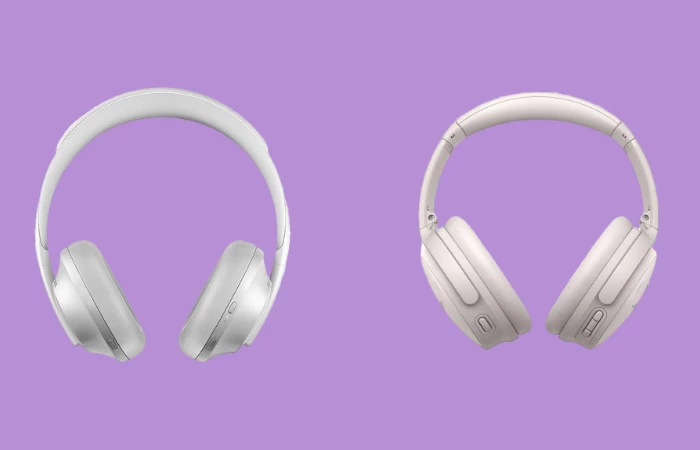 So, the connectivity is more or less the same for the two.
Anyway, they only feature SBC and AAC Bluetooth codecs. Neither of these expensive headphones supports any high-quality codec like AptX or LDAC, which is a bit disappointing.
Apart from the Bluetooth connectivity, you can also use them in wired mode if you prefer the nuances of wired listening.
A 2.5 to 3.5 mm TRRS cable is provided with both of them. So, you should be extra careful not to lose it, as this is not something you will see lying around your house.
I am keeping the QC 45 a little bit ahead for its longer wireless range and better bluetooth version.
App Support & Features
Both the 700 and QC 45 are compatible with the Bose Music app. They share similar functions, including a music player, standby timer, volume slider, battery level indicators, toggle controls, digital assistant selection, and firmware updates.
However, Bose 700 comes with more features. You can adjust ANC levels via a slider and set three preferred ANC levels that can be cycled through on the headphone.
Using the Self-Voice setting to adjust how loud their voice sounds on call and assigning Spotify Tap to the Action Button can also be done on 700 via this app.
On top of that, a recent update added an EQ to fine-tune the bass, mids, and treble manually, along with four presets (Bass Boost, Reducer, Treble Boost, Treble Reducer) to simplify sound customization.
While the 700 offers a handful of features, Bose QC 45 is limited to Self-Voice mode and SimpleSync, a new feature that will allow you to connect the headphone to a Bose Smart Soundbar. This turns the QC45 into a remote that can mute, raise, or lower volume when streaming sound from a TV.
So, these are all the possible comparisons between these two headphones. Now it is time to announce the winner.
Who is the Winner?
As most of the segments are won by the Bose 700, I think you might have already guessed the winner.
Yes, it is nothing other than Bose 700. I wholeheartedly recommend Bose Noise Canceling Headphone 700 over Bose QuietComfort 45.
Bose Noise Canceling Headphone 700
From the customizable sound to the outstanding call quality to the elegant design, everything about this headphone is stunning.
Besides, it has the best-in-class ANC that can offer you a completely noise-free world, eliminating all the noises, including the high-level ones.
Its only blemish is the battery life. However, I do not think it is that big to create any issues.
After knowing about all these, if you are not willing to go for any of them, then you can check my next section.
Alternative Options
Here I am presenting two suitable alternatives to both Bose 700 and QuietComfort 45.
The Sony WH-1000XM4 is a class-leading ANC headphone with superior, customizable sound and a comfortable build. It has very strong connection stability and good microphone quality as well. Besides, you are getting 30 hours of continuous battery life on the go.
Shure AONIC 50 is another alternative that also comes with a high-end noise-canceling feature. You may consider buying this comfortable headphone if you desire to enjoy some of the best quality wireless audio with vast codec support.
Okay, I am done with today's topic. Now let's end it here.
Conclusion
I hope this comparative discussion on Bose 700 vs QC45 will help you make your final decision.
Explore all the differences thoroughly, and then go for the one that can meet your need.
Have a happy time with your headphone.
Thank you.