If your chaotic household or noisy neighborhood tends to stand between you and your music nowadays, you might have already searched for the best noise canceling headphones.
If so, I'm sure you must have come across the names Bose 700 and Sony WH-1000XM4.
Both two renowned brands are popular in developing industry-leading top-rated noise-canceling headphones.
So, which one should you pick? Maybe you are so confused that it feels like hell.
Well, chill out! I am here today to remove all your confusion.
Just go through this Bose 700 vs Sony 1000xm4 and select your most desired noise cancelling headphones.
Bose 700 Vs Sony WH-1000XM4: Which One Is Better?
In this write-up, I am going to present every possible comparison between the two. It will help you to remove all your confusion and stick to one in the end.
At first, let's see which one is designed better to provide enhanced comfort.
How Is Their Design?
Both of them are wireless over-ear closed-back headphones, and you are getting three different colors for each headphone.
Bose 700 Noise Cancelling Headphones feature a modern and sleek design with matte finished ear cups and an adjustable steel headband.
The ear cup cover has a special anti-stick coating for touch gestures.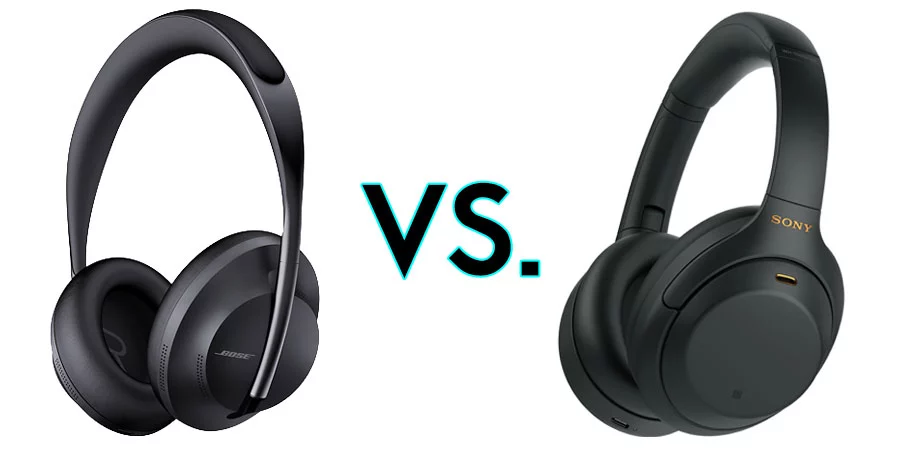 Unfortunately, the thick ear cups can't be folded up in a compact form toward the headband, which makes them bulkier than Sony 1000xm4.
If you are a frequent traveler, Sony 1000mx4 will be worth it for you as you can fold it up neatly, unlike the Bose one.
Sony WH-1000xm4 has retained the elegant and sophisticated design of the Mark series.
Some of the most delicate details, such as the copper accents, embossed Sony logos, and laser-etched model number above each extender, add more elegance to make them stand out of the crowd.
Comfort
Bose 700 feels comfortable with thick, soft foam ear cushions covered in protein leather and the rubberized headband.
On the other hand, the headband and ear pads are made of refined leather in Sony 1000xm4, which feels plush.
The rubberized matte finish is also a huge step up from their previous model.
Clamping force is more noticeable on the Bose headphone. The thickly padded headband may put a little bit of extra pressure on your skull to cause slight discomfort.
However, it's not a big issue if you wear it for less than 3 hours.
I prefer the WH-1000xM4 for long-term listening due to its slimmer and reasonably cushioned headband.
Moreover, its wider ear pads ensure extra room for large ears and provide enough ventilation to prevent sweating.
The sound quality of a headphone is one of the biggest concerns for any user. If your headphone doesn't sound well, then what will be the use of that gadget?
Well, I will enlighten you with their sound profile too. Just have a little more patients and catch a glimpse of the below table to get a precise idea.
| Features | Bose 700 | Sony WH-1000XM4 |
| --- | --- | --- |
| Lowest Frequency Response | | |
| | | |
| | | |
| | | |
| | | |
| | | |
| | | |
| | | |
| | Triple black, Soapstone, Silver Luxe. | |
| | | |
| | | |
Now, let's find out which one can provide better sound.
Sound Quality: Sony Xm4 Vs Bose 700
Bose and Sony are some of the best-sounding headphones, but the Sony WH-1000xM4 is a different beast here.
Though The Bose 700 is direct-sounding, dynamic, and detailed, it cannot compete with the depth of bass and detail delivered by the WH-1000XM4.
Sony's monstrous drivers and QN1 technology help to reproduce loud, vibrant, and distortion-free detailed sonics. Their timing is brilliant, too.
To test its powerful bass, I played the song I Can't Stop by Flux Pavilion. It was so mind-blowing to listen with WH-1000XM4 that I can't resist head nodding.
While neither one supports aptX HD, the 1000XM4 supports LDAC to play high-quality files wirelessly from a compatible source.
I am a fan of the sound quality of Bose 700 as well, which is mostly warm and balanced.
However, don't expect the hair-raising level of bass response that the Sony pumps out.
The song Can you Feel It from the famous pop band The Jacksons was pleasant to hear with it, but the bass response couldn't blow me away.
Another best thing about Sony 1000xm4 is the Sony Headphones Connect app, which offers broader customization of EQ settings than the Bose Music app.
It is way more versatile than what you get in Bose or the built-in equalizers of most phones.
As both of them are noise-canceling headphones, you need to know which one can do a better job in this case to make your decision.
Then jump to the below section for the details.
Which Headphone Has Better Noise Cancellation?
If I call these two headphones ANC powerhouses, that would be less. This is the category where the bose 700 refuses to lose.
Bose 700 headphones are equipped with an adaptive eight-mic system. This technology works brilliantly well, where six microphones cancel out high amounts of ambient sound very effectively.
Bose 700 makes the common sounds like doorbells and loud coworkers, and high-frequency noises such as crying babies and police sirens inaudible.
Though I have never flown with this headphone, one of my friends has had this experience.
According to him, the engine noises become a second thought with its ANC on.
So, the overall noise-canceling performance of Bose 700 is truly breathtaking.
Speaking of Sony WH-1000xm4, I must say it is not a single step behind Bose's one.
Even the loudest sounds turn into subtle peeps with the working combination of Dual Noise Sensor technology, HD Noise Canceling QN1 processor, and two feedforward microphones.
There is also a Noise-Canceling Optimizer that automatically adjusts ANC to the environment for maximum noise reduction.
It can block out household noises like fax machines, loud TVs, and smart cooking device timers.
I barely hear any cars whisking down the street or the sanitation trucks collecting trash on the front lawn.
Overall, these two headphones do an exceptional job in filtering out unwanted noises.
The Bose 700 works slightly better against high-frequency sounds, where lower frequency sounds like jet engine rumbles and air conditioner hums are less likely to interfere with your listening with Sony 1000xm4.
So, to conclude Sony noise cancelling vs Bose, I will give the same rating to them.
Well, as these two headphones work brilliantly well in canceling noise, their microphone, as well as call quality, should be fantastic too.
What do you think?
Let's see whether they can satisfy us in this fact or not.
Bose 700 Vs Sony 1000XM4 Call Quality
You already know that Bose 700 comes with an eight-mic system. Among them, four mics help deliver crystal clear call quality.
I tested the call quality with both headphones while standing around the corner from a very loud power generator.
Both Bose and Sony headphones performed well. The person on the other side could hear my voice clearly over the generator sound.
However, to be precise, according to that person, my voice sounded more harsh and cracky with Sony WH-1000XM4.
So, I will keep the Bose 700 a few steps ahead in terms of call quality.
The recording quality of this headphone is also better than Sony 1000xm4.
Battery Feature
You already know that the battery life of Sony is 10 hours longer than the Bose 700.
The reason is the battery capacity of Sony is far better than Bose's in one.
Also, the fast charging feature of Sony is more praiseworthy.
It provides 5 hours of playback for 10 minutes of quick charge, while bose supports 3.5 hours of playtime for 15 minutes of charge.
Moreover, if I compare the charging time, Sony takes relatively less time to charge their high-capacity battery.
Now that you have an idea about their battery feature let's check out its connection quality.
You have to connect it with a device first to use it. Right?
Which Headphone Has Better Connection Quality?
The Bose 700 Noise Cancelling Headphone comes with a 2.5mm headphone jack in one end and 3.5 mm in the opposite end, where the Sony 1000xm4 has 3.5 mm jack in the both end.
The Bose headphone supports only a single high-quality Bluetooth codec AAC.
Actually, it can afford reliable, high-quality audio on iPhone, but unfortunately, it is not the same for Android.
The Android operating system fails to encode and decode the AAC Bluetooth codec consistently across the devices.
Still, you can listen via SBC, which is the lowest common denominator of Bluetooth codecs.
On the contrary, the Sony WH-1000XM4 supports slightly better codec options, including SBC, AAC, and Sony's proprietary LDAC.
Though LDAC has some issues, it is the best codec we have tested for streaming content over Bluetooth.
One new feature added to the Sony WH-1000xm4 that is also available on the Bose 700 is multipoint technology. You can pair the headphones up to two devices simultaneously.
The Bluetooth multipoint feature of Sony WH-1000XM4 is only limited to AAC codec.
However, Sony has more connectivity options such as Bluetooth 5.0, NFC, and Android Fast Pair.
All of them can seamlessly connect to your smartphone, especially NFC. It automatically enables Bluetooth on the compatible Android device and pairs the headphone.
So, it's totally clear that Sony 1000xm4 is the winner once again.
Are you curious to know about their control system?
Maybe you are finding something handy. Then, let's check out which one can please you more.
Control Scheme
Each pair of headphones comes with manual and touch controls with an on-ear detection feature. It will pause music automatically when taking off the headphones and resume again when placing them back.
The touch controls are smooth and flawless on WH-1000XM4. Thanks to their responsive tap and swipe gestures, you can manage the playback, volume, and phone calls very conveniently.
Activating the digital assistant or listening modes (ANC, Ambient) is simple, too. You can assign certain commands to either the touch panel or the Custom button behind the left ear cup.
But one of the notable functions of this Sony headphone is Quick Attention and Speak-to-Chat.
They will pause music when placing your hand over the right ear cup or speaking aloud, respectively.
On the other hand, Bose Noise Cancelling Headphone features a mix of control methods. There are buttons for active noise canceling control, voice assistant access, and pairing.
You can control the volume and playback through a touch panel on the right ear cup. The touch panel is smaller, and the built-in expander may get in the way when performing certain slide gestures.
So, overall, Sony 1000xm4 has a smarter control system than the Bose 700.
Headphones from Sony and Bose are equipped with some apps and unique traits. These two are not an exception to that.
Right now, I am going to compare them depending on this fact.
Sony 1000xm4 Vs Bose 700: Apps and Special Features
Sony WH-1000XM4 is the winner in this aspect also.
Sony offers deep in-app integration via the Sony Headphones Connect app. This app is loaded with sound customization options that can enhance your listening experience in multiple ways.
There are EQ controls, Sony 360 Reality Audio setup for in-ear spatial audio, and DSEE Extreme that upscales compressed digital music files.
You can even customize the features like voice assistant access, touch sensor control mapping, ambient sound controls, and speak-to-chat using the Sony app.
This sony headphone will also allow you to automatically switch between noise cancellation levels depending on your location or activity.
The 1000xm4 also has a 'find my headphone' feature.
Both Sony and Bose apps are available on iOS and Android.
The Bose Music app is not even near Sony's app.
It will let you adjust noise cancellation and save three ANC levels along with toggle controls, an Auto-Off feature, and firmware updates.
In addition, there is a Self Voice mode that increases or decreases the volume of your voice on phone calls.
By this time, you have got to explore all the important comparable features of Bose Noise Canceling Headphones 700 and Sony WH-1000XM4.
Now, it's time to announce the winner.
Who Is The Winner Finally?
I think you already have presumed the final verdict.
With an outstanding noise-cancellation, longer battery life, amazing sound quality, and some extraordinary features, the Sony WH-1000XM4 is undoubtedly the better all-rounder.
In combination with the above, it also has superior app integration and a foldable design. Besides, the reasonable budget adds a new dimension to all these super traits, making Sony WH-1000XM4 headphones a value for money.
Can't you like either of the headphones?
Don't worry. It can happen. Maybe they are not matching with your budget or requirements.
In that case, the following segment is for you.
Alternatives to the Bose 700 and Sony WH-1000XM4
Here are some alternative suggestions for you.
There are plenty of other headphones on the market that are quite similar to these Bose's and Sony's ones.
If you want something relatively affordable, go for one of the followings:
The PXC 550-II noise-canceling headphone offers excellent low-frequency noise cancellation, AptX and AptX Low Latency support, and a comfortable design.
On the other hand, you will also get a leather-wrapped design, numerous high-quality codecs support, a pleasing sound signature, and an amazing ANC performance in Shure AONIC 50.
Now, let's end it here.
Conclusion
This article on Bose 700 vs Sony 1000xm4 will help you understand the core differences between these two top-class expensive headphones.
I already pointed out the winner according to my judgment.
Now, it's your turn to choose!
I hope the relatively cheaper yet super-functioning Sony WH-1000XM4 will not disappoint you at any point.
Have a happy time with your music.
Thanks for reading this article.