Bose is renowned for its great-sounding headphones, but one aspect that really distinguishes Bose from other headphones of the same type is its class-leading noise canceling feature.
Yes, Bose is the best when it comes to installing noise-canceling technology in headphones.
While the company's top performer is the Bose QC 35 II, some people also want to consider the QC 25 as it is a little cheaper.
Maybe you also got stuck between these two.
Should I splash the cash for QC 35 II, or should I save that extra money and go for QC 25 instead?
Okay, if you cannot decide anything about it, don't worry.
Today I am going to present a comparative discussion on Bose QuietComfort 35 II vs 25.
Just go through this write-up and know every subtle difference between them.
Bose QuietComfort 35 II Vs Bose QuietComfort 25: Remove All Your Confusion
Before diving into the detailed comparison, get a basic idea about the differences between their key specs.
Have a glance at the below table.
| Features | Bose QuietComfort 35 II | Bose QuietComfort 25 |
| --- | --- | --- |
| | | |
| | | |
| | 1.2 m audio/ 0.3 m (12 inches) USB. | |
| | | |
| | 20 hours (Wireless), 40 hours (Wired). | |
| Noise Cancellation Levels | | |
| | | |
| | | |
| Google Assistant (built-in) | | |
| | | 2.5 x 5.88 x 9.38 inches. |
| | | |
I know this limited information is not enough to finalize a decision. So, I am going to explain all the details from now on.
Let's see their design and build at first.
Design & Build: QuietComfort 35

II

Vs 25
There is nothing much exciting about their design. Bose used minimalist colors and borders to keep it simple.
Bose has used robust nylon plastic for the external covering of the two headphones. Their headband is constructed with stainless steel for increased durability and sturdiness.
They used soft Alcantara automotive fabric for headband padding.
Speaking of the differences, there is one major difference between QC25 and QC35 II.
QC 35 II is wireless, while the QuietComfort 25 comes with wired connectivity.
In terms of design, both models are pretty identical. However, one change that Bose brought in QC 35 II is that the outer side of the headband has a leather finish, whereas QC 25 has a denim finish.
Many people complained about the denim finish of QC 25 when it was released. To counter that, Bose used this leather finish on QC 35 II.
Apart from this, there is nothing much difference in the look and feel except a wire stretching out in QC 25, which was missing in QC35 II.
So, what do you think? Who is the winner in this round?
Well, as both products are more or less the same, there is nothing much to compare.
Hence, the score is tied between them.
Sometimes a simple headphone can provide you with enhanced comfort. A gorgeous-looking headphone does not always mean it is comfortable.
Now I will compare their comfort feature to help you in decision-making.
Comfort & Fit: Bose QuietComfort 25 Vs 35 II
Both of these two headphones are super comfortable, thanks to the tons of padding on their ear cups.
The clamping force is also very standard in either headphone. They do give you a good fit without pressing down much on your head and ears.
So, even if you want to listen to music all day long or use them on long flights, they are always in for your service.
Then, what are the differences? Right?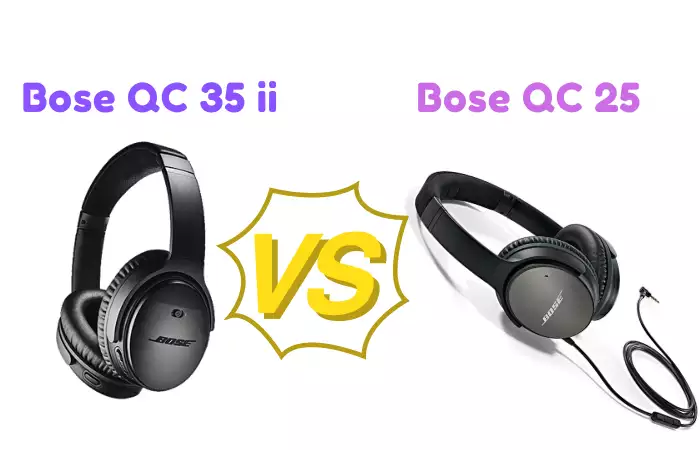 Well, there is nothing much, at least when it comes to comfort.
Though there is a slight difference in their weight, it doesn't have any significant impact on the comfort level of these headphones.
In fact, both of them felt pretty light on my head, and they caused no problem either.
So, the score is going to be tied once again.
Now, what about the sound quality? Do they perform similarly in this aspect too?
Let's find out the answer.
QC25 Vs QC35 II Sound Quality
Bose QC 35 II and 25, both headphones have an excellent bass response, where many premium headphones fail to deliver a good bass output.
Hence, instruments like guitars and kick drums sound very lively, making them perfect for listening to instrumental music.
The mid-range is pleasant too. I noticed a little bump in the low mid, which made the tones sound warm. The vocals and guitars got a nice clarity because of the crisp high-mids.
Now, you might be wondering about the variations. Right?
Well, you can notice a substantial difference in the high-end notes. Yes, QC 35 II has a crisp presence at the top, but they are not as well-detailed as QC 25.
What is the reason? I think it's the wired connection of QC 25.
Another aspect is that QC 25 sounds really nice and neutral. This headphone will not blow you away with the bass, but you can still hear it and listen to it for long periods.
Talking about the downsides of these two headphones, they are not ideal for detailed or critical listening. If you want to listen to music and enjoy the different tones and highs and lows, these two are just more than perfect.
Then who is going to wear the crown of victory?
It is not easy to decide, but I think that QC 25 has a slight edge over the QC 35 II because of its warm and neutral tones. Well, the credit more or less goes to the wired connectivity, I must say.
We already know that both of them are noise-canceling headphones. So, how well can they block out the unwanted noise?
Aren't you curious to know that?
Okay, then check out the below section.
Bose 25 Vs 35 II Noise Cancelling
Bose QC 35 II can attain a significant amount of noise attenuation across the frequency spectrum, making them ideal for subway rides and flights.
This headphone also effectively eliminates disturbing background chatter.
No matter whether it is the loud noise of a jackhammer or the whisper of wind, everything seems inaudible with QC 35 II headphones.
The active noise cancellation of QC 25 is also impressive, but it is not as standard as the QC 35 II.
When you turn on the ANC without music, the background chatter will sound like it is coming from a tinny AM radio in the other room.
Now play music. You won't hear them at all.
This headphone can also efficiently block out car horns and other sounds. You can use them on flights or bus/train journeys as well.
So, considering the overall, I am keeping QC 35 II a few steps ahead of the QC 25.
Call or Recording Quality: QuietComfort 25 Vs 35 II
I guarantee you that you are going to have some of the best calling experiences with these two headphones.
But as I must choose the better one, I am going to pick up Bose QC 35 II.
It can work so well even in gusty conditions and eliminates any whisking effect caused by wind or speeding cars.
I got good compliments from callers on how well I sounded over the phone and on video chats.
The performance of QC 25 is more or less the same.
While talking on Bose QC 25, it sounds crystal-clear on both ends of the call. It shuts out all the ambient noise of traffic and other street noises.
It even allows me to continue talking when passing by a construction site.
And speaking of the recording quality, both of them perform average in this case. Your voice may sound thin and muffled.
Though you have got an idea about their battery life from the table, you can go through the below section for further details.
Battery Life: Bose Headphones 25 Vs 35 II
The Bose QuietComfort 25 doesn't use a rechargeable battery like the QC 35 II. Instead, it uses a single AAA battery to power the active noise cancellation.
This headphone will offer you up to 35 hours of battery life with a single AAA battery, which is quite good. And you can replace the battery when needed rather than plugging it into the charge.
Another thing about this QC 25 is you can use this headphone without the battery, but of course, you can't use the ANC mode.
On the other hand, Qc 35 II has a rechargeable lithium-ion battery, as I said earlier.
You can enjoy around 20 hours of battery support in wireless mode, but it will last up to 40 hours when used in wired mode. The battery will take 2.25 hours to charge fully.
QC 35 II also has a fast-charging feature. When the battery runs out, charge it quickly for 15 minutes and enjoy 2.5 hours of playback time.
Anyway, it uses a micro USB charging cable to get charged.
So, who is the champion of this round?
Well, it is none other than Bose QC 35 II.
It has longer battery life if you compare its battery support of wired mode.
Besides, it has a rechargeable battery, which is more convenient and user-friendly than having a battery that cannot be recharged but needs to be replaced.
Now, I will talk about their connectivity in detail.
Connectivity: QuietComfort 35 II Vs 25
We already know that Bose QuietComfort 35 II supports both wireless and wired connectivity.
They use Bluetooth v4.1 for wireless connection, with a maximum working range of 10 meters.
Besides Bluetooth, you can quickly pair this headphone with devices as it has built-in NFC support.
Just tap the backside of a compatible smartphone on the NFC logo on the right ear cup, and it will be all done.
This QC 35 II also supports multi-pairing, letting you connect and shift between two devices.
And for wired connectivity, you have to use the provided 2.5-to-3.5mm cable for lossless listening.
In contrast, there is no Bluetooth functionality on QC 25 headphones. You need to connect the 3.5 mm cable to the compatible device to use it.
However, the cable doesn't have a 3.5 mm jack on both ends. Instead, the end that plugs into the headphone is a 2.5 mm micro jack.
It is not a commonly found cable like the 3.5 mm to 3.5 mm. So, I really wonder why on earth Bose has made this choice.
Anyway, I am going to put the Bose QC 35 II in the top position as it supports both wired and wireless connectivity.
The Control system of a headphone is important. It determines how user-friendly the gadget will be.
So, before purchasing a headphone, you should get a quick look at its control scheme.
Control System: Bose QC25 vs QC35 II
Bose QuietComfort 25 headphones come with 56 inches or 1.4 m audio cable that features an in-line mic and a three-button remote.
However, like most other wired headphone remotes out there or other Bose products, this remote only provides full functionality if you use it with iOS devices.
I used it with my Samsung Galaxy S4. Luckily, it was letting me adjust volume, skip tracks, answer or reject calls, and play/pause music.
But while using it with my Nokia Lumia 925, I figured out that only the play/pause button worked.
In fact, the case is the same with almost all android devices.
On the other hand, you will find the Bose QC 35 II's control system on its body.
There is a pairing or power button on the right ear cup that strongly vibrates when pressed.
In the right bottom, there are volume and play/pause buttons, while the left ear cup has the dedicated Action button to activate the noise-canceling feature. You can even customize this button to access Google Assistant.
Extra Features: Bose QC35 II Vs QC25
Another significant difference between these two is that the Bose QC 35 II supports Google Assistant or Siri.
So, you can say "Okay Google" or "Hey Siri" to activate your digital assistant, which is very helpful.
However, you won't get this benefit on QC 25 headphones.
Another extra feature you can use on QC 35 II is the Bose Connect app to customize your listening experience.
In addition to this, Bose QC 35 II comes with an IPX4 rating to protect against sweat and water splashes, but QC 25 headphones are not built with an IP rating.
So, Bose QuietComfort 25 won't get any mark in this round.
Well, I have represented all the possible comparisons between QC 35 II and QC 25.
Now, it's time to announce the winner.
Who Is The Winner?
We have seen that Bose QC 35 II has won in most segments.
If you use your headphones when you are on the move or travel around a lot, you should undoubtedly go for QC 35 II.
They are wireless headphones and also fold down well. Hence, you can carry them easily wherever you go.
Also, these should be your choice if you need a digital assistant as a part of your headphone. You are getting class-leading noise-cancellation as well.
They are premium in terms of comfort and design also, but you have to sacrifice a tiny bit of sound quality for all these. I think it's not a big issue.
And if sound quality is your only priority and you don't mind the wire hanging down from your headphones, you can go for QC 25.
Anyway, from overall consideration, I wholeheartedly recommend the Bose QC 35 II over the Bose 25 headphones.
Aren't you satisfied with the performance of any of the headphones? Do you need anything else?
Okay, in that case, I can suggest you some alternatives.
Go through the below section.
Alternative Options
Here are the 2 alternatives to both QC 35 II and 25:
Sennheiser PXC 550 comes with NoiseGard Adaptive Noise Cancelling with 30 hours of battery life and touch-sensitive control. You can enjoy powerful bass with good details on mids and highs with this headphone.
And speaking of Sony WH1000XM2, it is a fun-sounding headphone with good details to the audio. It has 30 hours of battery life, like the PXC 550 and digital noise-canceling technology, where you will get four noise-canceling modes to choose from.
I guess you have got all the necessary information by this time. So, I am concluding it here.
Conclusion
I hope this write-up on Bose QuietComfort 35 II vs 25 will help you a lot in making the right choice.
Check out the differences carefully, and then stick to the one that suits you the most.
Have a pleasant time with your headphone.
Thanks for reading till now.