As you have been searching for premium active noise-canceling headphones, it's probable that you have already come across these two exceptional models: Bose QuietComfort 35 II and Sony WH-1000XM3.
Both of these two over-ears have superb noise-canceling ability, outstanding battery life, and tons of good features.
And that's where you got stuck. Should I go for this or that? Right?
Don't worry, as I am here to remove all your confusion regarding this.
So, before you splash the cash, take a closer look at what these two headphones have to offer.
Who creates a benchmark when it comes to battery life, or what are the differences between their legendary noise-canceling technology?
Along with these, know every subtle difference precisely and then finalize your decision.
So, let's enjoy the battle named Bose QuietComfort 35 II vs Sony WH-1000XM3.
Sony WH 1000XM3 Vs Bose Quietcomfort 35 II: Broadly Explained
Before I start comparing each feature elaborately, have a quick look at the below table.
The side-by-side comparison of their key specs will help you get a basic idea about them.
Features
Bose Quietcomfort 35 II
Sony WH 1000XM3

47 Ohms (Active).

16 Ohms (Passive).

15 min charge = 2.5 hours playback.

SBC, AAC, LDAC, AptX, AptX HD.

7.31 x 2.94 x 10.44 inches.
Now I am going to present a head-to-head comparison between these two top-rated noise-canceling headphones.
At first, look at their design and build.
Design & Build: Bose QC 35 II Vs Sony WH 1000XM3
They are over-ear closed-back headphones, and each headphone is available in two different colors as I said earlier on the table.
Both of them are primarily made of plastic. They have memory foam earpads and swiveling earcups. You can even fold them for easy storage and portability.
Apart from that, their overall build quality is excellent, none of them creaks under pressure, and they should withstand a few accidental drops as well.
In the Bose QuietComfort 35 II, Bose has retained the original design of the QC35. However, their oval-shaped cups are more widespread, but it does not mean their design is terrible.
Instead, it is a handsome set of headphones with an identical shine factor.
With the leather-padded headband and soft earcups, these headphones feel more premium than the other ones.
Though Sony WH-1000XM3 adopts an updated design from the previous XM2, it still doesn't look as premium as the QC 35 II.
The two wide microphones at the top of each earcup increase its elegance a bit, but it is not as appealing as the Bose's one.
So, we have seen that the build quality of both headphones is top-notch, but the Bose comes out with the best-in-class design by casting off flash and flare.
The headphone's design just goes with everyone.
Considering all these, I am keeping the Bose QC 35 II a few steps ahead of the 1000XM3.
Before purchasing a headphone, you must check out its comfort features. After all, who wants to be in continuous discomfort? Right?
Then let's see which one can offer us more comfort.
Comfort & Fit: Bose QuietComfort 35 Vs Sony WH 1000XM3
Both headphones fit perfectly well on the head. But the Bose QC 35 II is lighter than Sony's 1000XM3. So, the clamping force I felt with the QuietComfort was not as high as the Sony's one.
Because of this smaller clamping force, Bose QC 35 II has been considered one of the most comfortable headphones available in the market.
Besides this, the Bose headphone features a headband with a softer grip, while the headband of 1000XM3 comes with a good level of flex.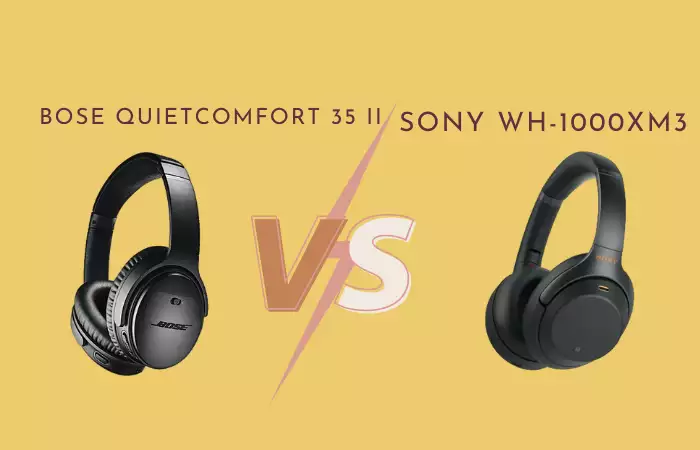 On the other hand, Sony's memory foam earpads are noticeably plusher and better padded.
Keeping it apart, I must say if you want to use headphones for long periods, go for the lighter Bose QC 35 II.
I used it for several hours and didn't feel any fatigue, where there is a possibility that you may feel fatigued due to the usage of bulkier Sony 1000XM3 for extended hours.
However, it's not a big issue as you can take a short break between long periods in that case.
So, considering the overall, I think the winning crown of this segment should go to the Bose QC 35 II.
This time I will talk about one of the most important features of a headphone, which is the sound profile.
What will you do with a headphone if it sounds worse?
Anyway, don't worry as neither of the headphones sounds bad here. But definitely, there are some differences.
And you should know that to finalize your decision.
Let's see which one can satisfy us with its performance.
Sound Quality: Bose QC 35 II Vs Sony WH-1000XM3
Sony has expertise in sound, just like Bose has it in noise cancellation. So, it should be no surprise who the champion of this round is.
It is really a big deal that Sony's headphone uses analog amplification. The 1000XM3 contains Sony's QN1 chip, which combines ANC, a DAC, and an analog amplifier to a significant effect.
Sony boasts an open and detailed soundstage that gives room to every instrument and vocal to breathe to the point that we could even hear the varying pressure of piano key presses.
Sony's all-new QN1 processor and its signature bass profile enhance fidelity and reduce distortion for cleaner and harder-hitting audio.
While listening to "I Can't Stop" by Flux Pavillion, I noticed that the low end didn't become dull at all. Instead, it added a good amount of liveliness to this bass-heavy content.
Live music recording sounds immersive and airy through this headphone as well. Speaking about the other notes, mids and highs are slightly richer when compared with the Bose QC 35 II.
On the contrary, the QC 35 II offers a crisp, clear, And wide sound. Highs and mids are managed quite well to create enough balance.
But the bass still dominates much of the sound profile, delivering impactful lows that don't sound muddled but lack depth.
Professional or any smart listeners may notice some unevenness in the treble too.
However, comparing these two, the Sony WH 1000xm3 has an earthier bass, more insight, and more detail, depth, and refinement across the board.
So, altogether, Sony gets the victory here.
Now that we know about their sound profile, it is high time to unveil how well they can cancel or block out the surrounding noise.
Hence, let's get to it without any further delay.
Noise Cancellation: QC35 II Vs 1000XM3
Bose has long been considered the gold standard when it comes to active noise canceling. However, more companies have introduced digital ANC to their headphones as time moves on, and Sony is one of them.
The microphones inside and outside the Bose headphones work effectively to eliminate any disturbing background chatter.
Besides, whether it's the 'whacka-whacka' of a jackhammer or 'whoosh' of wind, the QC35 II can block it out with excellent efficiency.
The Bose QC 35 II offers an impressive amount of noise attenuation across the board, making them ideal for flights and subway rides, but Sony 1000XM3 wins this head-to-head, as it can reduce far more noise.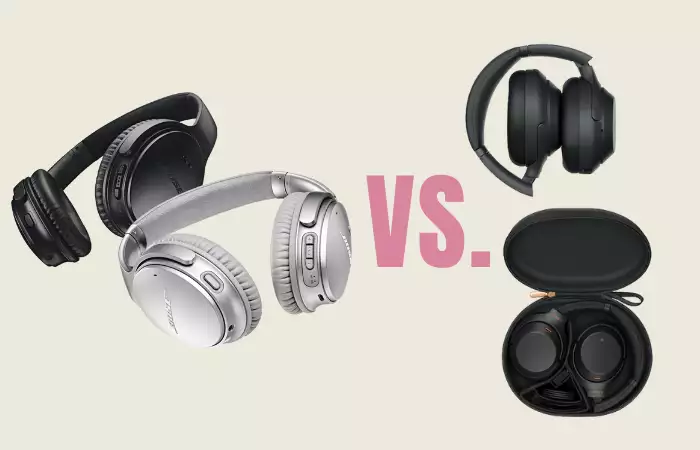 Bose has three levels of noise-canceling, while you will get 20 different levels of noise-canceling in the Sony WH-1000XM3.
Its Ambient Sound Control feature will detect whether you are walking, running, or just sitting around, using the sensors on your smartphone, and then switches between the noise-canceling levels accordingly.
When it comes to blocking out frequencies, it is smart, effective, and also comprehensive.
They also got some extra tricks that will bring you additional benefits while traveling on a plane.
Sony's Atmospheric Pressure Optimiser can adjust the noise-canceling. So, it works more efficiently at altitude on a plane.
Call Quality: WH1000XM3 Vs QC35
The call quality of the WH-1000XM3 is below average. It is acceptable, but the mics struggle a little with background noise interference, especially the wind.
The person on the other side couldn't hear me well as the volume was so low, making the calls nearly inaudible.
The Bose's built-in mics can do a perfect job of blocking ambient noise and producing clear vocals.
No matter whether you are, walking outside in windy conditions or at home, call quality remains solid. Most callers thought that I was speaking directly into my smartphone.
They could hear me loud and clear.
Therefore, we have got a clear winner here.
Well, though you already got an idea about their battery life from the table, you can go through the following section for further details.
Battery Life: Bose QC35 Vs Sony 1000XM3
Which one sounds better? 20 hours or 30 hours? Here lies the difference in their battery life, with Sony securing the top position.
The Bose QuietComfort 35 II will offer up to 20 hours of battery life, while you will get 30 hours of battery support from the Sony 1000XM3.
However, your experience may vary with the variations in NC mode, the loudness of volume, and EQ settings.
Where there is a gap of almost 10 hours in their battery life, both of them need nearly the same amount of time to recharge fully.
And if I consider the quick charging feature, Sony wins here once again.
Only 10 minutes of charging will provide you long five hours of playback, whereas the Bose headphone will offer 2.5 hours from 15 minutes of charge.
Anyway, these two headphones have a sleep function as well to preserve energy when inactive.
The Control system of a headphone is an important part to consider. It determines how handy the headphone is.
So, let's see who is going to win in this segment.
Control Scheme: Bose QC 35 Vs Sony WH-1000XM3
Sony has a modern touch sensor control panel while not being ultramodern, the Bose QC 35 II takes on the series' signature control system, which is placed on the right side.
On the ear cup, there is a power or pairing button that offers a strong recoil when pressed.
You will find the volume and play/pause buttons in the right bottom, while the left ear cup has the new dedicated Action button to enable noise-canceling modes. It can also be customized to access Google Assistant.
In contrast, the touch panel of the Sony WH-1000XM3 is very responsive to swipe gestures and obeys the commands seamlessly.
Anyway, you can tap the sensor to control calls and playback, swipe up or down for volume, and left or right for track navigation.
You will also find two physical buttons below the touch panel, each assigned for listening modes and power. It can't get more practical than that. Right?
Though the button layout on Bose headphones makes functionality easy, the touch controls on 1000Xm3 are too impressive to overlook.
It is also necessary to check the Bluetooth connectivity of a wireless headphone before purchasing.
Connectivity: WH-1000XM3 Vs Bose QC35 II
I was quite disappointed to know that neither of them supports Bluetooth 5.0.
As you saw earlier on the table, the Bose QC 35 II comes with Bluetooth 4.1 version, and Sony 1000XM3 is equipped with Bluetooth 4.2.
Though there is a little difference in Bluetooth, their working range is similar.
However, if you consider the paring and reliability, Bose 35 II wins this round.
If you power on the Bose headphone, it will put it automatically in pairing mode and connect instantly to your last synced device.
It also supports multi-pairing, which is not possible in Sony 1000XM3.
Occasionally, the bose headphone extends the connectivity passing its standard range and getting up to 35 feet without any interference.
The connection you will get from WH-1000XM3 is steady, but it sometimes drops in range.
The interference is pretty noticeable around the 25-foot mark.
Latency is another issue that you may come across while using the 1000XM3.
Connection is not everything you should consider. Audio quality varies a lot with the codec support of a Bluetooth headphone.
Let's see who can satisfy us by providing high-quality audio.
Bluetooth Codec Support: Sony WH1000XM3 Vs Bose QC35 II
You can get the added benefit of AptX, AptX HD, and LDAC Bluetooth codec support along with SBC and AAC in the case of Sony Xm3 headphones.
However, Bose's codec support is only limited to SBC and AAC.
So, Sony's headphone is able to support high-quality music streaming, which is a big advantage over QC 35 II.
If you value the audio quality, you should stick to Sony.
To offer multiple ways to enhance the listening experience, each pair of headphones has its own companion app.
Now I will compare the features of these two apps.
App Feature: Sony WH-1000XM3 Vs Bose QC35 II
Bose Connect app and Sony Headphones Connect app will allow you to adjust the active noise-canceling, playback controls, and auto-off timers.
However, unlike the Bose, Sony has tons of features, such as room effects and multiple sound-customization settings.
Adjusting noise cancellation through the Sony Headphones Connect app is more intuitive and easier.
It has features like Adaptive Sound Control and NC Optimizer. These will do all the work by evaluating your movements and settings to advance noise neutralization.
Sound Position Control is another impressive way of customizing the output. Using it, you can increase emphasis on sound in different positions.
On the contrary, Bose Connect app lacks an equalizer, which is a big minus.
However, you will find other unique functions such as Music Share. It will let you stream music on two pairs of Bose headphones simultaneously, along with firmware updates.
Bose's offering is so limited that it is not enough to compete with Sony's app.
Digital Assistant Support: Sony XM3 Vs Bose QC35 II
Both of these two headphones have welcomed the digital assistant trend, integrating with Google Assistant.
While Google's AI (Advanced Artificial Intelligence) bot runs smoother on the Sony WH-1000XM3, the Bose QC35 II supports more platforms, including Alexa.
You can also access Siri on each pair, but it is not built-in.
With the slightest touch, for example, if you press the Bose's dedicated Action button, it will instantly fire up the google assistant.
Bose's built-in mics help enroll commands and vocals in louder environments.
For getting Alexa support, you have to update the headphones to version 6.2.2 and download the latest firmware.
Google Assistant works similarly on the WH-1000XM3.
To hear your latest mobile notifications, press the listening mode button and hold it down to activate the feature.
Though command response is quicker on Sony's headphones, the Bose QC35 II earns a slight edge for getting Alexa at its disposal.
Well, my comparison part between these two headphones finally ends here.
It is time to reveal the winner now.
So, Who Is The Winner?
Both of them will be a better choice. We have seen that each pair of headphones has pros and cons of its own.
But as I have compared these two till now, I have to make anyone the winner. Right?
Well, in that case, I wholeheartedly recommend the Sony WH-1000XM3 over the Bose QuietComfort 35 II.
If you consider the important segments like sound profile, noise-canceling ability, app features, quality streaming, Sony is the champion of all these rounds.
With the class-leading battery life, it is not only a better performer, but also it has more upgraded hardware.
So, look no further than this Sony's headphone in case you want a well-sounding headphone with a top rated noise cancellation feature.
By this time, you gathered a lot of information regarding these two noise-canceling headphones.
But if you are still confused and cannot decide which one you should get, you can check out the following section for alternatives.
Alternative Options
Here are some alternatives to both Bose QuietComfort and Sony WH-1000XM3:
The Shure AONIC 50 wireless noise-canceling headphones offer a premium studio-quality sound, numerous high-quality codec support with Bluetooth 5.0 wireless technology, and a superb ANC performance with a leather-wrapped design.
And the PXC 550-II noise-canceling headphone has a comfortable design with excellent low-frequency noise cancellation and AptX and AptX Low Latency codec support.
You will get up to 30 hours of battery life and touch-sensitive controls on this ANC headphone.
I have nothing more to inform you. So, let's wrap it up for today.
Conclusion
After going through this comparative discussion on Bose QuietComfort 35 II vs Sony WH-1000XM3, I hope you can finally reach a decision depending on your needs and requirements.
Have a pleasant time with your headphone.
Thanks for reading this write-up.