Getting the highest-performing single driver in-ear headphone is not very tough but somewhat confusing. Etymotic made the process straightforward by releasing Etymotic ER4XR.
These earphones are perfect if you don't want to compromise reproduction accuracy.
Sale
Today I'm here with an in-depth Etymotic ER4XR review. Go through this entire writing to know the ins and outs of these earphones.
This authentic information will help you make an actual decision.
Before going to the detailed discussions, let's know about the Etymotic brand first.
Brand Overview
Etymotic is an engineering-driven research development and manufacturing company. The motive of the Etymotic Brand is "True to the ear."
The company was founded in 1983 and had deep roots in acoustics and hearing aids.
Mead Killion, Ph.D., and Edwin DeVilbiss, MBA, established this company.
The central mission of Etymotic is innovation, education, and hearing conservation.
Scientists, hearing practitioners, deaf consumers, professional and amateur musicians used their products that focus on superior sound quality.
After that, their first in-ear earphones were the basis of all in-ear monitoring devices.
Okay, let's have a deeper look into the main review now.
Etymotic-ER4XR Review: Accurate In-Ear Monitors with Extended Response
When you purchase an in-ear earphone, knowing its comfortability, building quality, sound quality, and other pros and cons is crucial.
So, to make it super easy, I'm going to share my own experience of using this er4xr. In this guide, you will find its benefits and drawbacks. Now let's see its special features at a glance.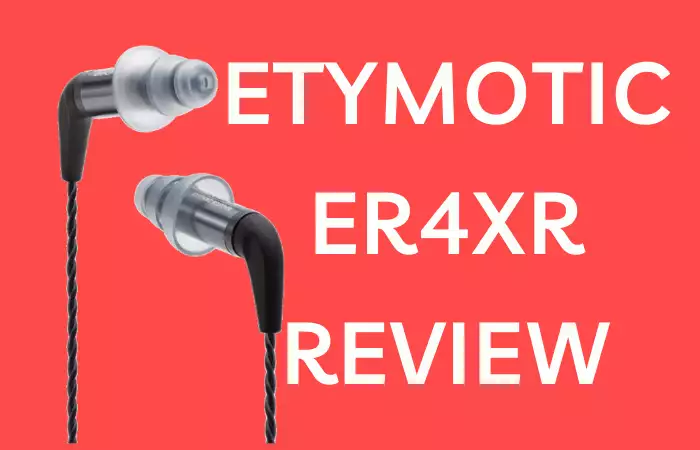 At A Glance
High-performance balanced armature drivers.
Uncompromising clarity in the mid to high frequencies.
Sleek, anodized, laser-etched aluminum body.
Replaceable filters protect the drivers from ear wax.
Completely seal the ear & provide 98% noise isolation.
Detachable 5 feet cable.
The Etymotic ER4 XR is a straightforward, wired in-ear earphone. These earphones are as clear and finely detailed as the other model but are laid-back and mellow.
ER4XR is also suitable for pure listening pleasure. We will know more about these earbuds part by part.
Before that, I wanna share my first impression, which was most exciting to me. So let's have a look at the box and see what's come with it.
In The Box
When I got my desired Etymotic 4xr in my hand, I was very excited. I saw a well-covered parcel box.
In this box, my desired earphone was hidden with a soft case in a big hard black pouch. I opened the box in a cheerful mood and saw:
Etymotic ER4XR in-ear earphones.
5 feet detachable cable.
3.5mm gold plated stereo plug.
¼" adapter.
Extra 4 pairs of eartips: ( 4 dual flange silicone: S, M, L, XL. 2 triple flange: S, L. 2 foam eartips: S ).
Filter removal tool and replacement filters.
Shirt clip.
Zippered storage case.
Performance certificate.
I was so surprised to see the assortment of different types of ear tips.
And the most amazing part was the filter removal tool and replacement filter. These special filtering tools help to protect the BD drivers from ear wax.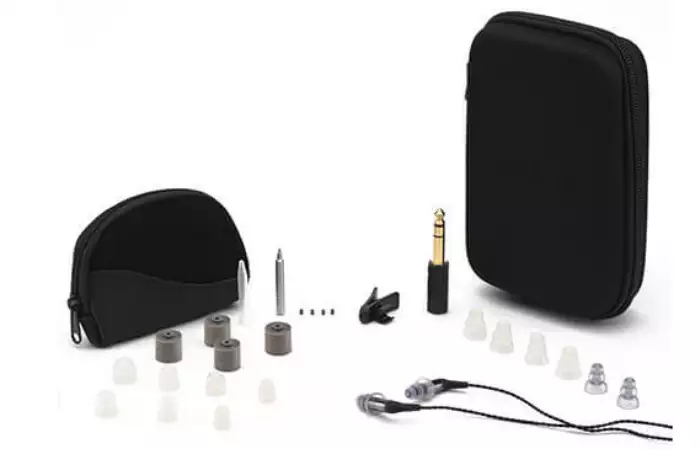 They prevent earwax from entering the earphones.
You will find the filters at the end of the earphone. And they are noticeable when the eartip is detached.
You have to change the filter when the output decreases or the sound quality declines.
Cable Details
You already know that this ER4 Etymotic comes with a 5 feet detachable cable. It is designed with custom MMCX connectors.
This high-quality replaceable cable is reinforced and twisted. It improves longevity and durability.
Pull the cable connector away from your earphone if you want to detach the cables.When removing, always pull straight rather than twisting.
When attaching the cables, align the key tab on the cable connector with the notch in the body of the earphone. Press together until it snaps into place.
Now let's know about Etymotic er4 earphones specs along with pros and cons.
Key Specifications
Form Factor: In-Ear.
Connectivity Technology: Wired ( 3.5mm Stereo Plug).
Color: Black.
Frequency Response: 20 Hz – 16 kHz.
Transducers: Single High-Performance Balanced Armature Per Channel.
Noise Isolation: 35dB When Using Silicone Eartips & 42dB When Using Foam Eartips.
Impedance: 45 Ohms.
Sensitivity: 98 dB SPL at 1kHz, 0.1V Drive Level.
Maximum Output: 122 dB.
Item Dimensions: 0.39 x 1.18 x 0.39 Inches.
Warranty: 2 Years.
Country Of Origin: China.
Pros
Excellent noise isolation.
Sturdy build quality.
Superb sound characteristics.
Replaceable filters.
High-quality cable.
Cons
No in-line remote control or mic.
Slightly uncomfortable.
As a music lover, you have to be concerned about comfortability when purchasing headphones.
Maybe you are thinking about whether Etymotic ER 4 reference in ear monitors is comfortable or not.
I will give you a clear concept about its comfortability from my real experience. So have a deep dive into the ER 4XR comfort feature now.
Is ER4XR Comfortable?
When I first wore these earphones, it was an excellent experience.
I was listening to music for long hours. And I forgot that I was wearing an earphone.
But after some time, my ears felt hot, and I was feeling pain. Then I took it off.
So I can say it is comfortable, but you may feel pain after wearing it for a long time.
There is no chance of loose-fitting in the ears as it comes with different types and sizes of ear tips. You can select one pair that fits perfectly in your ears.
The Etymotic-ER4XR is very breathable like most in-ear earphones. Only a little amount of heat may trap in your ear canal.
However, it won't make you sweat more than usual when exercising.
Hopefully, you got an accurate concept about the comfort of ER 4XR Etymotic earphones.
Now I am going to share the most vital feature of a headphone.
Maybe you can guess what I want to reveal.
Yes! You're right. It is the sound quality.
So don't delay; check out the below section for that.
Sound Quality
Developed as an update to the Etymotic ER-4 flagship, these ER4XR deliver accurate sound reproduction.
The sound was very crystal clear and I never felt any distortion.
If you find a pair of eartips that perfectly fits you, you will feel its fantastic sound quality.
It is specially designed for uncompromising accuracy in the mid to high frequencies.
As the ER4 XR comes with reference-quality balanced-armature technology, it ensures midrange and high frequencies with a modest bass boost.
These earphones have an extra beat in the lower end that gives you a real feeling of your music.
Besides, its high sensitivity delivers you a robust sound level up to 122 dB. It makes this earphone perfect for critical media players with a low output.
I felt this ER4 XR is great for neutral and detailed sound. The XR version adds a slight bass boost, but these are far from bass-heavy.
So from my personal using experience, I can assure you that if you are not a professional musician but want to buy an earphone for critical listening, it's wise to go with ER4XR.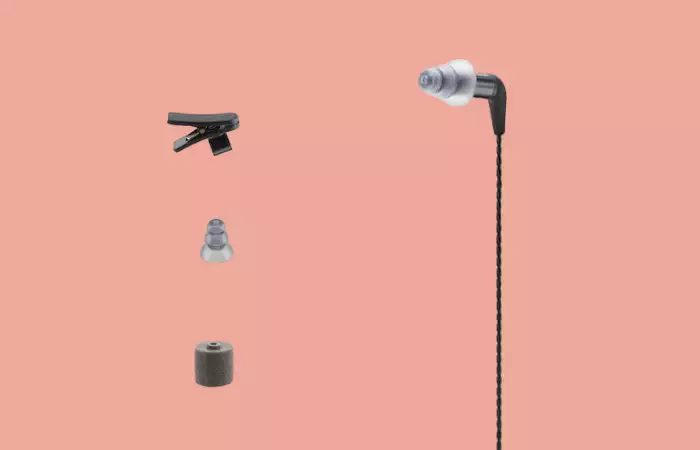 Sound Leakage
The ER4 in-ears monitor's leakage performance is outstanding. These earphones leak a little amount of sound.
Therefore, you don't need to worry about disturbing your surrounding people with the music even if you listen to high volume.
Once I listened to music at a high volume, my friend who was sitting by my side didn't hear anything.
Hopefully, you have a clear idea about sound quality and sound leakage performance, but what about noise cancelation!
Well, I'm bringing the isolation features to light. Have a look below for that.
Noise Cancelling
The Etymotic ER 4XR earphone is not an active noise cancelling earphone. And it comes with a unique in-ear model that blocks enough noise passively.
The foam ear tips ensure significantly better isolation.
How is The Microphone?
The most upsetting aspect of these earphones is that they don't come with a microphone.
The earphones do not feature in-line remotes or microphones.
So you can't talk to others and also can't record anything with this.
If you want earphones with a microphone, you may check out Beats Fit Pro.
Build Quality & Design
I have been using these earphones for a long time, and it is still okay. These earphones have a robust in-ear design, and they are long-lasting.
The 4XR combines style and functionality with a sleek, anodized, laser-etched aluminum body.
So it is durable enough to withstand multiple accidental drops.
On top of that, this earphone comes with a thick and detachable braided audio cable. This braided audio cable withstands the daily beating. And it practically flattens itself instead of getting tangled.
In addition, there is also a metal grill on the earbuds to secure the ear tips.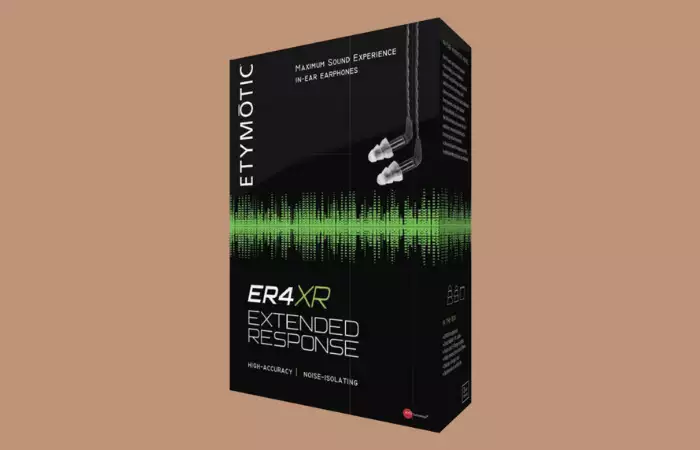 While talking about the design, the Etymotic ER4 has an attractive appearance that looks relatively high-end.
These earbuds are fairly thin, compact, and feel very premium.
But somehow, if your earphones get damaged within two years, don't take the stress as the Etymotic brand gives two years of warranty.
So in case of any damage, feel free to make a warranty claim.
Stability
The eartips go deeply into the ear canal, which makes these earphones stable enough for most activities.
Even during intense workouts, they are unlikely to fall out.
Unless you intentionally pull the buds out of your ears, they will not fall on purpose or by accident.
Hence, it's an excellent option for sports.
Is It Waterproof?
The ER4XR is not a waterproof and sweatproof earphone. It doesn't come with any waterproof ratings.
Although it is not sweatproof, it can resist mild sweat.
But, you should never use this earphone when taking a shower. It will get damaged when coming in contact with water.
Compatibility
The Etymotic-ER4XR is a wired in-ear earphone and doesn't support any Bluetooth connection.
You already know that it comes with a 3.5mm audio plug and ¼" audio adapter. And it is most compatible with the devices that are suitable for that audio connection.
Let's find out how suitable it is for gaming.
Is ER4XR Suitable for Gaming?
Although these earphones are not for professional gaming, you can use them with your gaming console.
Since it is wired and has a negligible latency, these earphones are perfect for PC gaming and watching movies.
You can connect it with PS4 and Xbox One but only hear audio. As it has no mic, you can't talk to your partner.
As the earphones have no customization options, they are not comfortable for long gaming sessions.
On the other side, as they block a lot of noise and don't leak, you can be fully immersed in your game.
But never expect a gaming experience like professional gaming headsets. If you need a gaming headset, you can check out Logitech G430.
Right now, you have immense knowledge about these earphones. But you may feel confused about whether it is suitable for studio use or not.
Is It Ideal for Studio Work?
The ER 4XR wired earphones are not designed for studio monitoring. Hence, It's not ideal for mixing and recording.
While looking for perfect studio monitoring headphones, you may go with Sony MDR 7506.
Can't make a decision still now? Take a deeper look below and get an idea of who should buy and skip these earphones.
Who Should Buy It?
If you are a serious traveler like me, you may try these earphones to make your journey special.
You can avoid unwanted noise while jogging in the park.
It was very handy to me when I was with my naughty friend who disturbed me while listening to music.
I immersed myself into the music as it was canceling outside noise.
If you have lots of stories to break your earphones easily, you may also check it out as it is durable.
These earphones are also ideal for official use. Audiophiles and hardcore listeners also love these earphones.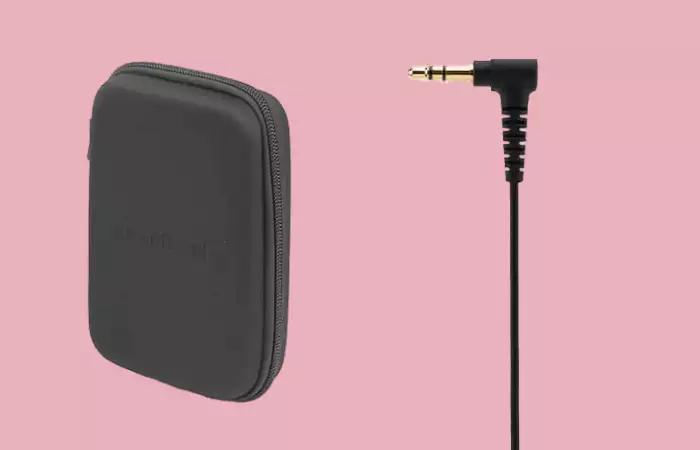 Who Might Skip It?
I won't suggest these earphones if you are a bass lover. You should also skip it if you need earphones for regular communication.
I have already let you know that it is not perfect for mixing. So you may skip these earphones for these purposes.
Hopefully, you got a clear concept.
But still, I wanna make it super easy by comparing these earphones with other similar kinds of earphones.
Let's start comparing now.
Comparison With Other
Stay with me and observe the differences between Etymotic ER 4 XR and others.
ER3XR Vs ER4XR
Both earphones are from Etymotic, and they are wired in-ear monitors.
The ER3XR is more lightweight than ER4 XR. This 3XR comes with a 4 ft detachable cable, while 4XR has a 5 ft cable.
The price is the main issue between them as the ER3XR is more affordable than ER 4XR.
Etymotic ER4XR Vs Shure SE535
The Shure SE535 comes with both wired and wireless modes but you will get ER 4XR in only wired mode.
Both are great for isolation and sound quality. The SE535 features triple high definition drivers while the 4 XR has armature drivers. Hence, the SE535 produces better sound with rich bass than 4XR.
If you give priority to comfort, then SE535 is an ideal choice.
Etymotic ER4XR Vs ER4SR
Both are the same products of the Etymotic ER4 series. Their features are almost the same and have no significant difference between them.
The XR means Extended Response, and the SR means Studio Reference.
Grado GR10e Vs Etymotic ER4XR
They are both in-ear wired earphones. GR10e comes with an adjusted cable, while 4XR has a detachable cable.
Comfort is the major difference between them. The GR10e is more comfortable and lightweight than ER4 XR.
Both do not have microphones and their sound reproduction is the same. In contrast, the GR10e doesn't include a carrying case, while the 4XR comes with two.
So from my personal opinion the 4XR is better than GR10e.
Etymotic ER4P Vs ER4XR
The ER4P comes with 3 different types of models. They are ER4P, ER4P-T and ER4S. All model's features and prices are different.
The ER4P-T is better for accurate sound reproduction than ER4XR.
The ER4XR and ER4P both isolate noise passively. They are all lightweight and have a strong build quality.
Etymotic ER4XR Vs Shure SE425
Both are wired in-ear monitors and great for sound quality. The ER4XR is excellent for sound isolation than SE425.
And the SE425 is more comfortable than ER4XR.
Both come with a detachable cable, and their other features are almost the same, and I have not found any major difference.
Etymotic ER4XR Vs Shure SE846
The Shure SE846 comes with both wired and wireless mode, but the ER4XR only comes with wired mode.
The Shure SE846 has four high-definition drivers. It provides extended clarity and a premium listening experience than ER4XR.
The Shure SE846 is more exclusive than ER4XR. And ER4XR is somewhat more affordable than SE846.
Is It Worth Buying?
You already know for what purposes these earphones are perfect and for what it should be skipped.
The ER4XR is excellent for strong build quality, crystal clear sound performance, and it is suitable for traveling.
So if you are a hardcore listener and want an earphone as your travel companion, you may check out this earphone.
Though the price is slightly high, its overall features demand this price range.
According to my overall Etymotic er4xr review, if you're not satisfied with this, look below. I'm presenting you with several alternatives.
Alternative To ER4XR
Here are some worthy alternatives of Etymotic-ER4XR.
These are some top-rated in-ear earphones similar to ER4XR. They have almost the same features.
So now you can pick as per your demand.
Conclusion
This is my in-depth Etymotic ER4XR review. I have shared my personal experience from my point of observation.
And I revealed these earphone's praiseworthy aspects along with downsides.
Hopefully, now you can make your decision by judging the given information.