HyperX is a renowned brand that has been able to dominate the market of gaming headphones.
The HyperX Cloud Alpha and the Cloud II both are legends in the world of gaming headsets.
Despite their age, they have still retained strong market positions and competitive price points.
In terms of that, I am here today with one of the most wanted gaming headset comparisons, which is HyperX Cloud 2 vs Alpha.
If you are a gamer, you also might be confused about these two. Which one will be more worthy!
And that's why you are here.
Don't worry as you are exactly at the right place.
Today I am going to clear all your confusion and help you in decision-making.
So, get ready for a head-to-head comparison.
HyperX Cloud II Vs Alpha: Killer Gaming Beasts
Here I will present a comparative discussion between these two headsets in terms of some major factors.
Let me mention an important thing before starting the main discussion.
HyperX Cloud II comes in 2 versions, one is wired, and the other is wireless.
However, except for the connectivity, other features of these two versions are totally similar to each other.
Anyway, now let's start with the design variation.
How Is The design?
Both Cloud II and Alpha come with the standard HyperX design. So, they are quite similar in look.
The Cloud 2 features a minimalist aviation-style aesthetic that reminds you more of a studio headset than a gaming one.
The Alpha takes the same overall shape as the Cloud II while maintaining little differences.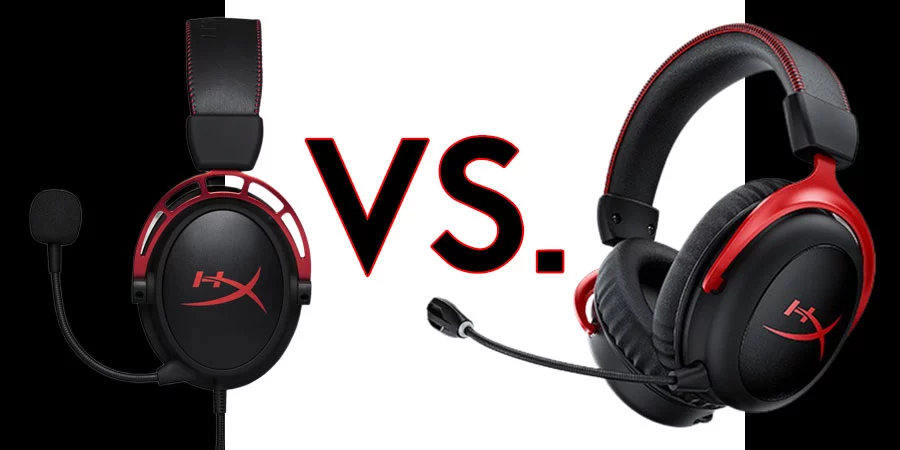 It cuts some parts out of the metal forks. The logo on top of the headband is no longer stitched into the material like the Cloud 2. Also, the ear cups are slightly less rounded than the older model.
Though the Alpha reduced some weight from the metal fork, I don't think they did a lot with the holes except making the design worse. I also miss the classy stitched logo on top of the headband.
So, in my opinion, Cloud 2 will be a little bit ahead of Alpha in this case.
When you are investing some bucks on a headphone, obviously, you will want a durable one.
Headphones built with cheap quality materials can break easily.
Let's check out how durable they are.
Build Quality: Cloud 2 Vs Alpha
Both of these headsets are well-built with plenty of aluminum parts. The durable and compact aluminum frames are designed to endure rigorous daily activities.
The cables of both Could 2 and Alpha are covered with a braided cloth for increased protection and to prevent tangles. They have been made in such a way that it won't tear apart under some forces.
Their mic is also sturdy enough.
Besides, the paddings are well-stitched so that you can rest assured for a long time without any worries of tearing.
So, overall, I think both of them come with robust build quality.
What is the use of a gaming headset if it doesn't necessarily provide good sound quality?
We need to know about the sound quality before finalizing any decision.
I will enlighten you with it, but before that, have a glance at the table below to get a precise idea about them.
Now, let's go for sound quality.
Sound Quality
Regarding the audio quality, the drivers of Cloud Alpha are slightly smaller than the drivers of the HyperX Cloud II gaming headset. It means the drivers of the Cloud 2 headset deliver more powerful sound.
This headset features 7.1 Surround Sound, which amplifies the positional audio. You can easily detect enemies with this feature. It still requires a bit of improvement, though.
On the other hand, the Cloud Alpha has dual chamber technology. One chamber is for bass response, and the other one is for mids and highs.
With this technology, the bass is separated from the mids and highs. This adds more distinction to the sound and minimizes the distortion.
Therefore, you can enjoy a more neutral, dynamic, and clearer stereo sound with less distortion.
The frequency range of Cloud Alpha is wider than that of Cloud 2. But the impedance of Cloud 2 is lower, which makes its sound smoother.
But to be honest, I think that Cloud Alpha has a better and more immersive audio quality.
To be specific, you can even hear the exact sound of subtle footsteps and locate enemies in the game.
It has the fun bass and detailed highs of the Cloud 2 but without the slight midrange muddiness or grain in the high tones. So, it's a plus point.
Even the soundstage and imaging of Cloud Alpha are wider and more accurate than Cloud II.