It is undeniable that Apple succeeded in the category of true wireless earbuds in the mainstream and succeeded in this pathway with AirPods and its successor AirPods Pro.
However, Apple is not the only one having a jewel in the true wireless world.
Here comes another name which is Jabra Elite 75t. It offers a fun sound with some impressive features and durability even without spending a premium amount, unlike AirPods Pro.
And that's where the confusion builds up!
Should I take this or that? Right?
Well, don't worry and get ready to remove all your confusion.
Just go through this write-up on Jabra Elite 75t vs AirPods Pro, and you will find your answer.
Jabra Elite 75t Vs Apple AirPods Pro: Go for The Best One
Before I start to describe each feature, let's have a quick look at their key specs. You can have a basic idea from this side-by-side comparison.
Features
Jabra Elite 75t
AirPods Pro

Up to 5.5 hours (ANC on).

Up to 7.5 hours (ANC off).

Up to 4.5 hour listening time (ANC on).

Up to 3.5 hours of talk time (ANC on).

Up to 5 hours (ANC and Transparency off).

Battery Life with Charging Case

Up to 24 hours (ANC on).
Up to 28 hours (ANC off).

1-hour Playback for 15 minutes of charging

.

1 hour Talktime for only 5 minutes of charging

.

0.86 x 0.76 x 0.64 inches.

0.94 x 0.86 x 1.22 inches.

Titanium Black, Gold Beige.
Now that you have a primary idea about the differences between the two, let's start our main discussion from here.
I would like to start the comparison with the design and build.
Design and Build: AirPods Pro Vs Jabra Elite 75t
Both of them are wireless in-ear earbuds. AirPods Pro is available only in one color, which is white.
In contrast, you will get two color options to choose from in the case of Jabra 75t that I have mentioned earlier on the table.
Anyway, the AirPods Pro looks almost similar to the AirPods. They didn't bring any massive changes, featuring a glossy-white exterior made of hard plastic.
The earbuds come in a compact form with short stems that will stick out from your ear. They tried to keep the stem shorter than that on AirPods.
So, it is less likely to mess up or interfere with your hair or earrings.
Like the AirPods Pro, the Jabra Elite 75t earbuds are also constructed of hard plastic but with a matte finish in lieu of a glossy one.
Here you won't find any stem like the AirPods Pro. So, the design seems kinda blocky.
The blocky design might not be as sleek as the AirPods Pro, but the rubberized, inward-facing surface keeps the Elite 75t earbuds in place, no matter what kind of workout you do.
Hence, you can say the stability of Jabra earbuds is better than the AirPods Pro due to the absence of stem as well as the difference in design and construction.
So, considering the overall, I will definitely put the affordable Jabra 75t a few steps ahead.
Charging Case
The AirPods Pro's charging case has a slight edge over the Jabra's one, thanks to its support for Qi-Wireless charging.
Another noteworthy difference between the two cases is their charging inputs.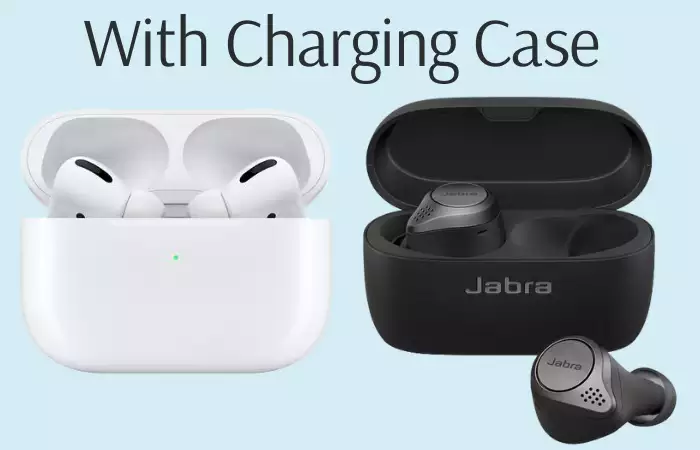 The case of Airpods Pro uses the proprietary Lightning method, while the other one supports USB-C.
Apart from these, two of them are quite similar except for the color. In addition, both charging cases are pocket-friendly and feature magnets to slot the earbuds in for charging.
Now let's check out their durability.
Which One Is More Durable?
The Jabra Elite 75t comes with IP55 water and dust resistant rating, whereas Apple's expensive AirPods Pro protects against sweat and water splash with an IPX4 rating.
So, by offering more protection against both water and dust, Jabra's earbuds could secure their top position in this case also. In fact, these earbuds are even rainproof, and you can even use them as shower earbuds too.
When the Jabras make a better impression for long-term durability on this point alone, it becomes more evident when you look at the warranty periods as well.
Apple offers only one year warranty for the AirPods Pro, where you will get two years with the low-priced Jabra Elite 75t.
So, what do you think? Which one is better designed for durability?
I think you already have your answer.
When buying earbuds, I always prefer comfortable ones. How can I carry on working if I am in continuous discomfort? That's why comfort, as well as fit, is very important.
Comfort and Fit: Jabra 75t Vs AirPods Pro
The AirPods Pro has always been comfortable for all-day wear, but the smaller form of Jabra Elite makes them way more comfortable than the AirPods Pro.
Both earbuds come with extra three different sizes of ear tips to get you the secure, snug fit.
However, in the case of AirPods Pro, you may face a problem if you have a small ear canal. Even the smallest ear tip in the box seemed too big for my tiny ears.
So, it must interfere with the comfort issue.
And to talk about the fit, Jabra Elite wins here once again.
Yes, AirPods Pro will provide you with a good fit, but it is not as snug and secure as the Jabra Elite 75t offers.
When I was exercising, the AirPods Pro couldn't stay in my ears as snugly as the 75t, but your experience may vary.
Now I will compare a major feature of earbuds, which is their sound quality. Buying earbuds is all about getting a good sound. But what if it sounds poor?
Well, I can guarantee you that neither of the earbuds sounds poor here. There are some differences only, and now we will know about them.
Jabra Elite 75t Vs AirPods Pro Sound Quality
The frequency response of AirPods Pro can be best defined as consumer-friendly, with the usual emphasis on the bass and treble frequencies.
While listening to the song Ready For The Floor by Hot Chip, I noticed that the low-end frequency wasn't as amplified as it was on the Jabra Elite 75t.
This level of restriction in the bass was preventing auditory masking in the midrange frequencies, but I found the treble emphasis too loud.
In the case of electronic and hip-hop songs, though it helps retain vocal and instrument clarity, you may feel minor discomfort during listening.
On the other hand, the 75t earbuds really bring the bass to its users. If you prefer more balanced audio, you may find that bass overpowering at times.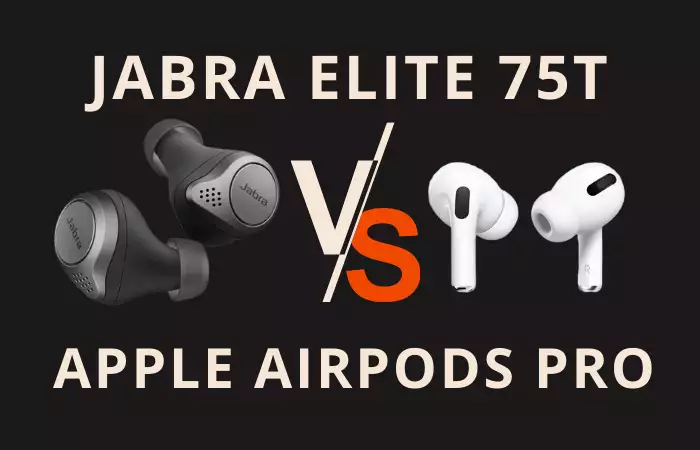 But for a bass lover like me, it's a gem in the audio world. These Jabra earbuds exaggerate low notes, making them sound three times louder than mids.
I listened to the popular bass-heavy song Addicted to You (David Guetta Remix) by Avicii while doing my daily workout.
Though the music sounded unclear as the louder bass notes masked midrange and treble notes, I enjoyed every beat to the fullest.
Anyway, to make up for the overpowering low-ends, the mids seemed slightly boosted at around 1kHz to retain clarity in lead vocals and instruments.
Well, if you are not happy with the bass-heavy sound profile of Jabra Elite 75t, then don't worry. You can tune it to your liking anytime using the EQ tools in the Jabra Sound+ app.
Though Jabra Elite 75t cannot offer a relatively balanced sound profile like AirPods Pro, we shouldn't consider the AirPods Pro as a winner as Jabra has customization options to provide your preferred sound.
Apart from that, AirPods Pro is not flawless either.
So, considering the overall, I am going to make it a tie.
We know that both Jabra Elite 75t and AirPods Pro are noise-canceling earbuds. Now, it's time to know which one can do this job better.
Active Noise Cancellation & Passive Isolation
AirPods Pro is one of the best noise-canceling true wireless earbuds on the market.
Though they are not going to get rid of the low rumble of planes and trains completely, the low-frequency will sound half as loud with ANC on.
Another impressive thing about its ANC is while other ANC performances greatly fluctuate between the range of 100 Hz to 800 Hz, AirPods Pro is the most effective across this range.
However, these Apple earbuds find it quite difficult to cancel the upper-midrange and treble frequencies as these sounds are usually unpredictable comparing the droning hum of an airplane cabin.
These are the things that ANC can do, but the high-frequency blockage is entirely due to the ear tips and sealed ear canals, though it is true for almost all noise-canceling earphones.
On the other hand, Jabra's noise cancellation seemed better to me at first glance. But after a while, I discovered that this was not actually the case.
Jabra Elite 75t has far better passive isolation than the AirPods Pro. And if you consider the total noise reduction, Jabra's gross attenuation (ANC + passive isolation) is better than that of AirPods Pro, but Apple technically has a more effective noise canceling ability.
So, I need to display the score for this segment, splitting it into two parts. Here they are:
For ANC
For Total Noise Reduction
Call Quality As Well As Microphone
Airpods Pro uses dual beam-forming microphones to reproduce voices accurately while effectively rejecting off-axis noise.
This makes these earbuds an ideal pick for phone calls and online/Zoom meetings.
The microphone on the Jabra's earbuds is also good but not as neutral-sounding as the AirPods Pro.
When I made the same phone call with Jabra Elite 75t that I did with Airpods Pro just a minute before, the caller remarked that I sounded a little louder with Jabra though he could hear more background noise.
Though you already got an idea about their battery life from the table, go through the below section for further details.
Battery Life: Jabra Vs AirPods Pro
Between Jabra Elite 75t and Airpods Pro, Jabra has longer battery life than the other one.
It lasts up to 7.5 hours with constant playback, whereas the AirPods Pro can roughly make it to 5 hours.
And you can extend the battery support of Jabra Elite up to 28 hours and AirPods Pro up to 24 hours using the charging case.
Be noted that your results may vary as battery life is affected by multiple factors such as volume level, ANC mode, and EQ settings.
The control scheme is also an important feature of earbuds. Let's know which one is handier?
Control System: Airpods Pro Vs Jabra 75t
The AirPods Pro features intuitive playback controls.
The stems on the AirPods Pro have their advantage, no matter if you love it or hate it. Using them, you can access playback control.
The stems are pressure-sensitive and have slight furrows to indicate where you should squeeze them to control your audio.
The squeezing patterns are also very easy and intuitive. You can play, pause, skip, go to the next or previous track, activate ANC, answer or end calls, adjust the volume and summon or back off Siri using the stems.
You just need to learn the pattern or form of squeezing for each activation.
AirPods Pro is also integrated with automatic ear detection.
If you remove one earbud, the playback will automatically be paused, and it will auto-resume the music when the bud is reinserted.
However, this may disable the Settings menu of any Apple device, and it only works with iOS devices.
Meanwhile, the Jabra Elite 75t uses buttons for all those controls. So, when you try to press the buttons, you might end up pressing the earbud into your ear, which will create an uncomfortable sensation.
And this is the place where we should appreciate the presence of stem on AirPods Pro.
So, here the winner is the AirPods Pro.
As both of them are wireless earbuds, we should check out their connection quality before finalizing a decision. Right?
Ok, then let's go for it.
Connection Stability
Jabra Elite 75t and AirPods Pro are compatible with both android and iOS devices. They support SBC and AAC codec.
But I experienced a few dropouts or connectivity issues on AirPods when using them with Android.
So, you won't get 100% if you are going to use it with any Android device.
In this case, Jabra Elite can be an ideal choice.
It supports multipoint connectivity, which gives it a competitive advantage over the AirPods Pro, and the connection is more stable as well.
So, you can connect the Jabra earbuds to two devices at the same time. It will also alert you with a voice prompt when connected to more than one device.
We know that Jabra Elite 75t and AirPods Pro both support two different apps. This time I will compare the features of these two apps. So, you can make up your mind according to your need and preferences.
App Features and Integration
Apple can offer you some degree of control over your AirPods Pro via the settings app if you are on iPhone or any iOS device.
This app will allow you to perform some basic functions, including playback control customization, long squeeze customization, and switching between different noise cancellation settings.
The settings app also features a fit test which will help determine whether you are using the right ear tips or not.
Besides these, you will get limited EQ functionality like Bass Boost, Acoustic, or Treble Boost on AirPods Pro.
And yes, there will be no graphical interface indicating what frequencies are being adjusted.
However, Apple AirPods Pro can help you in one aspect.
If you don't understand how the modification should be, you can let it decide how to adjust the frequency response via Apple Adaptive EQ.
You won't get access to any of these controls on Android. They are only available on iOS devices.
Well, now come to the discussion on app features of Jabra Elite 75t.
Apple software features are comparatively easier to use, but Jabra's app will give you much more control. It has more comprehensive app features than the AirPods Pro.
The most convenient thing about Jabra Elite 75t is that you can use the Jabra Sound+ on Android and iOS. It will offer you lots of customization and control options.
You will also get access to firmware updates and a fully-featured graphical EQ in the app.
The Jabra Sound+ app also has MySound, which conducts a hearing test that will create an optimized sound profile depending on your hearing results and provided demographic information.
If you already have an iOS device, you can consider using the AirPods. But to enjoy the greatest functionality and accessibility both on Android and iPhone, Jabra Elite 75t is the one you should consider first.
So, who is going to win this last segment? I think you already have that answer. Right?
Well, I am ending the comparison part here. Now it's time to reveal the winner.
So, Who Is The Winner?
Actually, both the two earbuds are good in their individual aspect. But as I am here to compare and as I already presented a comparative discussion, I need to pick one. Right?
Considering the whole, I wholeheartedly recommend the budget-friendly Jabra Elite 75t over the expensive AirPods Pro.
You have seen that Jabra Elite is the winner of most of the segments. They are tiny, comfortable, handy, durable, and have good battery life.
Yes, they are definitely not the cheapest true wireless earbuds, but still a lot less expensive than Apple's AirPods Pro and some other top-rated true wireless earbuds.
Though their sound and call quality might not be as well-executed as the AirPods Pro, they can make it up with the EQ tools in the Jabra Sound+ app. Besides, much of this comes down to personal taste.
So, if you want to use earbuds irrespective of devices, look no further than the Jabra Elite 75t.
However, to use them just on Apple devices, you can consider spending that extra money on buying AirPods Pro.
For that extra cash, you will get almost everything you could ask for.
After going through the whole write-up, in case you cannot like either of the earbuds, the following section is for you.
Alternative Options
Here are some alternatives to both Jabra Elite 75t and AirPods Pro:
Sennheiser MOMENTUM True Wireless 2
Bose Sport Earbuds
Bose QuietComfort Earbuds
If you want a great pair of active noise-canceling earbuds, check out the Sony WF-1000XM3. It has better ANC performance than the AirPods Pro.
Sennheiser MOMENTUM True Wireless 2 is another alternative for audiophiles, which combines a great sound profile and active noise cancellation.
Looking for a nice pair of true wireless earbuds for working out?
There are tons of options for it as well.
Go for the Powerbeats Pro. It has ear hooks to provide a secure, snug fit and an IPX4 rating to make you stay worry-free during those sweaty workout sessions.
You can also consider Jabra Elite Active 75t. Its design is similar to the Elite 75t but has an upgraded IP57 rating, making it completely waterproof.
Bose Sport Earbuds can also be a great alternative, which fits incredibly well and sounds great.
In case you want to stick with Bose but need top-class ANC, get the Bose QuietComfort Earbuds.
I think you have no more queries left to know.
Let's conclude it here.
Conclusion
I hope this long discussion on Jabra Elite 75t vs AirPods Pro will help you a lot to finalize your decision.
Get the best pair and enjoy your listening.
Thank you for reading this write-up.