Logitech G933 vs. G935 are two of the most popular gaming headsets. Both of them have a unique look that gives pro gamer vibes.
When it comes to competitive gaming, quality can't be compromised.
And, that's why choosing the best one is a must.
Anyway, the question is, which one will you pick?
Maybe you are confused!
It's similar to asking, who played Barry Allen's character better, Grant Gustin or Ezra Miller?
Complicated!! Right?
Well, don't worry.
It's not impossible to differentiate between Logitech G933 vs. G935.
In this article, I am going to provide a head-to-head comparison between these two headphones.
So, stay with me to know who won this ultimate battle.
Logitech G933 Vs. G935: Who Is The Champion?
I have arranged the following table to give you a sneak peek of these two headphones.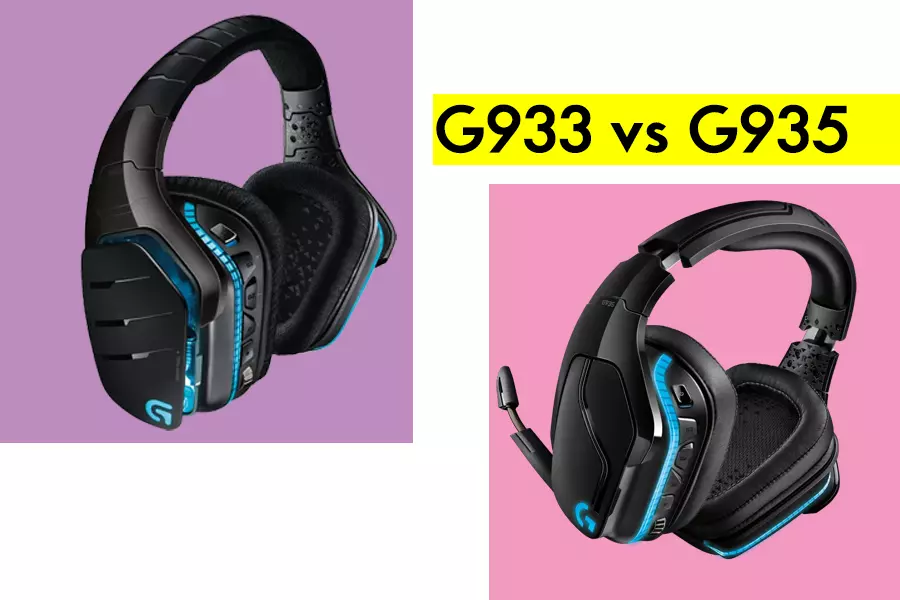 You will be able to see the key specs differences at once.
Take a glance at it.
| Features | Logitech G933 | Logitech G935 |
| --- | --- | --- |
| | | |
| | | |
| | | |
| | | |
| | | |
| Microphone Frequency Range | | |
| Speaker Frequency Response | | |
| | 12.91 ounces without cables. | 13.4 ounces without cables. |
| | 8.82 x 3.74 x 8.82 inches. | 7.8 x 4.21 x 9.06 inches. |
| | 15m (indoor), 20m (outdoor). | 15m (indoor), 20m (outdoor). |
| | | |
| | 12 hours (no lighting), 8 hours (default lighting). | 12 hours (no lighting), 8 hours (default lighting). |
| | | |
Did the table make you more confused?
It's okay. I understand.
As most of the features are similar, picking one is still a challenge.
Chill!! I am always here to rescue you from indecision.
Just go through the detail part, and you will find your desired champion.
Design & Build
Both Logitech G933 and G935 look almost identical.
Like most gaming headsets, they have a bulkier design.
So, they are not outdoor-friendly.
When it comes to earcups, they have a large and slightly squarish design that can adapt to any ear shape, including big ears.
You will get RGB lighting on the logo and a line at the back of the earcups after powering it on.
But, what makes them stand out the most is their unique look.
They don't look like the other typical gaming headphones and have a more stylish vibe.
The main difference is in the headband. Personally, I think the look of the G933 headband has a more futuristic aura than the G935.
Yet, your opinion can vary from mine.
Let's talk about their sturdiness.
The two headsets are made with solid materials and can endure harsh usage.
Hence, you don't need to be worried about their durability.
Both of these headphones offer two years of warranty that you can claim anytime within the time period.
Considering all the above facts, I can't declare one winner based on build and design quality.
So, they gained the same score in this category.
But, can we find a winner in terms of fit and comfort?
Let's see.
Comfort & Fit
The G933 has breathable earpads, which are also removable. The ear cups fit well and won't clamp your head as some other gaming headphones do.
The ear cushions are made with foam materials that assure extra comfort during your prolonged gaming session.
Also, for the headband, they provided the same foam paddings and are flexible too.
This means you can adjust the headband as per your need.
On the other hand, the G935 has different padding than the G933.
Instead of mesh fabric, the earpads and headbands have leather coatings for a high-end feel.
They also have an adjustable headband for a perfect fit.
So, two of them offer a similar fit but with different padding materials.
Now which one is comfier- foam or leather?
From my experience, the foam feels more comfortable for hours and hours. On top of that, they give a soft feeling to the ear.
However, leather starts to get dense after a few weeks and also keeps peeling at some point.
Though some people think leather is cozier than foam, so it depends on preference and wearing experience.
Overall, there is no huge variance between their comfortability. But, I prefer the Logitech G933 more because they are more suitable for extended use.
Besides comfort, which feature is the most essential for immersive gaming?
You probably guessed it already.
Right! It's none other than the audio quality.
Sound Performance: G935 vs. Logitech G933
G935 has a built-in 7.1 surround sound feature which brings them into the spotlight.
You will hear the footsteps of the enemy precisely and can locate them quickly.
Moreover, they have 50mm large drivers and consistent frequency response with heavy bass and sound.
Therefore, the in-game blasting and other sounds are more detailed and immersive.
What's more, they provide a variety of equalizer profiles available in G HUB so that you can change audio presets as per your taste.
Now come to G933.
It can eliminate significant latency that mostly occurs with wireless headsets.
Although it also offers surround sound, it lacks in terms of driver.
With a 40mm driver, the sound of this headset is a little bit less detailed than the G935.
However, this size is still good for listening to music and playing games.
Like G935, it also lets you customize your sound profile through an equalizer.
Though there is no significant variance among them, yet G935 is more suitable for gaming.
After the sound profile, the second important trait is the microphone.
So, move forward to know the details about it.
Microphone Quality
G933 vs. G935 have a boom mic for carrying an in-game conversation and a built-in mic for calls.
As they are flexible, you can change the direction of the mic and fold them too.
Nevertheless, the G935's microphone is slightly better than the G933.
Their enhanced 6mm mic can transmit vocals without any distortion, and your teammates will hear each of your words clearly.
Furthermore, their mic supports flip-to-mute functionality with a red light indicator, which is absent in G933.
Though the mic of G933 can also transfer your voice, there is not much to complain about its clarity.
Point to be noted that both of their microphones are noise-canceling, so your gaming partners won't hear the background clamor that much.
This section gives you an idea about the mic's performance for transmitting vocals to online gaming.
And the next segment will let you know about their call and recording quality.
Recording & Call Quality
In terms of recording, the microphone of G933 performs better than the G935.
It's because the highest frequency response of G933 is 20 kHz while 10 kHz for G935.
So the recording voice with G933 is a bit clear and detailed.
Also, it produces clear and understandable sounds for calls and can capture speech better in noisy surroundings.
Therefore, I have to make the G933 winner in this matter.
By the way, you may know that noise isolation also matters as you don't want the unwanted noise distracting your focus from gaming.
Which One Has Better Noise Cancelation?
Either of these two headsets doesn't come with an active noise canceling trait.
Yet, they can isolate the noise passively, which means if the earpads fit your ear perfectly, they can reduce the ambient noise.
Hence, the fit is a major factor for noise reduction.
As I already said, they have similar fittings, so it's a tie among them regarding noise cancelation.
Control System
Many people get confused with the control system of G933 at first.
Well, that's because they provide two control methods- one when you use a wireless connection with the default button on the right earcup, and the other is wired that has an in-line remote.
The in-line cable has regular play, pause, call management button, a small volume dial, and a mute mic switch.
And for the wireless layout, you get a bit more control over the headsets' functionalities.
There you will find a volume dial that works better, a mute mic button, and a power switch.
Additionally, you will get three programmable keys G1, G2, G3, which let you set various functions via the Logitech gaming software (PC mode only).
The default setup of these three buttons is EQ modes, surround sound enable, and switch between the RGB light patterns.
The RGB lighting is adjustable and has 16.8 million color options.
It may seem easy. Right?
Then, imagine you are playing a heated multiplayer game. When your mind is distracted, you can't even remember all the functionalities of those buttons.
And that's the moment you will get perplexed. Yet with practice, you will be used to it.
On the other hand, G935 has the same pattern of buttons as G933.
Also, the three programmable buttons have similar actions as described above.
Wait! There is a twist coming!
Unlike G933, this headset supports voice commands. So, without manually pushing the earcups buttons, you can access the device's functions through voice navigation.
Hence with this extra twist, the trophy goes to G935.
You bought the headset without knowing if it is compatible with your device.
What will happen?
Frustration! Frustration!
This is the reason you should know whether the headphone supports your connected device or not.
Compatibility with Devices
G933 works with PC, gaming consoles as PS4 and Xbox, Nintendo Switch, mobile, tablet with USB port, 3.5mm or RCA audio output port.
You can even connect them to your home entertainment system with the USB-powered wireless mix adapter and enjoy TV shows, movies, music wirelessly without distracting the other people in your home.
On the contrary, the G935 requires USB 2.0 or higher for PCs, Nintendo Switch, Mac, PS4, and 3.5mm port for console or mobile devices.
Therefore regarding compatibility, they secure the same score.
As you know, there is no latency issue with the wired connection, and undoubtedly both of them are excellent headphones for wired gaming.
But, what differs is their wireless performance.
So, I am going to compare it now.
Wireless Gaming: G935 vs. G933
Even when connected with the USB dongle, the Logitech G935 has excellent sound reproduction and very low latency.
Nevertheless, their treble and mid-accuracy are not as good as G933, but they stole the show with excellent bass accuracy, the most important factor for gaming.
Above that, the consistent frequency response is just perfect for playing online and offline games.
In contrast, G933 is also well-known for its wireless gaming, but its latency is not as low as G935.
Also, the bass response is lacking compared to G935.
Therefore, for wireless gaming, my vote goes to Logitech G935.
Okay, do you know what you need the most for enjoying wireless gaming?
Of course, battery features.
Let's dig into it.
Battery Feature
G933 has a built-in rechargeable battery which removes the hassle of replacing the battery every now and then.
Yet, the battery is removable, hence you can replace them if it gets damaged.
Usually, these headphones take approximately 3-4 hours to charge completely using the micro USB charging port.
And when it is fully charged, you will have about 12 hours of playtime with RGB lighting off and around 8 hours with the lighting on.
Apart from that, It also has a battery life indicator which shows how much battery is left for usage.
The battery life can differ based on the headphone's volume level.
Meanwhile, the G935 has slightly more battery longevity and takes less time to charge fully than the G933.
Aside from that, all the other characteristics are similar.
Are They Suitable for Travelling?
Like most gaming headsets, they are not suitable for commuting.
As they have a bulky structure and can't fold into a compact format, you won't be able to put them inside your backpack.
The disappointing fact is, they don't provide any portable cases or pouches for risk-free storage inside the luggage.
So, there is a high chance these headphones will get damaged if you shove them inside your bag.
In short, none of them are appropriate in this regard.
All right, I have finally finished discussing all the core features of these Logitech gaming headphones.
It's time to state the winner of this head-to-head comparison between G933 vs. G935.
Who Is The Battle Winner?
I assume you already guessed who is gonna step on the throne.
Yes, with a huge round of applause, the crown goes to Logitech G935!!!
Even though the G933 is more affordable than the G935, I have declared it the winner because of its eligibility for being an appropriate gaming headset.
Despite that, you can have a different opinion from mine, and I always respect your point of view.
If you are not satisfied with either of these headphones' performance, I have alternative solutions for you.
Check out the following section to find out.
Alternative Suggestions
Here I am going to mention two alternative options of G935 and G933.
As you know, there are plenty of gaming headphones available in the market, but I think the below two will be relatively better.
The SteelSeries Arctis 7 is surely one of the best wireless gaming headsets.
These headphones provide 360-degree directional audio with DTS headphones: x v2.0 7.1 surround sound.
Also, they are widely renowned for having a discord-certified microphone that assures clear voice transmission.
You know what, their excellence is so many that I can't describe in a few words.
However, if you are a true Logitech fan, you can consider G733 too.
This inexpensive headphone has an incredible battery life along with a sleek and comfortable design.
Besides, they are available in many colors that you can choose from.
Hopefully, there is no confusion left in your mind.
So, let's move to the closing part.
Conclusion
The debate on which is better, Logitech G933 vs. G935, has come to an end.
It was a tough competition between these two top-rated headsets.
I must admit that they both are incredible gaming headphones, and you can choose the one that your heart wants.