If you aim to get a headphone that works great for runs, gym, or heavy workouts, a neckband headphone might be the way to go in order to give you that extra boost.
But there are thousands of neckband headphones available on the market. When it is about purchasing a budget neckband that has good sound, it can be like searching for a needle in a haystack.
To make things easy, today I'm going to review a budget pair of neckband earphones. And they are the NANAMI Bluetooth 5.0 Wireless Earbuds IPX7 Waterproof.
Sale
Keep reading to get an honest idea about all of its feature.
NANAMI Bluetooth 5.0 Wireless Earbuds Review
In this write-up, I tried to describe all the features needed to know a headphone thoroughly. I hope you will find it helpful.
Anyway, I am going to start the review with the important features of these earbuds. See them at a glance.
At A Glance
IPX7 Water And Sweatproof.
Upgraded Bluetooth 5.0 Technology.
Faster Pairing And Stable Connection.
CVC8.0 And MEMS Microphone.
Perfect Fit For Heavy Exercise.
Magnetic Earbuds.
Don't Provide Fast Charging.
NANAMI X1 is an in-ear neckband style Bluetooth earphones. It is a perfect solution for listening to music on the go with an IPX7 waterproof rating and extended battery life.
These budget Bluetooth earbuds are mainly designed for sports.
NANAMI Bluetooth 5.0 earbuds were released in 2019.
At first, let's open the box and see the accessories that have come with it.
What's In The Box?
In the box, you will find your most wanted
NANAMI Bluetooth X1 earbuds.
A user manual.
A warranty card.
A USB charging cable.
This headset also comes with extra 3 pairs of ear tips; they are small, medium, and large.
Thanks, NANAMI, for giving these ear tips.
Except for these, it doesn't come with any other extra accessories, not even a carrying pouch.
Before immersing yourself in the main review, let's see NANAMI Bluetooth earbuds specs and pros-cons in the blink of an eye.
Key Specifications
Headphone Type: In-Ear, Neckband.
Connector: Wireless/Bluetooth 5.0.
Wireless Range: 33 Feet.
Frequency Response: 20 Hz – 20 kHz.
Battery Type: Lithium-Polymer.
Battery Life: 12 Hours.
Standby Time: 300 Hours.
Weight: 0.71 Ounces.
Color: Black With Red.
Pros
Great Comfort And Fit.
Excellent Sound Profile.
Relatively Affordable.
Extremely Lightweight.
Earbuds are always very praiseworthy for providing great comfort.
Right now, I would like to let you know about its comfortability. Look here to know how much comfort it can provide.
How Much Comfortable Are They?
This is a very comfortable pair of neckband earbuds. It ensures a long time wearing comfort. The ear tips are very soft and they can reduce wearing fatigue.
I was wearing this earphone for 5-6 hours a day, but I never felt any discomfort or pain. However, my friend said his ears got hot after 2 hours of use.
It's wise to take a break after 2 hours of wear.
The neckband is also very flexible and fits in any head size. You know it comes with extra ear tips to get you the best perfect fit.
Whether your ears are small or large, you just need to find the right tips for proper fit.
You can also wear these neckband earbuds comfortably with glasses. But it won't be comfy if you want to listen by lying.
Right now, I am going to reveal the sound profile of NANAMI headphone.
You will get to know how great the audio performance is.
Sound Profile
I was surprised to get such a rich sound quality from the low-budget earbuds! NANAMI Bluetooth earbuds provide an excellent sound profile.
The sound is very neutral and precise.
The frequency response is perfect for all genres of music. These earbuds provide richer, deeper bass and high fidelity. The mid and high ranges are also very well-balanced.
Its ultra-clear sound allows you to immerse yourself in a pleasant music world.
When I was listening to music, I felt the sound very natural and never faced any sound-related problems.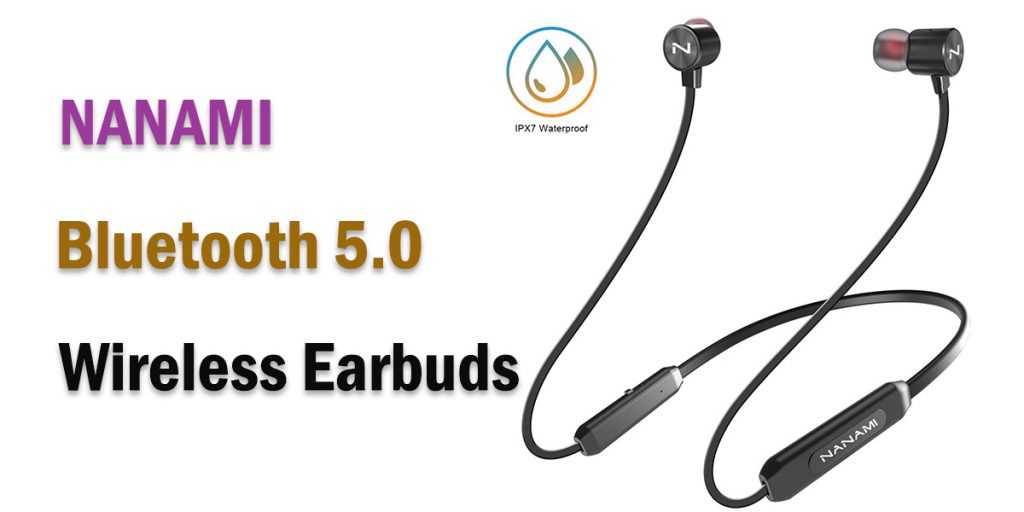 Does It Leak Any Sound?
The sound leakage performance is superb. It doesn't leak sound while listening at a tolerable volume.
But it will leak a little bit of sound if you listen at a high volume.
When you are on a busy road, park, or playground, nobody can feel the sound leakage even if the sound is loud.
Noise Cancelling
NANAMI Bluetooth headphones don't provide active noise cancelling features. But it can isolate a little bit of sound.
Due to its in-ear design, it can reduce slightly unwanted background noise. But the isolation is not enough.
Never compare these earbuds with active noise cancelling headphones.
If you are searching for active noise cancelling headphones, you may go with Soundcore Life ANC Earbuds.
How's The Microphone?
These earbuds come with a MEMS microphone to provide hands-free calls. The microphone is great and can cancel ambient noise during calling time.
It can effectively reduce background noise.
It also provides clear and loud sounds for hassle-free conversation. Whether you are working, driving, or walking, it will always give you a crystal clear call.
It's built with CVC8.0 technology and MEMS Mic.
Though the mic can reduce ambient noise, it can't cancel wind noise. Wind noise might interfere with your conversation.
Recording Quality
As the microphone is great, the recording quality is also excellent. You can record audio or podcast as well.
The recorded audio is clear, loud, and understandable.
Are you worried about the control system of these Bluetooth earbuds?
Ok, keep your worries aside and go through the below section.
How To Control It?
This neckband earphone has built-in intuitive control with 3 buttons. They enable you to manage this headset more conveniently.
You will find the control buttons on the right side including a power button, volume (+), and (-) button.
Press the power button to on/off the earbuds.
To play or pause the music, also press the power button. Press the same button to answer or reject the calls.
Short press the volume (+) button to up the volume and (-) button to down the volume.
Long press the (+) button to the next song and the (-) button to the previous song.
Strong build quality and design can influence you to have that headset. Right? Therefore, checking it before the purchase is important.
How Strong Is The Build Quality?
The build quality of this earphone is not too sturdy. But if you compare it with its price, it is great enough.
It's made of premium soft silicon metal.
The making materials are good, but many people have doubts about its durability.
I have been using this earphone for the last several months, and honestly, I didn't find any problems.
The earbuds are magnetic and you can snap them together when not in use. Then it will look like wearing a necklace. It's also beneficial for convenient tangle-free storage.
The ultra-soft high-quality materials and exquisite craft make this headset strong.
But if your headphone gets damaged within 1 year, don't worry. NANAMI offers you 1 year of hassle-free warranty.
Design
NANAMI headphones come with an ergonomic design. It comes in a combination of black and red color. This color combination makes this headphone beautiful and stylish.
The overall neckband style earbuds allow ultimate wearing to match your active lifestyle.
Now, I will talk about its portability and stability.
Is It Portable?
It is a decent portable set of earphones. Its weight is only 0.71 ounces which is very lightweight.
The neckband is also very flexible, and you can carry it wherever you go.
Just carry it with your tiny backpack.
How Much Stable?
This earphone has decent stability. It's mainly designed for heavy outdoor workouts. So it's very much stable for any activities.
The neckband always gently sits around your neck, and there is no chance to fall off.
If you get the right pair of ear tips that perfectly fits you, it also does not slide off your ears.
Even if you do intense workouts, it will never slide or fall off.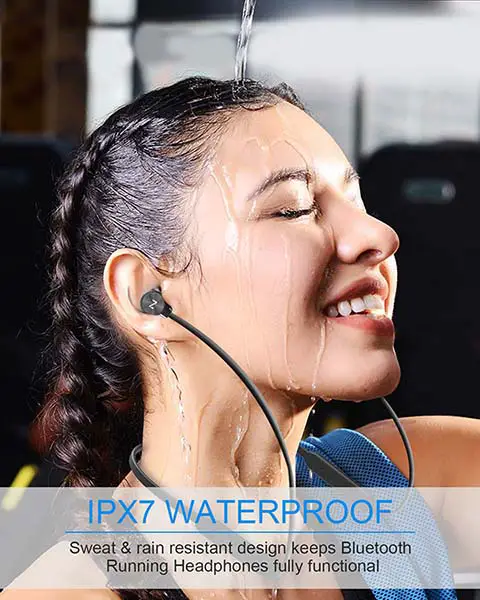 Is It Waterproof?
Yes! NANAMI Bluetooth earbuds are waterproof. They have IPX7 waterproof ratings.
These earbuds can withstand light rain, water splashes, sweat, wet weather conditions.
Its internal hydrophobic nano-coating waterproof design is effectively protective for heavy workouts.
It's well protected and ensures a life span.
It will let you enjoy the audio freely in the light rain or dense sweat.
As you know, NANAMI X1 is a Bluetooth headphone, are you waiting to know about its Bluetooth details?
Ok, I am explaining it without any further delay.
Bluetooth Details
These earbuds come with an upgraded Bluetooth version 5.0, and the wireless range is around 33 feet.
It provides a very faster pairing and more stable connectivity.
It supports multi pairing, and you can connect two devices at a time. It supports only AAC Bluetooth codec for audio.
It doesn't support non-Bluetooth wireless connectivity.
Right now, a question may emerge in your mind. How to pair it with other devices?
Don't waste your time. Just jump below and find your answer.
How To Pair It?
It's very easy to pair with other devices.
Just hold the power button and turn on your device's Bluetooth.
Then select this headphone name from your device.
Once you select it, then you will hear a voice assistant saying, your earbuds are paired now."
But if your earbuds don't work or get paired, it will be wise to reset your headset.
But how? Let's see.
How To Reset?
To reset NANAMI headphones, follow the rules.
Long press the power and volume (+) button for 3 seconds until the indicator light flashes blue.
When you see the light keeps flashing red and blue, your reset function is successful.
Now it's time to know about battery details.
Battery Details
This earbud comes with a 130 mAh lithium-polymer battery. It provides you 12 hours of continuous music and talks time.
It needs 2 hours to be fully charged. It also provides 300 hours of standby time.
Enjoy your whole day and relax with music.
You must want to know whether you can use this Bluetooth headset with your devices or not.
Don't worry. Let's go for its compatibility now.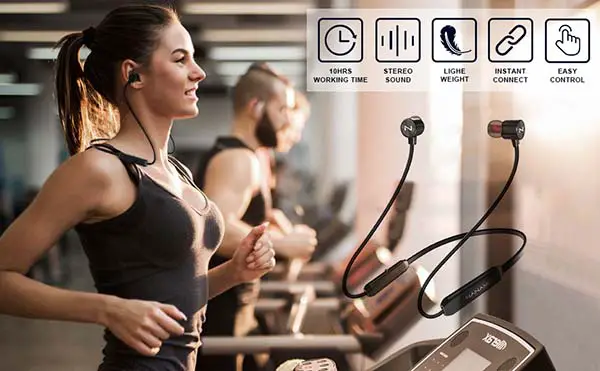 How Much Compatible With Other Devices?
This Bluetooth earphone has wide compatibility with most Bluetooth-enabled devices.
It can be fastly compatible with android phones, iPhone, iPad, tablets, laptops, TV, etc.
You can comfortably use it with Windows 10 and Mac.
As a part of compatibility, now we will see if it is suitable for gaming or not.
Is It Suitable For Gaming Or Not?
These little neckband earbuds aren't compatible with many gaming consoles. You can't connect it with Xbox One, PS4, Nintendo Switch, or other gaming consoles.
If you are eager for a gaming headset, you may check out Logitech G430 Gaming Headset.
Now Let's know who should buy or skip it.
Who Should Buy This?
You already know NANAMI Bluetooth earbuds are mainly designed for heavy workouts.
Whether you are running, jogging, hiking, climbing, cycling, yoga, gym, or doing other intense workouts, it is still perfect for you.
If you want a headset for every day phone calls, it will be your great pick.
It is also ideal for online teaching or classes.
Do you need a headphone for official use or zoom meetings? You can also go with these headphones.
You can use it for traveling or commuting too.
Who Might Skip It?
These little neckband Bluetooth earbuds are not suitable for studio monitoring.
If you need studio headphones, you may go with MAONO AU MH601 Headphone.
This headset is also not great for audiophile listening.
Besides, you cannot use it for gaming purpose.
Well, right now, I am going to compare these earbuds with some other headphones for your better understanding.
Compare With Other Headphones
To know the differences between NANAMI Bluetooth or other Bluetooth headphones, keep reading the following segment.
1. NANAMI Bluetooth Vs. GOOJODOQ Bluetooth Headphones
NANAMI Bluetooth and GOOJODOQ Bluetooth are both in-ear neckband earphones. GOOJODOQ is a slightly better headphone than NANAMI.
GOOJODOQ is great for sleeping. It delivers 15 hours of battery life, while NANAMI provides 12 hours. Both have a stable connection with Bluetooth 5.0.
GOOJODOQ provides more sound isolation than NANAMI.
NANAMI X1 provides 3 pairs of extra ear tips and is rated by IPX7, which you cannot find in GOOJODOQ.
2. NANAMI Bluetooth Vs. BOOMPODS Retrobuds In-Ear Headphones
Both are in-ear earphones, but BOOMPODS is not a neckband. NANAMI is a slightly better headphone than BOOMPODS.
Both are designed for outdoor listening.
BOOMPODS comes with a 4.1 Bluetooth and IPX4 sweatproof rating. It offers only 4 hours of battery life.
In comparison, NANAMI comes with 5.0 Bluetooth, IPX7, and 12 hours of battery life.
3. NANAMI Bluetooth Vs. Sennheiser CX 400BT True Wireless Earbuds
Sennheiser CX 400BT is a true wireless in-ear earbud and better headphone than NANAMI Bluetooth.
The CX400BT provides excellent sound and ergonomic design.
It offers you 20 hours of battery life and a USB-C charger. It also offers a wide range of audio codec support, including AAC, APtx, and SBC.
On the other hand, NANAMI comes with IPX7 waterproof, but CX 400BT doesn't provide it.
4. NANAMI Bluetooth Vs. Skullcandy Jib Plus Active Wireless In-Ear Earbud
Both are in-ear neckband earphones. NANAMI is a better headphone than Jib Plus. Jib Plus offers only 6 hours of battery life, and it's only splash resistant.
But NANAMI provides 12 hours of battery life and is rated by IPX7 waterproof.
If you are planning to purchase this NANAMI Bluetooth earphone, it's important to know whether it will be worthy or not.
How Worthy Is It?
If you really need a budget wireless headset, NANAMI X1 can be a great catch. It provides you some excellent features at a lower price.
All the features ensure your daily listening on the go. If you compare this headset with its price point, I must say it is worth buying.
Considering the whole review, if you think it is not ideal for you or need an alternative, you may go with the following alternatives.
Alternative To It
Here's a shortlist of alternatives.
All these three headphones are almost similar or somewhat better in their functions and features.
Anyway, I am concluding it here.
Conclusion
Finally, you have got an in-depth explanation about NANAMI Bluetooth 5.0 wireless earbuds IPX7. I hope it will be handy enough for your ultimate decision-making.
So it's up to you whether to pick it or not.
I always respect your right decision.
Thanks For Reading This Article.