High-quality headphones at an affordable price!! Who doesn't like this combo?
OneOdio A30 is such a headphone that can be considered by some as luxurious but in an affordable package.
It is an Active Noise Canceling over-ear headphone that comes in dual modes.
Besides Bluetooth technology, it also supports wired connections to make it convenient and user-friendly.
If you are here for OneOdio A30 Review, I must say you are in the perfect place at this moment.
Now I am here to share my journey with this headphone with its every ins and outs.
However, before that, you might want to know about this brand. In that case, you can have a brief idea about it from the below section.
About OneOdio Brand
OneOdio is a Chinese brand, which manufactures and sells headphones.
The company that owns this brand and sells OneOdio Products is called One trillion Digital Technology (Shenzhen) Co., Ltd.
It was founded in Shenzhen of Guangdong Province in China.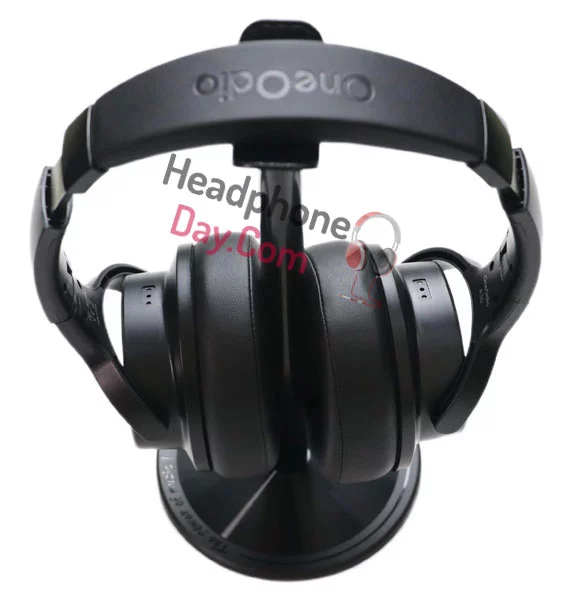 They believe in the power of sound. They also feel that high-quality headphones can amplify the pleasant and emotional experience of listening to music.
But high-quality headphones also come at a high price that young DJ and music lovers cannot afford.
From this point of view, a simple yet powerful idea 'everything starts and ends with customers' hit them, and they began striking the market by producing high-quality headphones at a lower price.
So, that was a summary of the OneOdio brand.
Now, let's dive into the main review without any further ado.
OneOdio A30 Review: Broadly Explained
This review not only contains the positive sides of this A30 headphone, but also you will get to know the downsides.
Its key specs, pros-cons, and every feature will be presented here to make your decision easier.
At first, know about these OneOdio A30 headphones in a blink.
At A Glance
Active noise cancellation technology for industry-leading noise reduction.
Upgraded Bluetooth technology.
Works both in wireless and wired modes.
Advanced technology for premium sound.
Quick charge and 25 hours wireless battery life.
OneOdio A30 is an inexpensive headphone with good battery life and a comfortable, stylish, and travel-friendly design. Also, it is very much well-sounding for the price.
We will know the details part by part.
Now, I would like to share my first impression after getting it in my hand.
What's in The Box?
I ordered this A30 headphone online and was eagerly waiting for its arrival. When it finally came, I couldn't hold back my excitement.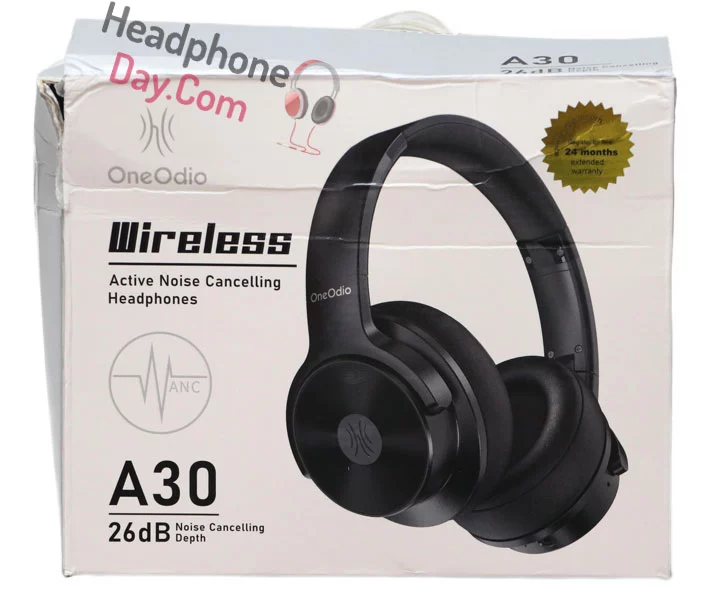 The headphones come in a white and gray colored box, and the size of the box was quite standard.
I instantly opened the box and saw a nice drawstring pouch in it.
In that pouch, there were my desired…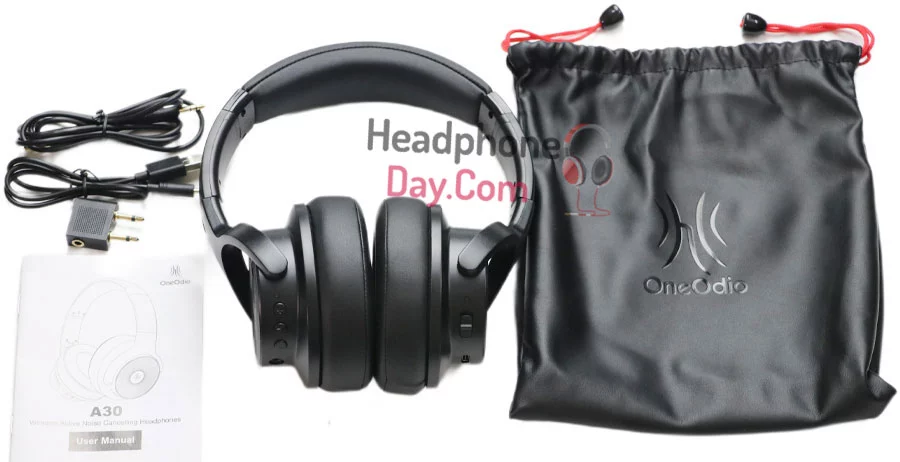 OneOdio A30 ANC Headphones
1 USB type C charging cable
1x 3.5mm AUX cable
An airplane adapter and
A user manual.
Except for these, they don't provide any extra accessories. But what they provided was actually not any less. It was more than enough, and I must confess that they could bring a smile to my face.
Anyway, the 3.5 mm AUX cable is only 1 m, which could be a little bit longer. It doesn't seem a big issue, though.
Have a glance at their key specs and pros-cons this time.
Key Specifications
Form Factor: Over-ear.
Connectivity Technology: Wireless, Wired.
Color: Black.
Frequency Response: 20 Hz – 20 kHz.
Driver Diameter: 40mm.
Impedance: 32Ω.
Sensitivity: 100±3 dB.
Bluetooth Version: 5.0.
Bluetooth Range: 10 m/33 ft.
Codec Support: SBC, AAC.
Supported Bluetooth Profiles: HFP, HSP, A2DP, AVRCP.
Bluetooth Chipset: QCC3003.
Noise Reduction Depth: 26±3 dB.
Battery Capacity: 3.7V/500mAh.
Battery Life (ANC Only): 45 hours.
Battery Life (BT Only): 25 hours.
Battery Life (ANC+BT): 15 hours.
Charging Time: About 2.5 hours.
Wired Connection: 3.5 mm.
Cable Feature: 1 m detachable.
Weight: 268±5 g.
Dimension: 6.4 x 5.3 x 3.3 inches.
Pros
Lightweight and comfortable.
Foldable.
Hi-Fi stereo sound.
Solid build quality.
Good Battery life.
Crystal clear calls.
Affordable.
Cons
ANC cannot block out human voices.
The cable could be longer.
Wired mode is not available when the headphone runs out of battery.
Whenever I purchase a headphone, I do have a great concern for its comfortability. You cannot do anything properly or attentively if you are in continuous discomfort.
Now we will find it out whether this A30 headphone is comfortable or not.
Is It Comfortable?
After holding the headphone for the first time, my feeling was like, 'Wow! How soft and lightweight it is!'
I wore the headphone to examine the clamping force. It was pretty much decent.
It may feel a bit tight on your head first, but it will fit perfectly with a standard clamping force within a week.
The leather headband and foam earpads are so smooth and comfortable to give a soft touch to your ears. The earcups never feel too tight.
The diameter of the earpads is also large enough for big ears, and there is sufficient depth to prevent contact with the driver cover.
The headband padding seemed a bit insufficient to me. It could be better.
But overall, I find this A30 headphone very comfortable, and I can wear them for several hours at a time without any notable stress on my ears.
Only after many hours of use, they might become a little hot, and the ear fatigue isn't very substantial.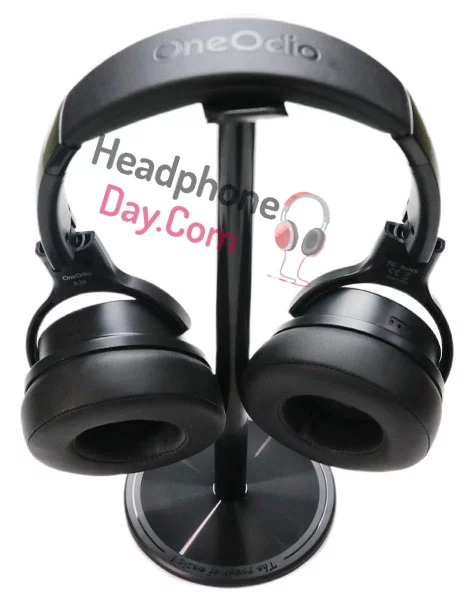 If you are in the row of one of those people who has a large head and above-average intelligence, don't worry either.
The steel headband has the option to extend up to different lengths.
So, these headphones will fit comfortably on the large heads also.
And I appreciate this feature of this OneOdio A30 headphone.
Here comes one of the most important parts of a headphone which is its sound quality.
If your headphone cannot produce good quality sound, what will be the use of this gadget?
Right now, I am going to describe every single detail of its sound profile.
Audio Performance
OneOdio A30 ANC headphones are equipped with a dual, high-resolution significant HD audio driver, a highly sensitive diaphragm, and a lightweight voice coil.
These headphones deliver unparalleled sound without interruption, with or without wire.
The overall sound profile is fairly well-balanced, with a slight emphasis on the bass.
It offers you exceptional clarity for an enhanced listening experience.
The other frequencies are also well represented. There is no noticeable harshness with the higher end.
The enhanced low ends don't muddy up the different frequencies too much.
The A30 creates a warm sound with good midrange clarity managing to shine through the lows and adding a warm texture to the sound.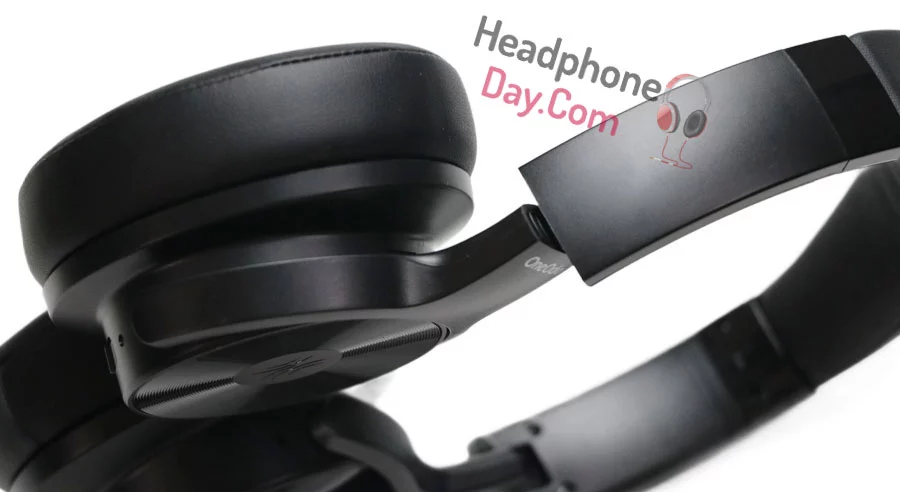 The treble is also well-defined but not sharp or tiring at all.
This A30 headphone sounds great with pop and EDM music but not so good with acoustic and instrumental.
I enjoyed Let Me Love You by DJ Snake, Justin Bieber with these headphones, and this song never felt so good before.
Try listening to Faded by Alan Walker also. You cannot help falling in love with it.
One more thing you should be informed of is that turning the ANC off or on affects the sound.
I found that with the ANC on, the sound becomes clearer and balanced. The treble is boosted a bit, making the audio better.
However, the vocals and mids come closer to the ears and feel trapped in this case.
And with the ANC turned off, the audio might sound full-bodied and warmer, but the overall sound is thicker and less transparent.
I personally prefer listening by turning off the ANC as I don't like the vocal, and mids felt nearer. You might like the other one more like one of my friends.
It may vary from person to person.
How Is The Soundstage?
With a clear and rich sound profile, you are also getting a wide and spacious soundstage here.
However, I cannot deny the fact that the soundstage feels more excellent with the ANC off.
This headphone attempts to portray an accurate representation of spatial imaging. Ranges of frequency are dispersed evenly and appear in the mix with precise positioning.
I never felt like the sound was compressed into one center channel.
So overall, I was very satisfied with the quality of output I was getting.
Sound Leakage Performance
When I listened to a bass boosted song keeping the volume at a moderate level, there was no sound leakage. My partner couldn't hear anything sitting near me.
But when listening with the highest volume, she could only hear a little sound. That means the sound leakage performance of OneOdio A30 is outstanding.
As we know, OneOdio A30 is a pair of active noise-canceling headphones. Now we will explore how well it can cancel the background noise.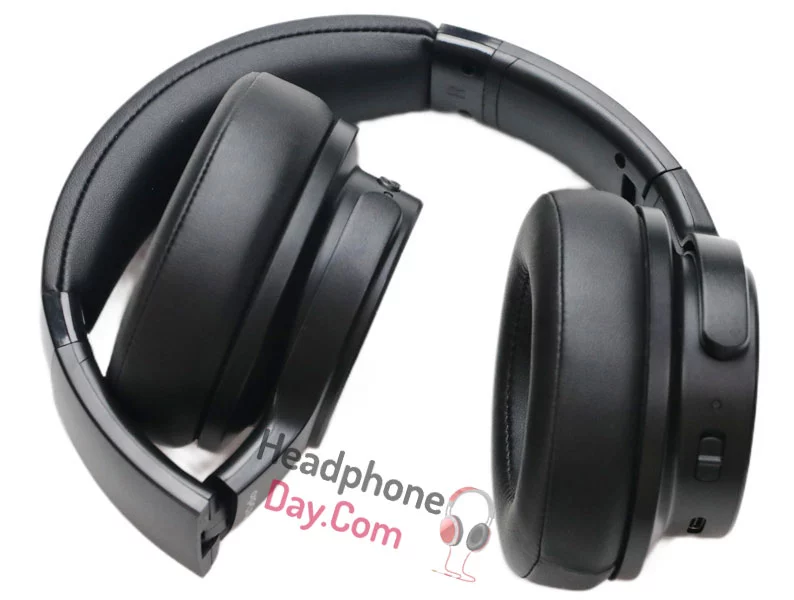 Noise Cancellation
Generally, cheap active noise-canceling headphones offer poor performance, but this A30 seems to be better than average.
I must confess that the A30 offers the best performance among the ANC headphones close to its price.
OneOdio claims up to 26 dB of noise reduction with A30 ANC headphones.
Its advanced ANC technology can effectively reduce 90% of stable low-frequency background noises in noisy environments like airplanes, subways, cars, offices, factories, crowds, etc.
Besides, it also does a great job of eliminating engine noise and noise from air conditioners, fans, etc.
However, it is not entirely adequate. They are still noticeable to some extent.
ANC works well in both wireless and wired modes, and it is equally helpful when your music is off.
If you desire to take a nap on an airplane, you can mute the engine noise without music.
Higher pitched and sudden noises can still get through.
One issue I noticed is that there was a significant amount of white noise when the ANC was on.
You will not hear it when music is playing, but it is quite audible during quiet passages and between songs.
How Is The Microphone?
This headphone doesn't come with any detachable boom mic. It has a built-in microphone with CVC 8.0 noise reduction technology for ultra-clear calls.
It does not affect what you hear. Instead, it enhances voice pick-up to ensure you sound crystal clear to the other end.
Are you worried about its controlling system?
Don't worry, it's very simple and easy. You will get used to it within a very short time.
How to Control It?
Controls are present on the right and left ear cups.
On the left side, you will find the multi-function button and the volume up and down buttons. In this earcup, you will also find the 3.5mm aux port for making a wired connection.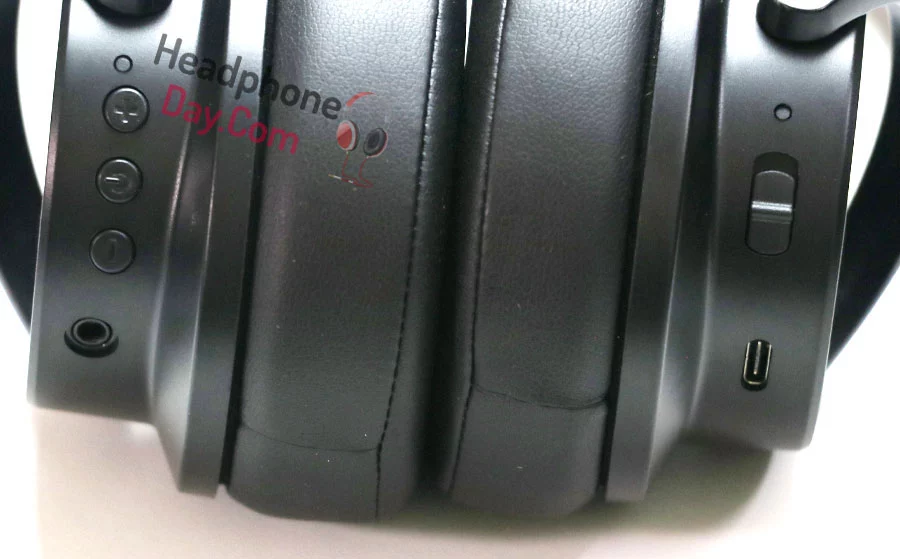 On the right earcup, there is the ANC off/on switch and the USB Type-C charging port.
Follow the below steps to accomplish different functions:
Hold the multi-function button for 3 seconds to turn the headphone on and off.
Press the volume (+) button to raise the volume and long-press it to go to the previous song.
Press the volume down (-) button to lower the volume and long-press it to go to the next track.
Press the multifunction button to answer/end calls or play/pause the music.
Double press the multi-function button to reject an incoming call.
Switch the ANC button to turn on/off active noise canceling.
Hold and press the volume (+) and (-) buttons simultaneously for 5 seconds to clear the Bluetooth pairing record.
Now I will talk about its build quality and design.
Build Quality & Design
The design of the A30 headphones is nothing out of the ordinary from most wireless headphones in this price range.
It has all plastic construction to keep the costs and weight down.
However, that doesn't mean the overall build quality is lacking.
I was surprised at their consistent and robust construction, and it felt like this headphone could even withstand a few beatings.
Besides, you won't find any distracting creakings when moving.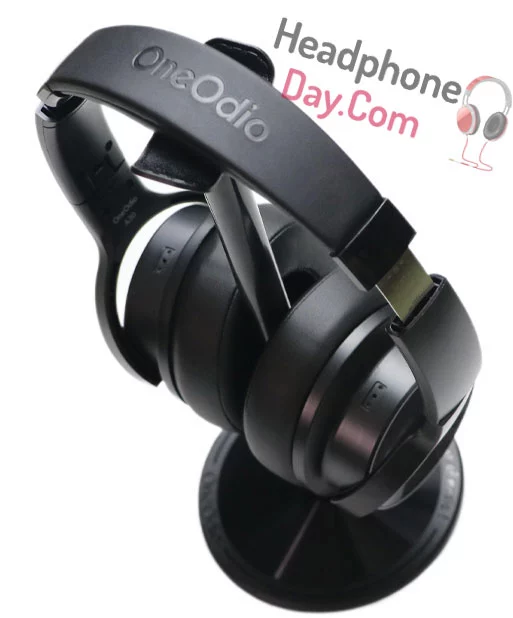 This headphone has only one color, which is black. I wanted some color variation, but what to do? I had to be satisfied with the only color it has.
The headband is adjustable and can be extended by an additional 30 mm on each side.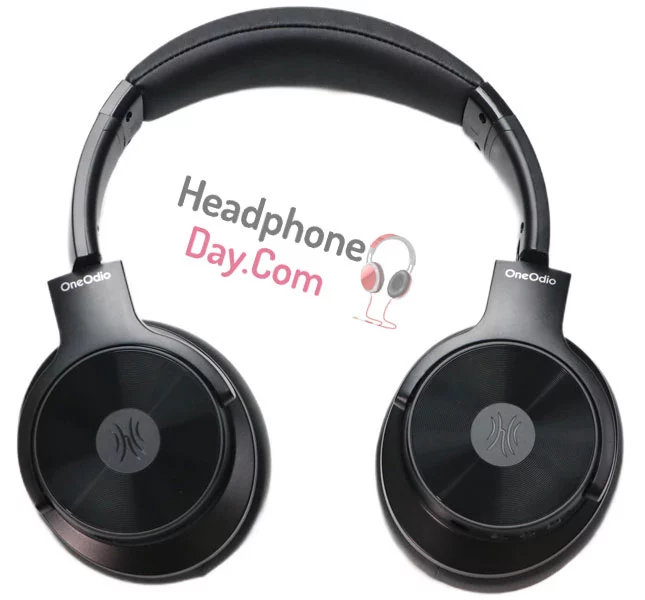 Both ear cups rotate 90 degrees so that they can sit flat on a desk or around your neck while not in use.
The right and left sides are marked by a large R and L respectively inside the earcups.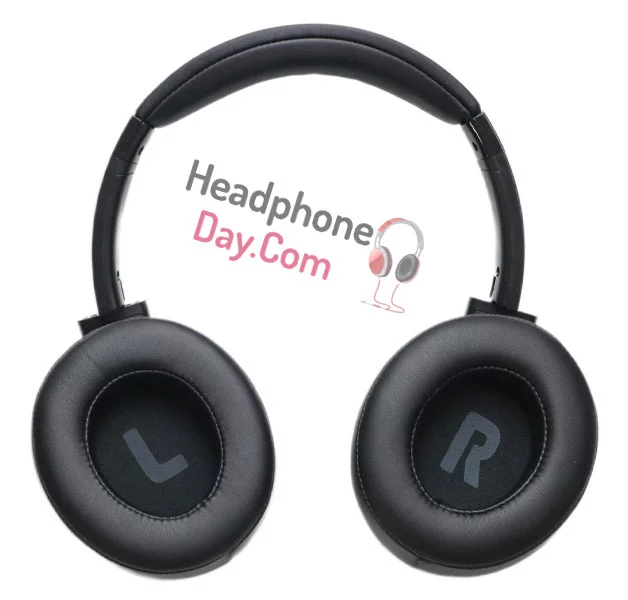 You can't be more happy to know the fact that the OneOdio offers 24 months of warranty with this product.
So, it seems they are quite confident about the build quality.
Is It Portable?
This headphone is ideal for portability because of its collapsible and travel-friendly design.
These wireless noise-canceling headphones can be folded into a compact and tight little bundle that fits neatly within the included travel pouch, backpack, handbag, and suitcase.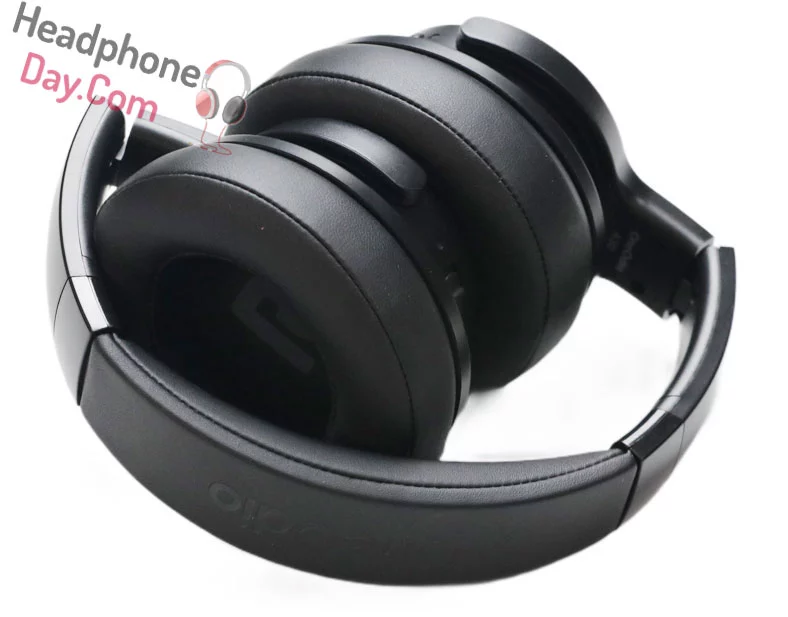 Therefore, you can take your favorite tunes wherever you go.
If you are a frequent traveler, these OneOdio A30 headphones will be your ideal travel companion.
They even include an airplane adapter to make your airline entertainment system more enjoyable.
Stability
The leather headband and ear cups of A30 headphones provide a snug fit that holds a solid grasp on the head. It sits perfectly around your head and never feels too tight.
However, you cannot do heavy exercises or work out wearing this headphone that needs so much movement. It may slip off your head in that case.
But if you wear it and be seated, then there won't be any issues with the stability.
Is It Waterproof?
The OneOdio A30 headphones don't come with any waterproof rating. So, they are not waterproof.
Don't take them near water or any places where water can come in contact with it.
Now it's time to disclose the battery of these wireless headphones.
Battery Details
The battery capacity is 500mAh, and battery life is excellent, with both ANC and Bluetooth.
OneOdio claims 15 hours with both ANC and Bluetooth, 25 hours with Bluetooth only, and 45 hours with ANC only.
I haven't run them for such a long time, but it should offer more than enough battery for anyone.
In case you need a quick charge, the A30 offers 2 hours of playback just from five minutes of charge.
And I was so pleased to see that these headphones use USB-C for charging.
As I have said earlier, these A30 headphones support dual-mode.
Let's know the details about the connectivity.
Wired Connectivity
This option is the easiest and most straightforward one.
With the included 3.5mm to 3.5mm audio jack, you don't need to turn on the headphone. It is simply plug-and-play.
The wired connection will not work when the headphone is out of battery power, and the microphone and button will not also work in wired mode.
Bluetooth
OneOdio A30 headphone has a QCC3003 chipset, and it supports Bluetooth 5.0.
The connection is very stable, and I never experienced any dropouts.
The range (10 m/33 ft) is also good, and I can move just about anywhere in my house without losing the signal.
Moreover, it provides audio with lower latency. The audio won't lag behind the video while watching movies or playing video games.
Among the two modes, I prefer the Bluetooth one.
To use the wireless connection, of course, you need to power on the headphone. After that, you have to pair it with your device.
But do you know how to pair it?
Don't worry. It's so simple, and I am letting you know about it now.
How to Pair It?
Press down the multifunction button for 3 seconds to turn the device on/off.
If no device has been paired previously with the headphone, turning it on for the first time will automatically put it in pairing mode.
Now turn on the Bluetooth function of your device.
Search the headphones' Bluetooth signal on your Bluetooth device and select A30 to pair it with your device.
The indicator light will slowly flash blue.
In case you are asked for the password or PIN code during this procedure, enter 0000.
Do the following if you want to pair it with a second device.
Turn off the first device's Bluetooth and make sure it is not playing any music.
Now turn on the second device's Bluetooth and find the A30 and select it to pair with your device.
Then turn on the first device's Bluetooth and select A30 to pair it again.
The process is very simple, and you should not have any issue following them.
Is your headphone not pairing with your device?
Are you facing a problem pairing them?
Chill out. You need to restore the factory setting.
How to Restore Factory Setting?
-Press down the volume up (+) and down (-) buttons together for 5 seconds.
-Reset is done.
You have to use this headphone with your devices, but which devices is it compatible with?
You need to know that to make sure whether you can use it with your devices or not.
Compatibility
OneOdio A30 headphone is compatible with various Bluetooth-enabled devices and communication platforms, such as cellphones, tablets, laptops, computers, etc.
You can even use these Bluetooth headphones for watching TV.
Is It Suitable for Gaming?
A30 headphones use a Qualcomm Bluetooth 5.0 chipset (QCC3003). It provides a stable wireless connection and supports SBC and AAC codecs.
There is no aptX codec support, which helps cut down the latency.
However, for lag-free gaming, you can use the wired mode via the included audio cable.
But remember that the mic doesn't work in wired mode. So, you have to play those games that don't need any in-game chat.
Now we will know if it can serve us in any of the studio works!
Is It Ideal for Studio Work?
Studio headphones are not noise-canceling. On top of that, most of them are open back.
So, it seems no criteria is matching with A30 to use it as a studio headphone.
Therefore, it is not suitable for studio work.
If you want high-quality studio headphones, you can check AKG K271 MKII.
Still feeling confused about whether to buy it or not?
Then I am going to remove all your confusion in the below sections. You will get to know who can buy this headphone and who should skip it.
Who Might Give it A try?
If you are a frequent traveler, you simply can give it a try. Its travel-friendly foldable design will be perfect for carrying in your backpack or the provided pouch.
When you want to avoid unwanted noise while traveling or commuting, this headphone will do a great job in this case also.
You can even switch off the ANC mode if you need to hear the surroundings.
Cannot concentrate on your office work due to the chatter of your colleagues?
Don't worry. Go for these OneOdio A30 headphones, and all your problems will be solved.
Moreover, this headphone is also suitable for online classes, teaching, or meeting on skype, zoom, etc., for its outstanding clarity and loudness.
You can also use these headphones for attending phone calls. It will offer crystal clear hands-free calls.
This A30 headset (wired mode) is also ideal for playing solo games.
If your requirements match with any of the above criteria, you may consider this headphone without any doubt.
They are even perfect for casual listening too.
Who Should Skip It?
I Have already let you know that this headset will not be a proper choice for any studio work.
Don't buy it if you want to do the gym or other sports activities like running, cycling, biking, etc. It is bulkier for that, and it will slip off your head with extreme movement.
For audiophile listening or playing multiplayer games, you should also skip this headset.
I hope it's clear to you now.
However, to make it clearer and easier, let's go for a comparison with two similar kinds of headphones.
Comparing with Other Headphones
Here I am going to represent a comparative discussion between OneOdio A30 with both A10 and A70.
OneOdio A10 Vs A30
If I compare the weight, OneOdio A10 is more lightweight (245 g) than the A30 (268 g).
Also, the battery life of the A10 is far better than the A30. It's pretty obvious as the A10 has a higher battery capacity.
The time the A10 takes to charge fully is also less than the A30 headphones.
Higher capacity but takes less time. Surprising, isn't it?
However, both the A10 and A30 share the same frequency response, driver size, and impedance. So, their sound profile is almost identical.
OneOdio A30 Vs A70
The main difference between them is that the A70 is a studio headphone, whereas A30 is not ideal for studio use.
You can do mastering, monitoring, broadcasting, mixing, tracking with A70, or use it for personal listening.
A30 only comes with a 3.5 mm plug.
However, A70 has more options in this case. It supports both 3.5 mm and 6.3 mm plugs.
These A70 headphones also deliver vibrant bass with vivid midst & vivacious highs. Hence, altogether they are ideal for bass guitar, unlike the A30.
A70 also has longer cables than the A30. So, you will get more movability with it.
Its battery life is also better than the A30.
Is It Worth Buying?
You already know for which purposes this headphone is ideal and for which it should be skipped.
So, if you purchase these OneOdio A30 headphones for those practical purposes, you won't regret it for a moment.
This headphone is budget-friendly also.
A lot of things can be accomplished perfectly at such a lower price.
Therefore, this cheap headphone will be worth every penny.
After knowing all these, if you still don't want to purchase A30, the next section is for you.
Alternative to OneOdio A30
Here are two alternatives to A30 headphones:
You can pick one of the above headphones for a similar or, in some cases, better experience.
I have nothing more to inform you.
Let's conclude it here.
Conclusion
In this Oneodio A30 review, I shared my personal experience from a neutral point of view. It includes both the upsides and downsides.
Now here comes your turn to make the decision.
I hope this write-up will help you a lot in making up your mind.
I always honor your choice.
Thanks for reading this article.