When it comes to the headphones of Beats, we already know that they will be splendid.
But when you have to choose between Beats Solo Pro and Beats Studio 3, which one will you pick?
Well, I know picking up one from these two is so hard.
Like, can you say among Jim Parsons and Iain Armitage, who can portray Sheldon Cooper well?
Difficult, right?
But don't worry. Finding the difference between Beats Solo and Studio 3 is not a mission impossible.
In this Beats Solo Pro Vs Studio 3 article, I'm going to provide a detailed comparison of these two headphones.
This head-to-head debate will help you to get a comprehensive insight.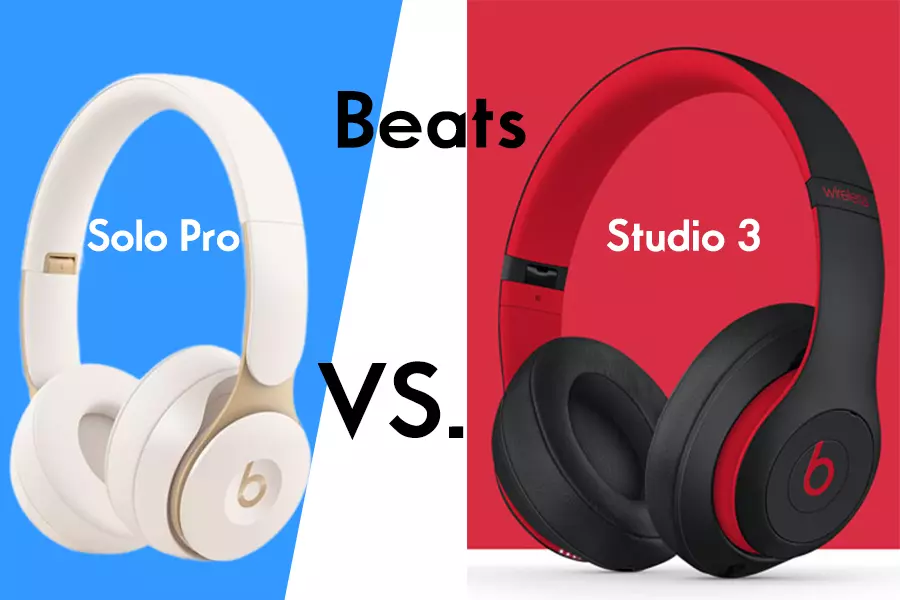 After going through it, you can make your ultimate decision with confidence.
So, without further ado, let's start the discussion now.
Beats Solo Vs Studio: Who Is The Winner?
The below comparison table will show you a short overview of these two Beats headphones.
You can see the difference between their all key specs at once.
Catch a glimpse of it.
| Features | Beats Solo Pro | Beats Studio 3 |
| --- | --- | --- |
| | | |
| | | |
| | | |
| | | |
| | | |
| | Lightning to USB-A charging cable. | Universal USB charging cable. |
| | | |
| | 7.48 x 5.55 x 3.43 inches. | |
| | Black, Red, Gray, White, Dark Blue, Light Blue. | Black, Shadow Gray, Black/Red, Blue, Gray, White, Crystal Blue, Desert Sand. |
| | 22 hours (up to 40 hours with ANC or Transparency mode off). | 22 hours (up to 40 hours with ANC mode off). |
| | | |
Does this table make you more confused?
I know it can happen because the specs of these headsets are almost the same.
Then couldn't we find the winner?
Well, nothing is impossible, my friend!
Just be patient and go through the details. You will definitely get a clear concept of the differences.
At first, let's talk about their design and build quality.
Design and Build
Beats Solo Pro and Beats Studio 3 look almost identical. They have closed-back designs and are available with multiple color options to match your taste.
Their weight is also almost the same, and both come with foldable designs.
However, they have one big difference in their form factor. Solo Pro is on-ear, and Studio 3 is an over-ear headphone.
The two headphones are made with solid and sturdy material.
The Beats Solo Pro contains a metal headband with some adjusting features. But unfortunately, the extension is pretty limited
So, people with big heads might not get the perfect fit with it.
Apart from this, the earcups are padded with soft cushions that are very nice to touch and feel comfortable.
On the other hand, the ear cups of Beats Studio3 are made with dense plastic with enough padding.
Although it would be great if the headband had more cushioning, you won't feel any problem with this.
Besides, the headband contains a flexible metal frame. This is why they are perfect for large-headed people.
Considering all these things, I really can't make one winner based on design and build quality.
These two headsets will get the same marks from me.
This time, let's have a look at how these two headphones compete in sound features.
Beats Solo Pro Vs Studio 3 Sound Quality
The bass-heavy sound is the signature sign of the Beats headphones. Solo Pro and Studio 3 are no exception.
Despite that, the Solo Pro possesses a quite neutral sound profile. Their mid and treble accuracy is excellent. And the extra thump in the low-bass range makes this headphone perfect for EDM, hip-hop genres.
Songs like Summer by Calvin Harris sound extremely good with this headphone.
On the other side, Studio3 is a bit weak in providing detailed audio. The mid-accuracy is good, but they suffer in the treble range, which sometimes leads to a muddy sound.
Still, they are good for bass-driven music. I was so amazed by the sound while listening to the song Candy Paint by Post Malone.
Let me tell you an unfortunate fact.
If you are a big fan of soundstage, none of these headphones can satisfy you. Because of the closed-back design, their soundstage seems so small. You will feel like the music is coming from your head.
Overall, as per sound performance, I will keep the Beats Solo Pro ahead of Studio 3.
By the way, you must know that noise isolation significantly impacts sound delivery, and these two Beats headphones offer active noise canceling technology.
So, it's time to explore which one is more effective in this case.
Is Beats Solo Pro Better Than Studio 3 in Terms of Noise Canceling?
Beats Solo Pro shows outstanding noise-canceling performance. It can block out distracting noise like chattering, humming noise of home appliances.
But sadly, they are not great at canceling rumbling engine sound.
However, the headset has a Transparency Mode to make you aware of your surroundings, which is a plus point.
Because of this feature, you can talk with others or cross the road safely without taking off the headphone.
In contrast, the ANC function of Beats Studio 3 is pretty much the same as Solo Pro. They are also good at cutting down the noise of mid-range to high-range but struggle in the bass range.
Besides, they also don't have any situational awareness mode.
One positive side of these two headphones is that they are both excellent at sound isolation.
Even without ANC on, they can block out ambient sound passively. And also won't leak any sound at a moderately high volume.
Alright, now let's choose the winner!
You must have noticed that there is no significant difference in the ANC features of these two headphones.
But because of the Transparency Mode, my vote will go to the basket of Beats Solo Pro.
Anyway, are you curious to know their calling performance?
Okay, I'll tell you about it in the below segment.
Microphone and Call Quality
Beats says that the Solo Pro can detect speech and eliminate background noise with dual beam-forming microphones and a motion & speech accelerometer.
But in reality, the mic is better suited for indoor or quiet environments. Even in a quiet place, your voice might sound muffled or lack details because of the poor recording quality.
On top of that, in noisy places like busy streets, subway stations, the microphone can't pick up your voice well.
So, the other end won't hear you properly.
However, Beats Studio3 is relatively good in this event. Although they are also not good in the outside environment, the overall performance is better than Solo Pro. The recording quality is also a bit better.
Furthermore, along with an integrated mic, the headset supports an in-line microphone too.
For this, wired or wireless, in both cases, you will have the calling benefit.
Well, for judging Bluetooth headphones, their battery performance is also an important factor.
Therefore, I'm going to give you a short brief on it.
Battery Life: Which One Will Last Long?
Surprisingly, according to the manufacturer, the two headphones have the same battery support. They have a slight difference in the charging time, though.
Studio 3 takes a bit more time to be fully charged than the Solo Pro.
But since the battery feature also depends on how you use them, the time might vary from what the manual says.
Furthermore, with Solo Pro, you can get the fast charging facility as their Lightning cable supports fast-fuel charging.
Beats claimed that Studio 3 also supports fast charging although they don't have the Lightning or USB-C cable.
So surely they are not capable of doing that.
Therefore, Solo Pro is definitely the champ here.
Well, you know that these two top-rated Beats headphones are Bluetooth powered, but do they use the same version?
Get your answer with more details.
Connectivity
You have already seen on the table that Beats Solo Pro works with a more updated Bluetooth version than Studio 3.
As a result, it delivers a more seamless connection with fewer dropouts.
Meanwhile, they both have an incredibly long wireless range as they support Class 1 Bluetooth, which means they work far beyond than typical 33 ft wireless range.
Class 1 Bluetooth devices can operate at a distance of about 300 ft.
Another thing is, Studio 3 comes with a 3.5 mm RemoteTalk cable, while you can use Solo Pro wired if you separately buy a Lightning to 1/8 inch TRRS cable.
Now, take a glance at how easy to control these headsets in the next segment.
Control System
Beats Solo Pro has a good control scheme. A small button on the right earcup enables the ANC/Transparency function.
You can find the rest of the controls on the left earcup. There you will find a touch interface to adjust volume, play/pause/skip tracks, manage calls, and others.
One downside is, there is no power button. You need to fold the headset to turn it off.
This is really annoying sometimes.
However, one of my friends finds this thing very interesting and convenient at the same time.
So whether you see it as a problem or an advantage, that actually depends on your preference.
Let me tell you about the control functionalities of Beats Studio3.
The headset contains a power button on the right-ear cup. Powering up automatically activates the noise cancelation. And for deactivating the ANC, you need to double-tap the power button.
Furthermore, the 'b' button on the left ear cup works as a multifunction controller. You can control volume, tracks, calls, etc., with it.
Voice Assistant
These two headphones support Siri.
The multifunctional button of Beats Studio 3 will let you activate it.
Beats Solo Pro once again wins here by allowing voice commands for activating Siri. Just say "Hey Siri," and your voice assistant will be on your service.
Is there any dedicated app for these two headsets?
Find it out now.
App Support
Solo Pro and Studio 3 support the Beats app that is available on both iOS and Android.
Sadly, the app doesn't have many functionalities.
For Solo Pro, it just lets you on/off ANC or Transparent mode.
Meanwhile, it has a few more functionalities for Studio 3. It shows battery information with a pop-up display.
You can also disable the active noise cancelling in the Bluetooth setting. But unfortunately, this feature doesn't work on Android.
So, overall the app performance of these two headphones is quite disappointing.
No sound customization! No controls! Nothing!!!
Do you want to know whether you can play games with these headphones or not? Or how suitable are they for the outside environment?
Okay, let's focus on these matters.
Gaming and Outdoor Performance
As Beats Solo Pro doesn't come with a wired connection, you can't connect it with any gaming console.
On the contrary, through the wire, Studio 3 is fully compatible with PC, PS4, PS5 and supports only audio in XBOX 1, XBOX One S, XBOX Series X.
So what about the outdoor performance?
Well, both are fantastic for outdoor activities. They have decent stability and are also lightweight.
You can use them while walking, running, jogging, or doing light exercise. But remember, these headsets are not ideal for heavy workouts at the gym.
All right, I have mentioned all the possible facts to find a winner from this Beats Studio 3 vs Solo Pro discussion.
What a nerve-racking journey! Isn't it?
Now it's time to watch who wins the crown!!!
Who Is The Final Winner?
As you have seen, both headphones have very few differences.
Even among the ten categories, I have talked about, Solo Pro wins four, and Studio 3 wins four. They have the same number in two segments.
It's a draw-draw!!!
But since I have to select one, I would pick the Beats Solo Pro as the winner.
It's because the Solo Pro is equipped with modern technology and features, while Studio 3 is pretty backdated.
So, unfortunately, I can't give it the first position.
At this moment, after seeing the debate on Beats studio Vs Solo, do you think it will be better to go for an alternative?
Well, your satisfaction is what matters the most. I fully respect your decision, and that's why I have included the below part.
Alternative Options
The following two headphones can be a great alternative to these Beats headphones.
The Skullcandy Venue contains ANC mode as well as ambient mode. Conducting phone calls or listening to music, this headset will give the best output all the time.
And the Sony WH-1000XM4 is a top rated headphone of Sony that can deliver a premium musical listening experience.
Along with a splendid battery, it is equipped with noteworthy features like Dual Noise Sensor technology, Touch Sensor controls, flat frequency response, etc.
Anyway, I hope you have no more questions to ask regarding today's topic. So, let's end here.
Conclusion
This Beats Solo Pro Vs Studio 3 debate definitely has removed all your confusion by this time. These headphones don't have too many differences in their appearance and overall features.
But now, as you know the slightest dissimilarities, you can easily decide which one is the best for you.
Wishing you a beautiful day ahead.