I have seen many innovative designs of earbuds and headphones, but the Sony LinkBuds really struck my mind. When Sony unveiled them, the design caught my attention immediately.
Sale
Sony LinkBuds
OPEN RING DESIGN- Hear calls,...
ULTRA-SMALL & LIGHT-Bluetooth ear...
CRYSTAL CLEAR PHONE CALLS- With...
Yes, they look just like a donut, and I had never seen such earbuds before.
Not only me but among all the audio enthusiasts, this new pair of earbuds has created a wave of curiosity. And I assume you are not an exception. But, the question is, are these earbuds worth your penny?
Well, don't worry, today I will provide an in-depth Sony LinkBuds WF-L900 review to help you in this regard.
Sony LinkBuds WF-L900 Review: An Anti-Noise-Canceling Earbud!
In this Sony LinkBuds review, I will share the convenience of these earbuds as well as the drawbacks.
From sound quality, comfortability, pros & cons to durability, every piece of information regarding them will be presented here so that you can determine whether to purchase a pair or not.
First, let's take a quick glimpse at their special features.
At A Glance
Accurate voice pickup technology for crystal clear phone calls.
Balanced, high-quality sound.
Open ring design allows hearing calls, music, and game while being connected to outside sound.
Ultra-small and light fit design.
Adaptive volume control that optimizes audio according to the environment.
After getting a sneak peek of this earbud, what do you think? I assume you are as much excited as I was to know about it thoroughly.
Yes, my curiosity was up above the sky when LinkBuds first dropped on 15th February 2022.
Luckily I was able to get a pair for myself to quench my interest. After receiving the package, I couldn't wait much and opened it immediately.
What's in The Box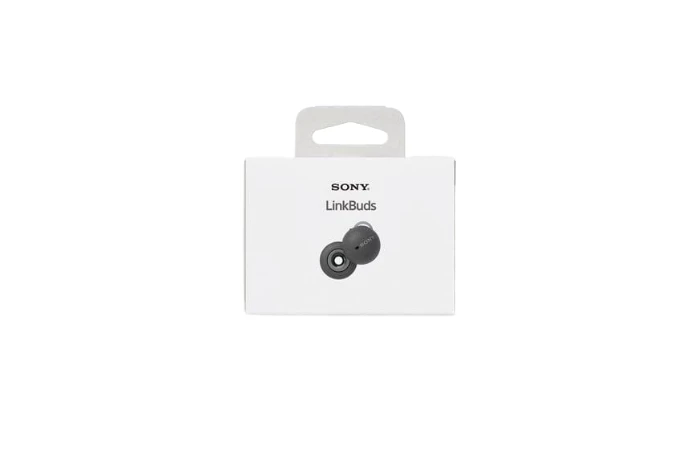 In the box, I found-
Sony LinkBuds.
USB-A to USB-C charging cable.
5 different sizes of arc support.
Ultra small charging case.
User guide.
I must say that Sony is doing a great job by avoiding plastic in the packaging material for LinkBuds, reflecting their commitment to decrease the environmental impact of their products.
There is nothing to complain about on the packaging and included materials.
So, we can move on to see the earbuds' key specs along with pros and cons now.
Key Specifications
Ear Placement: In-ear.
Connectivity: Wireless.
Color: Gray, white.
Bluetooth Version: 5.2.
Bluetooth Range: 10m.
Codec Support: SBC, AAC.
Bluetooth Profile: A2DP, AVRCP, HFP, HSP.
Driver Size: 12mm.
Magnet Type: Neodymium.
Frequency Response: 20 to 20,000 Hz.
360 Degree Spatial Audio: Yes.
Active Noise Cancelation: N/A.
IP Rating: IPX4 (splash and sweatproof).
Charging Time: Approximately 1.5 hours.
Fast Charging: 10 minutes charge gives up to 90 minutes playback.
Charging Method: USB charging (with the case).
Battery Life: Max. 2.5 hours (continuous communication time).
Battery Life: Up to 10 hours (waiting time).
Battery Life of Earbuds: Up to 5.5 hours (continuous music playback).
Battery Life (Buds+Case): Up to 17.5 hours.
Voice Assistant Function: Yes.
Charging Case Dimension: Approx. 41.4 x 48.5 x 30.9 mm.
Charging Case Weight: 34 g.
Compatible With: Bluetooth enabled devices.
Pros
Ultra-lightweight and comfy to wear.
Excellent voice call performance.
Wide Area Tap control.
Keeps you aware of the surroundings.
Automatically pauses audio as soon as you speak to someone.
Cons
Lack of bass in audio.
No multipoint pairing available.
Battery life isn't up to the mark.
As the design of the Sony WF L900 is totally unique, I was concerned about the comfortability most.
I assume you have the same concern as well, cause no matter how excellent the other features are, you need a comfy pair of earbuds to keep them in your ear for a longer period.
Hence, I will discuss this term broadly from here.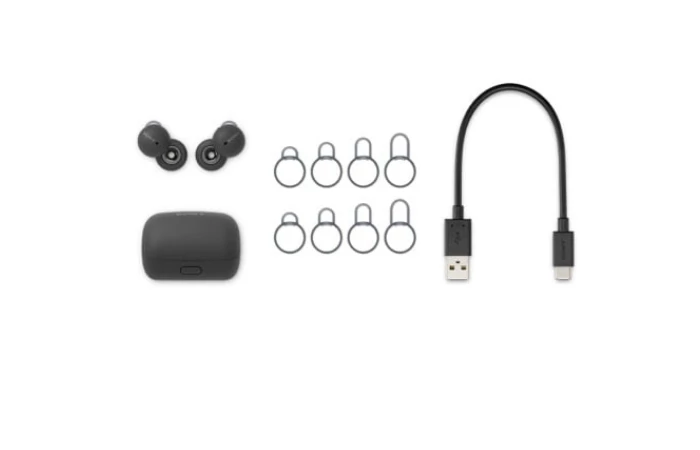 Are Sony LinkBuds Comfortable?
Unexpectedly comfortable!!
Yes, these unique-looking earbuds did surprise me with the fit. It doesn't have any eartips to fit in the ear canal like Beats Fit Pro, Apple AirPods, or other true wireless earbuds.
Instead, it features ring-shaped tips that will gently nestle into the curves of your ear.
I used them for a long time while doing my office work and didn't face any problems regarding comfortability. Although I felt a little weird at first because of the shape, I quickly adapted to the new design.
Another notable thing is that they are light weighted and won't move if you find the perfect fit for your ear.
As the package comes with different sizes (XS, S, M, L, and XL) of earloops to suit different ear shapes, you will find an appropriate one for you too. So, make sure to replace the loop according to your ear shape.
However, as you know that different people have different opinions and experiences, the fit and comfiness may vary from person to person.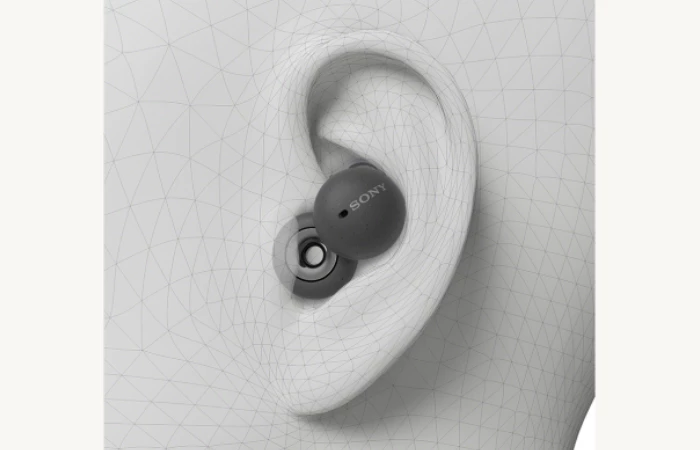 For example, yesterday, my younger brother was listening to songs with these earbuds, and when he yawned, the buds fell out.
And this incident made me believe that it may not be appropriate for everyone. Yet, it is possible that if you wear the earbuds appropriately first, they might not fall out.
In that case, my next segment may help you figure out the wearing process.
How to Wear The Sony LinkBuds?
First, find the right size of the ring loop that will have a great grip on your ear shape.
If you choose a small one that doesn't go well with your ear shape, the earbud will likely fall out soon.
A wing that's too large will end up pushing the earbuds to the wrong angle, which will either make the buds slip out or make audio come through less clearly.
After replacing the fin with the suited one, place the back of the earbud right up against the side of the ear, leaving the donut part angled just like your ear shape.
Don't even try to push it harder or jam it in!
By the way, the companion app does have a tutorial on how to wear these buds correctly. Or, you may check out the below video on how to replace the arc and wear them.
Alright, it's high time to talk about one of the most significant features of any earbuds or headphones, sound quality.
Audio Performance
The main motive of these earbuds is to keep you connected to the world while you are listening to songs, talking to someone, or playing games.
So, to get an authentic listening experience without being distracted by outer noise, I choose to wear them inside my home. I think it's the best way to judge their sound quality.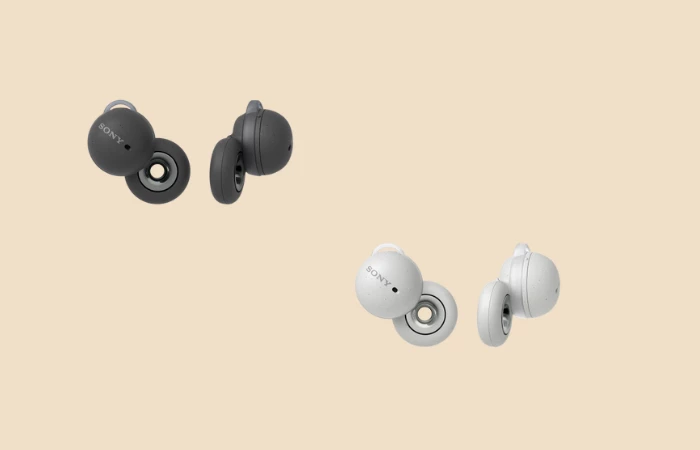 As they are equipped with Integrated Processor V1, I heard all the detail in music with unnoticed distortion.
The drum thump in the "Welcome To The Black Parade" by Chemical Romance came out loud and clear. But, once the rest of the instrumentals start to build, it gets comparatively harder to hear nuances.
So, I will say that their sound quality is excellent but won't satisfy the needs of a heavy bass lover.
However, music with less bass comes through nicely. Guitar strumming and higher-pitched vocals don't get drowned by the other instruments. They are also a great choice for listening to classical music.
You may try hearing the orchestral version of Biffy Clyro's Space (recorded at Abbey Road) with this earbud. You will surely fall for the vocal and musical transition.
You will find the music more natural, which many earphones struggle to deliver.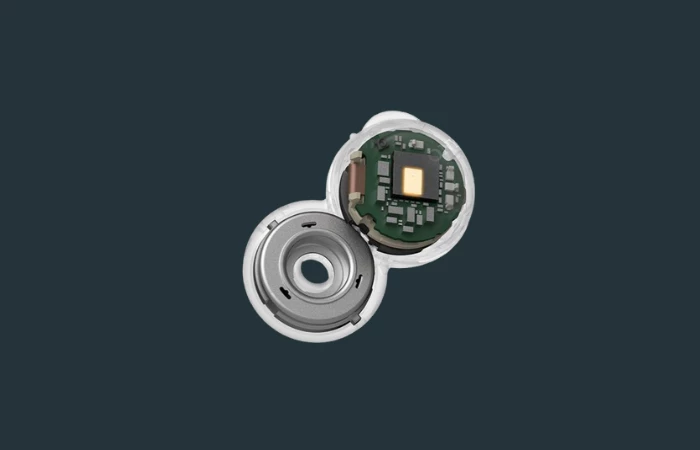 By the way, all of this is based on listening in an indoor setting where there is no ton of external sound.
If you are in a busy or crowded place with background noise, the music you will listen to with these earbuds won't sound this great.
So, the audio quality is decent only for a quiet environment.
Overall, the low frequency of these earbuds lacks the punch and solidity, but the highs and mids are appreciable.
By the way, Sony comes with an Adaptive Volume Mode that you can turn on from their Connect app.
It can adjust the volume level of your music according to your environment. If you are in a quiet place, it will lower the volume, and when you are in a noisy environment, it will automatically increase the volume.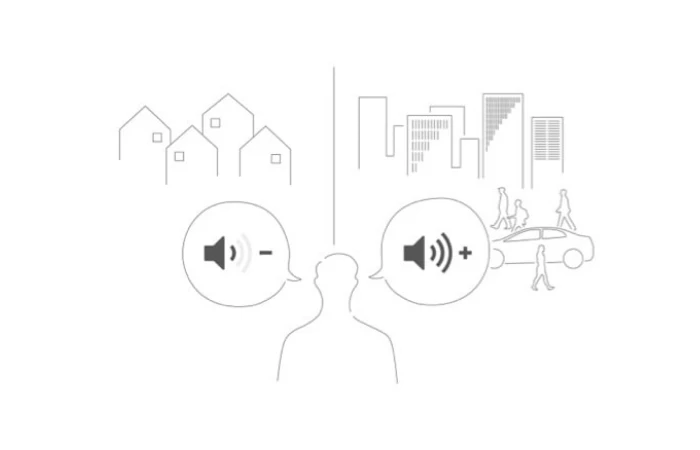 Soundstage
As open ear headphones always work well in terms of providing a good soundstage experience, LinkBuds are not an exception.
Even they support Sony's 360 Reality Audio, so you will hear sound coming from all around you. The audio comes out as real as experiencing a live concert or with the artist recording in a studio.
Now the question is when you are fully immersed in music, will the person beside you be able to hear it?
Well, you will find the answer in my next segment.
Sound Leakage
Suppose you are having a conversation with your bae and your father is beside you. Although you are not saying much, your sweetheart is talking all the lovey-dovey words.
My friend, your father will be able to hear everything!!!
Yes, Sony LinkBuds leak sound in high volume, so don't even think of using them in a place where the environment is quiet and someone is beside you.
But, keeping the volume lower won't cause any trouble from your dad as he won't hear anything.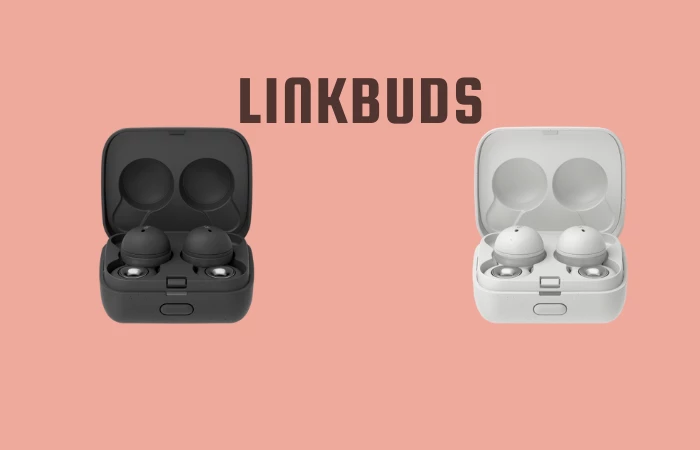 Anti-Noise-Cancelation
LinkBuds use a newly developed ring-type driver with the center of the diaphragm open for audio clarity that lets you hear the sounds around you.
While most of the headphones offer both noise cancelation and surround mode, these earbuds will never allow you to disconnect from the world.
Even if you listen to music with the highest volume, you will still hear every piece of ambient sound.
While working at my desk with the buds on, I could hear my brother whining to mom about getting a new gaming PC, even with the volume at around 80%.
The conversation sounds pretty natural, considering the fact that LinkBuds don't use any microphone to let the ambient noise in.
Sometimes I could hear our dog Lily running up and down the stairs, mom washing dishes in the kitchen, and dad talking about current affairs.
Basically, the earbuds will always keep you aware of your surroundings.
If you think about the safety aspect, you will find them very helpful in circumstances when you need to be attentive, like crossing the road, taking public transport, waiting for the flight, walking at night, or working at the office.
You will be able to hear an important announcement or your colleagues complaining about the workload.
There is no way of blocking out external noise with LinkBuds, and that's why I called them anti-noise-canceling earbuds.
How's The Microphone?
These earbuds are equipped with Precise Voice Pickup technology, which optimally controls multiple microphones and executes advanced audio signal processing.
Therefore, the person on the other end of the call will be able to hear your voice clearly, even if you are in a noisy situation.
Sony said that their noise reduction technology was established using AI machine learning utilizing more than 500 million voice samples to eliminate ambient noise and extract your voice clearly in a large range of environments.
I have used them a few times during my Zoom meetings, and my colleagues didn't hear any noises.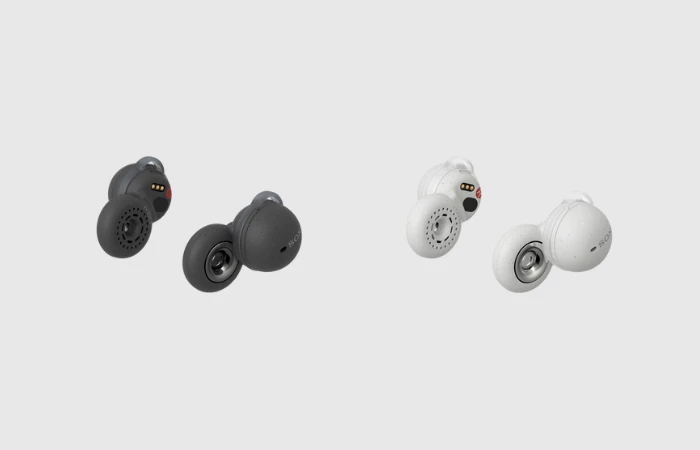 However, the microphone does struggle a bit with continuous noise, such as they sometimes could hear the typing noise. But it was not too obvious to disturb them.
So, from my perspective, these are a great choice for a home office environment and for crystal clear conversation. But, I won't suggest using them in extensively noisy surroundings.
While talking about the recording quality of the mic, they sound better than most of the wireless earbud microphones. But don't expect them to work like professional recording headphones cause none of the earbuds can do so.
How Do I Control The Sony LinkBuds?
Except for the donut design, there is another feature of LinkBuds Sony that I find really interesting: their control system.
The earbuds have touch-sensitive sides. By default, tapping twice will play or pause your media, and tapping three times will skip a track.
Even though the controls are limited, using them feels nice because of their innovative Wide Area Tap control.
If you ever used tap control featured wireless earbuds with ear tips, then the uncomfy suction effect may have bothered you whenever you touched the earbuds. Right?
But, using the LinkBuds won't displace your buds from the ear.
Yes, that's the specialty of these earphones control systems that I liked the most.
Anyway, if you don't have any idea about how the wide-area tap works, check out the following part where I discussed it.
What Is Sony Wide Area Tap? Know in Detail
Sony introduced a new control method called Wide Area Tap. It is the same method as ordinary on-ear tap control, but you need to tap the space right in front of your ear instead of the earbud.
Due to coughing or during attaching/detaching accessories around your ears, these earbuds may fail to operate correctly. If this happens, turn off the wide area tap function using the Sony Headphones Connect app.
Just lightly tap the surface of your skin in front of your ear. From my experience, I found tapping the tragus provides the best response regarding control.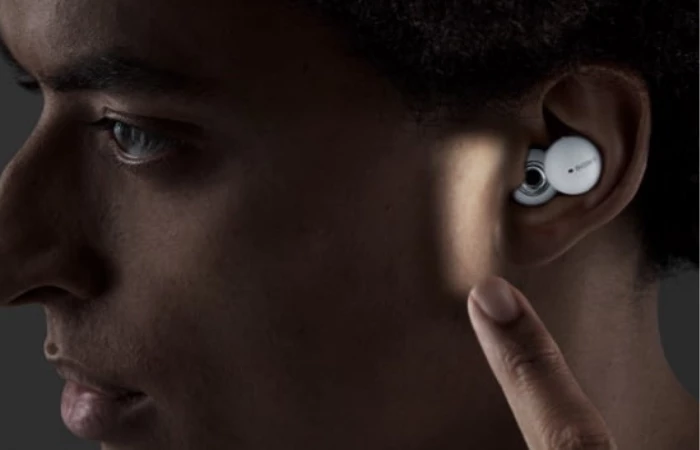 Build Quality & Design
WF-L900 weighs about 4 grams and is extremely small. They occupy nearly 51% less volume than WF-1000XM4 flagship earbuds.
The buds and charging case are made from recycled plastic from automobile parts. They feel softer to touch than typical plastic. The ear loops are made with rubber and are flexible.
Unlike common earbuds, the protective surface coating of the speaker diaphragm is integrated within the housing for saving space.
The open ring driver unit reminds me of polo mint that I used to eat a lot during childhood. You can also call them a mini donut.
I dropped them a few times to test their durability, and luckily they withstood it. I found no problem with sound quality or other functionality.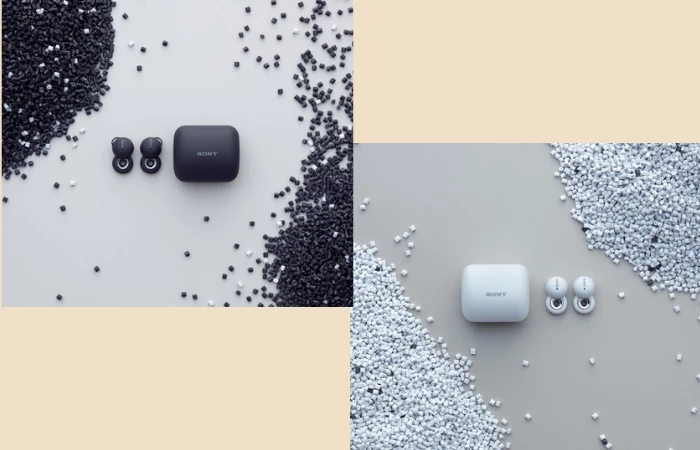 Moreover, Sony played safe with the color option keeping it simple. You have only two options (white and gray) to choose from.
Portability
These earbuds come with a cute tiny charging case. When I put it beside my Apple AirPods and Beats Fit Pro charging case, it looks miniature.
Personally, I have a fascination for cute little things; that's why the charging case makes me feel like "aww." It can easily fit into your pant's pocket or even in a chest pocket.
Hence, you won't face any problem taking them wherever you want.
Are They Stable?
Sony's WF-L900 has a shape that can perfectly match the human ear with a user-friendly design to provide a stable fit.
The company claimed that they designed LinkBuds utilizing large data of ear shape since 1982.
As I was able to find the perfect fit, the earbuds never slipped away from my ear. Also, I have used them during light jogging & cycling and didn't face any problems.
But, as I said earlier, my brother struggled to find a perfect fit, and the buds dropped while he yawned. It may happen to a few people that the earbuds will come out from the ear during heavy workouts or chewing foods.
In short, if you get a perfect fit, these earbuds are a decent pair regarding stability.
Waterproof
With an IPX4 water resistance rating, this earbud can resist sweat and water splashes from any direction.
So, even if you use them during running, the sweat won't penetrate them. Just put the buds on, listen to your favorite music and do your daily work as well.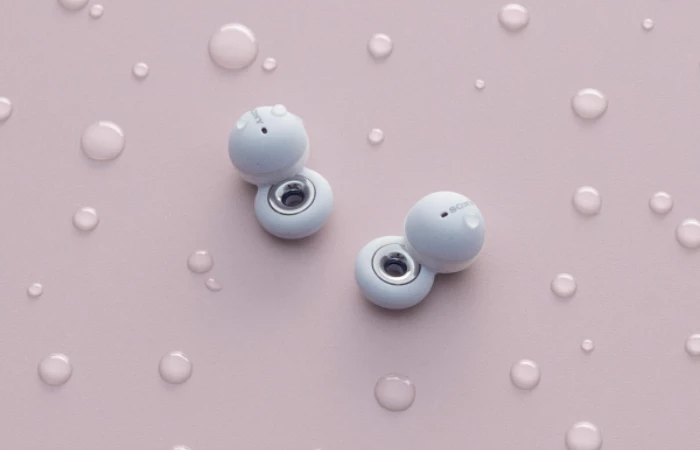 Anyway, one particular thing about these earbuds really bothered me a lot: battery life.
Wanna know the reason behind it? Then move on to the next section.
Battery Details
To be fair, I am kinda disappointed with its battery life. Although 5.5 hours of continuous playback isn't bad at all, it's comparatively low for earbuds that don't offer noise cancelation.
Additionally, the charging case provides another 12 hours of listening time, which is not up to the mark.
Just think of AirPods 3, which has an almost similar price, giving 6 hours of listening time and 30 hours with the charging case.
On top of that, the LinkBuds charging case doesn't even support wireless charging.
Yet, one thing that could satisfy me is fast charging (10 minutes offer 90 minutes listening time).
I hope Sony will consider improving its battery life in the future.
Bluetooth Details
Keeping low latency and high sound quality, the Bluetooth signal is transmitted to both ears simultaneously. You will be able to enjoy skip-free, stable sound because of its powerful Integrated Processor V1.
Despite the fact that I didn't face any signal dropouts during my listening session, my friend experienced it once. So, I feel like it may happen to random people and won't be a regular issue.
Sony WF L900 can connect to your device using Bluetooth 5.2 and supports AAC & SBC codec.
There is no high-quality audio codec available for Android users, yet connecting over SBC is pretty stable.
Moreover, you can't pair them with two devices simultaneously, so you are limited to using one Bluetooth connection at a time.
One good thing is that you can at least listen in mono mode with the right earbud.
How to Pair with Devices?
LinkBuds support Google's Fast Pair trait. It enables quick, effortless Bluetooth pairing with Android devices with one tap of pop-up guidance.
You can also locate where you left the earbud by ringing them or even checking their last known location from your smartphone. When your earphone battery runs low, you will be notified to charge them.
They also support Swift Pair, making it easy to pair with Windows 11 or 10. When pairing mode is selected, a pop-up with pairing direction appears on nearby Windows 10 or 11.
To pair them with an iOS device, you need to hold down the pairing button situated on the back of the charging case. Then open your Bluetooth settings and select the device from there.
By the way, to use some features, you need to download Sony Headphones Connect App. Now, let's find out what this app has to offer you.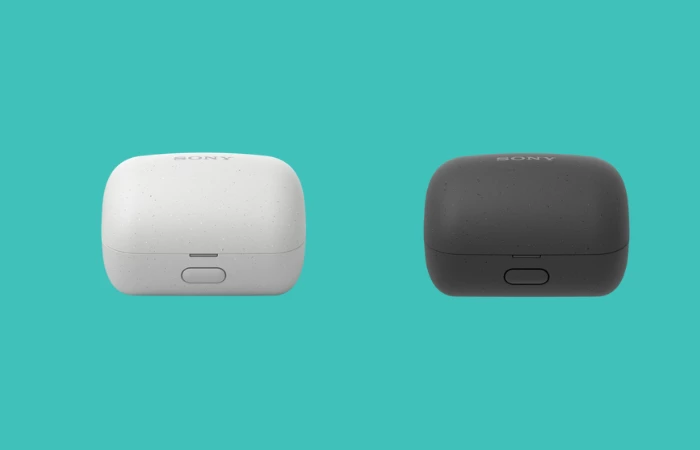 Usage of Sony Headphones Connect App
This app brings access to an EQ and firmware updates and 360 Reality Audio. Also, you can customize the on-ear control from here.
Even though the 2 or 3 taps control is pretty convenient, you can set each earbud to a separate control profile. It will be easy to control volume, skip a song, voice assistant activation, and Spotify access.
The connect app also lets you turn on Sony's DSEE attribute, which can improve highly compressed audio files' sound quality.
The adaptive volume control option that adjusts the volume according to the environment can be turned on or off from the app.
But unfortunately, there is no option to customize the sensitivity, which means if you are in a quiet place, the buds will constantly adjust the playback volume when the function is turned on.
Using lots of features at once can quickly drain the battery life.
Suppose I have two options, using this automatic volume control trait or lightly tapping in front of my ear to raise or lower the volume, I will pick the physical control.
It's because sometimes I like to listen to music at a higher volume in a calm place, and LinkBuds won't let me do it.
Again, preference varies from person to person, and it may prove to be a valuable characteristic for you.
The earbuds support the Speak-to-Chat feature, which automatically pauses music if you start to talk. If LinkBuds don't detect your voice for fifteen seconds, they will presume that your conversation is over and resume the music. And to enable this feature, you need the app.
In short, this app is kind of a necessity to get your hands on the different traits of these earbuds.
Are They Suitable for Gaming
These earbuds are not designed for gaming. You can use them for basic games, but they are not suitable for high-profiled or online games at all.
Well, if you are looking for wireless earbuds for gaming, you may check this article where we suggested some top-notch gaming buds.
By far, you have got enough knowledge about LinkBuds. So, are you going to purchase it, or still confused?
Don't worry. I will help you a bit more in this regard by giving an overview of whether you should buy it or not.
Who Should Give It A Chance?
Sony specifically designed this earbud for people who want to stay connected to the outer world. If you prefer listening to music as well as hearing what's happening around you, then go for it.
Also, they provide outstanding comfort for a longer session, and if you find the perfect fit, they are just awesome.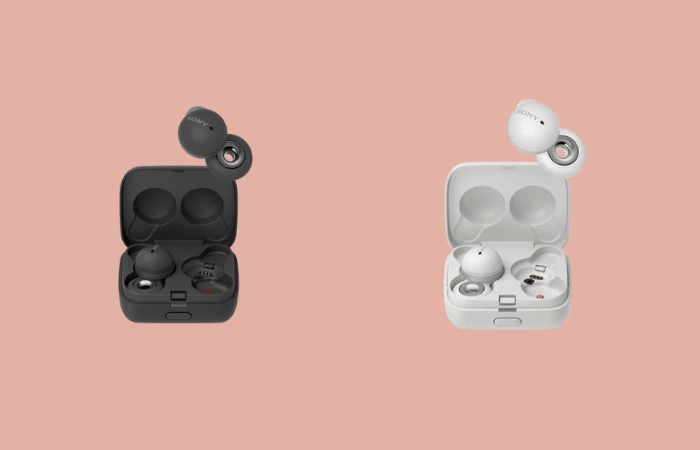 As the earbud produces high-quality sound with clear mid-range, you can use it for casual listening indoors.
From my personal experience, these are best suited for the home office because the buds can pick up your voice precisely and deliver to the other end with utmost transparency.
Who Might Skip It?
If you are a hardcore metal or bass boosted song lover, they won't satisfy you at all. Even their loudest volume feels relatively low, which may not meet many people's needs.
Besides, avoid WF L900 if you are looking for noise-canceling headphones because no matter what, they won't let you disconnect from the outside. Even if you put the highest volume, you will be aware of the surroundings.
The most disappointing part is that their battery life is comparatively low. So, if you want earbuds that will stay juiced up all day long, these are not your cup of tea.
Hopefully, I made it clear who this earbud is suited for and who may skip it.
Right now, I will compare LinkBuds with some other similar earphones. And I think the comparison will help you understand LinkBuds' advantages and weaknesses.
Comparing with Other Earphones
Here, you will find a comparative discussion between WF-L900 with WF-1000XM3 and AirPods Pro.
Sony LinkBuds vs. Sony WF-1000XM3
Both of these earbuds are equipped with voice control and a built-in mic for hands-free calls. They provide similar fast charging, 10 minutes charge for 90 minutes playback.
However, the total battery life of the WF 1000XM3 is better than Sony WF-L900.
When LinkBuds give only 17.5 (buds+case) hours of listening time, XM3 offers 24 hours of playtime.
On the other hand, LinkBuds are sweat & splashproof, but 1000XM3 has no water resistance.
Sony LinkBuds vs. Apple AirPods Pro
AirPods Pro comes with both ANC and transparency mode. You can choose to be immersed in music with the ANC feature on or stay connected to the surrounding, whatever you prefer.
They can tune music to your ear with adaptive EQ characteristics. Also, these earbuds support Spatial Audio with dynamic head tracking that places sound all around you.
On the contrary, LinkBuds' open ring design is specially designed to let the outside noise in. Hence, you can't block any noise even if you want.
As they support Sony's 360 Reality Audio, you will be able to hear sound coming from different angles.
Apart from that, both of these earbuds are sweat and water-resistant.
Are LinkBuds Worth Buying?
You already know for whom this earbud is suitable. If you purchase it for those purposes, you won't regret anything.
These are comfy, super light weighted, and an excellent choice for clear call performance in a quiet place.
Just think of all their characteristics and whether they fulfill your requirements. If yes, then go for it without any second thought.
In case you are not satisfied with these buds, I have some alternative options for you to consider.
Alternative Options
Here are three great alternatives to LinkBuds.
Both of the above earbuds have amazing features, and in some cases, they will provide a better experience than LinkBuds. Even their price is almost similar.
But, if you can raise your budget, then I think Sony WF-1000XM4 will be the best choice without any doubt.
Okay, I have nothing to inform you. So, I am gonna end my write-up now.
Conclusion
After exploring my Sony LinkBuds WF-L900 review, I hope you can finally decide whether to add them to the cart or not.
And I think you will be able to make the right decision in the end.