Imagine yourself in a dream where you are listening to a romantic song while traveling on a plane. Your eyes are closed, deep in the thought, your crush has finally fallen for you, and you guys are on a romantic date.
And the moment your crush is going to hug you, boom!! A loud noise wakes you from your dream.
Huhh…all the romance just gone in vain!
But, if you had an active noise canceling headphone, I guess at least you could have completed the romantic imagination.
And that's why today, I will introduce you to a headphone that can provide you with a noise-canceling feature at an affordable price.
Here I am talking about SuperEQ S1, which may end all of your problems with external noise.
However, to know whether this headphone is really worth your penny or not, you have to go through my SuperEQ S1 review from top to bottom.
SuperEQ S1 Review: Verify Its Worthiness
In this review, I am gonna tell you the upsides of SuperEQ S1 as well as its drawbacks.
From sound quality, pros & cons, comfortability, and above all, whether its noise cancellation is up to mark or not will be discussed elaborately.
First, let's have a quick glance at this headphone's special features.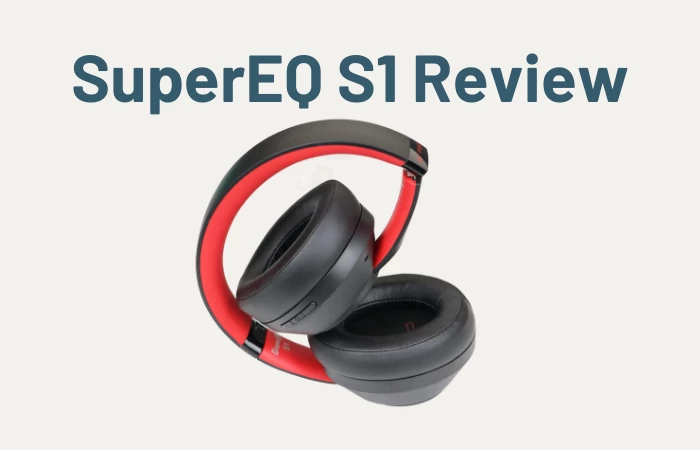 At A Glance
Hybrid noise canceling technology for blocking unwanted noise.
Works in a wireless and wired mode both.
Powerful deep bass with exceptional clarity.
45 hours of long-lasting playtime.
User-friendly fit.
2 years warranty.
SuperEQ S1 is an inexpensive headphone that looks stylish and has surprising battery life. Even the sound quality is remarkable for the price.
All their mentioned features made me more excited to receive the package and verify them.
So, when I finally received the box, I didn't wait any longer to see what was inside.
What's in The Box
The headphone came in a funky-looking colorful box. And I was expecting this type of packaging as the brand's motto is to attract all the young and fun-loving people.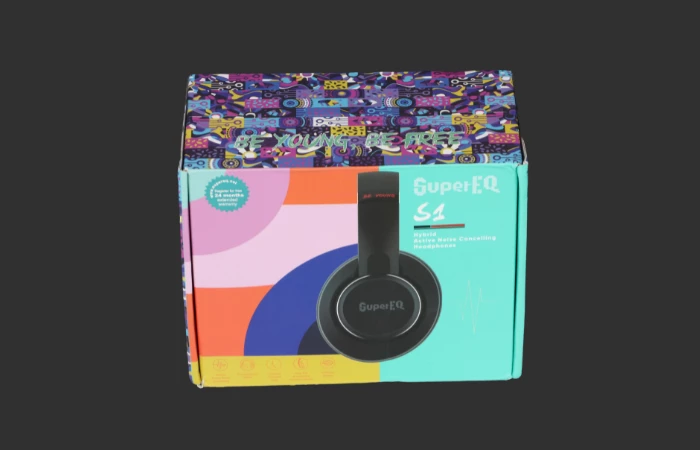 And bravo to SuperEQ for successfully drawing my attention with the box.
Anyway, I immediately opened it and found the item below.
SuperEQ S1 Hybrid ANC headphones.
1 x Micro-USB charging cable.
1 x 3.5mm audio cable.
1 x drawstring carrying pouch.
1 x airplane adapter.
User manual and warranty card.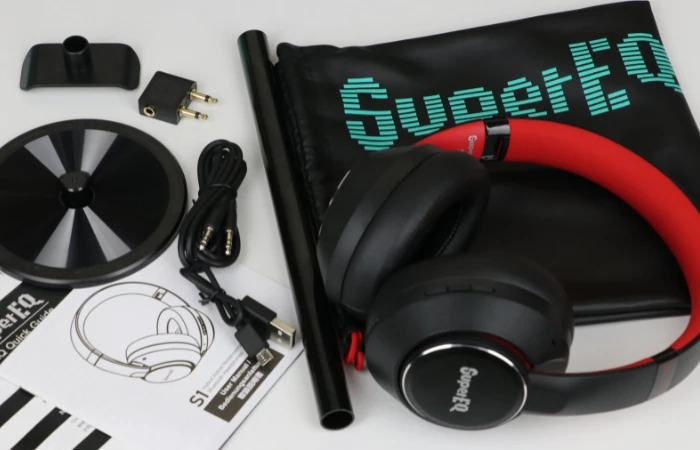 Except for the above items, they don't come with any extra replaceable materials. The soft carrying pouch is the same one that I previously got with the OneOdio A30 headphone, just logo difference.
Even though SuperEQ is an in-house brand of OneOdio, I expected the carrying pouch of this headphone would be a bit more fun looking, just like their slogan, "Be young, be free."
But it's okay as long as the headphones themselves can please me.
So, let's take a look at their key specs, along with what I liked about these headphones and what didn't.
Key Specifications
Form Factor: Over-ear.
Color: Black, white.
Connectivity Technology: Wireless, wired.
Bluetooth Version: 5.0.
Bluetooth Range: ≥ 10m/33ft.
Codec Support: SBC, AAC.
Frequency Response: 20 Hz – 20 kHz.
Speaker Diameter: 40 mm.
Speaker Impedance: 32±15% Ω.
Sensitivity: 98±3 dB.
Noise Canceling Type: Hybrid Active Noise Canceling.
Noise Reduction Depth: 28 ~ 33 dB.
Charging Time: About 2 hours.
Battery Capacity: 380 mAH.
Play Time: 40 hours (in Bluetooth mode with ANC on).
Play Time: 45 hours (Only in Bluetooth mode).
Play Time: 50 hours (Wired noise-canceling mode).
Charging Cable: Micro-USB.
Audio Cable: 3.5 mm.
Input: DC 5.0V / 120 mA.
Speaker Rated Input Power: 20 mW.
Speaker Maximum Input Power: 40 mW.
Weight: 280 g.
Product Dimensions: 7.1 x 6.5 x 3.3 inches.
Pros
Excellent sound quality.
Comfortable fit.
Outstanding battery life.
Colorful design.
Foldable.
Affordable price.
Cons
The wired mode doesn't work when the battery runs out.
Dull audio quality in wired mode.
The audio cable is relatively short.
Whenever I purchase a budget-friendly headphone, the first thing that hits my mind is comfortability.
I guess you are not an exception either. Now, let's find out whether SuperEQ S1 met my expectations or not.
Is It Comfortable?
As an over-ear headphone, this feels lightweight. The earcups are made with ultra-soft protein leather and padded with memory foam. They feel smooth to the skin and are not too bulky. The headband is adjustable, and the clamping force is decent enough.
However, the housing of the ear cups is comparatively small as over-ear headphones. Since I have small ears, I didn't face any problem either with the fit or comfortability.
But, my older brother, who has slightly big ears, said that the earcups felt uncomfortable as they were sitting on his ears. Even though he extended the headband to the maximum, it didn't fit his head and was tight.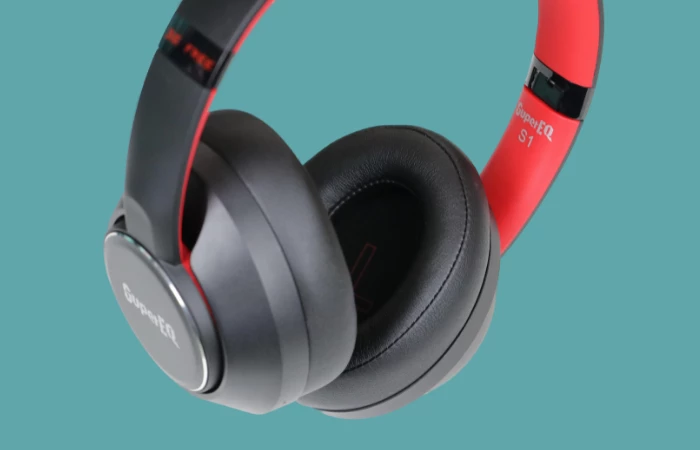 So, if you have big ears and a large head, then these headphones are not the right choice for you.
On the other hand, in case you are like me, then there is nothing to be worried about with comfort.
While talking about the headband, it is decently padded and doesn't put much pressure on the crown of my head.
I used these headphones continuously for 1 hour without feeling any notable stress on my ears. As wearing headphones for hours after hours is a bad thing to do, I didn't wear them any further for my own health benefit.
Yet, I believe if you are going to use them for many hours, they won't put you in any discomfort.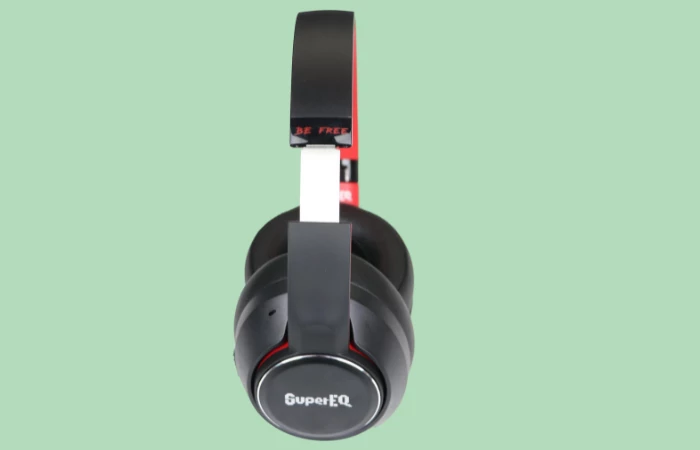 Overall, I personally don't face any issues regarding comfort, but as I said, it may become a matter of concern for people with big ears and a large head.
Ohh, no!! Don't be disheartened if you have large ears. You may check out this article from where I can assure you will find a suitable one for you.
Alright, I think it's high time to talk about its sound quality cause I am really excited to share my experience regarding this feature.
And you will find out the reason for my excitement after going through the next segment.
Audio Performance
SuperEQ S1 headphone is equipped with 40mm silk diaphragm drivers that can reproduce accurate sound.
I was pretty surprised at how these inexpensive headphones produced such well-balanced and engaging audio. All the bass were clear and not overly hyped.
As I am hip-hop and rock song lover, the first music that I played with this headphone was "Castle of Glass by Linkin Park." The thumping bass came out well-balanced and decently crispy, and I could hear Chester Bennington's voice clearly, meaning the bass never overshadowed the vocals.
To be honest, I have seen many expensive headphones failing to amuse me with the right amount of bass without drowning the other notes, but these headphones really impressed me.
Now, of course, not everyone is a bass-boosted song lover; you also need to know how this headphone performs with other genres.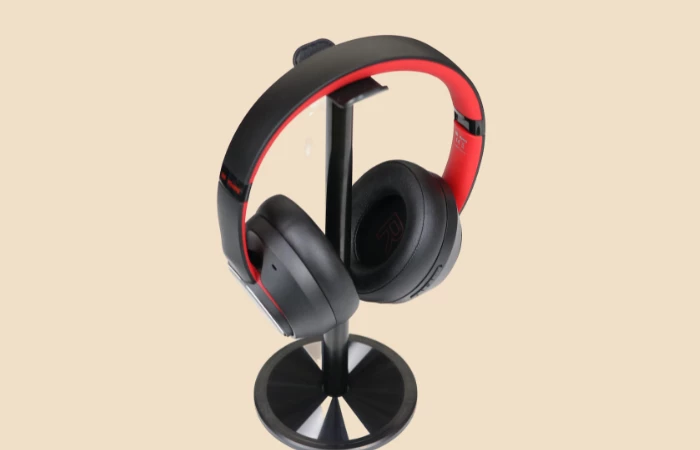 So, I played an EDM song, "Clarity by Zedd," and I was totally immersed in the music and banged my head with each beat drop.
Even with the maximum volume, there was no distortion or haziness in the audio.
To know how it performs with instrumental music, I listened to "Cold by Jorge Mendez," and each note of the violin and piano was on point.
All of these references were when I used the headphone in Bluetooth mode. But, the moment I switched to the wired mode, I felt like the sound was a bit dull and not much louder, even at the highest volume.
I felt like the bass was flat, and I didn't enjoy listening to any genres of music in wired mode.
Hence, I will suggest using Bluetooth mode over wired one in terms of listening to music. Nevertheless, if you don't prefer loudness, then the wired mode may please you.
But, for me, it's a no, no!!
One thing I really appreciate about these headphones is that the sound never gets aggressive to the ear. Even if you crank the volume to the highest, the audio won't be too loud to harm your hearing.
Another thing that I want to inform you about is that turning the ANC on/off affects the sound a bit.
With the ANC on, the sound becomes more clear and lively. The treble is boosted slightly, making the song better to hear. The vocals and mids sounds closer to the ear, which I don't mind.
In contrast, with ambient mode on, the audio felt less transparent.
I personally prefer the sound with ANC on, but you might like the other one cause preference varies from person to person.
Frankly, the audio quality is not the best out in the market, and I don't want to compare it with expensive high-end headphones.
And considering the price, I am satisfied with what SuperEQ S1 offered.
Soundstage
Talking about soundstage, I always look for precise imaging to sense where the sound is coming from. I have seen many noise-canceling headphones squishing the sound towards the middle, muddying the response, and making your song appear distended.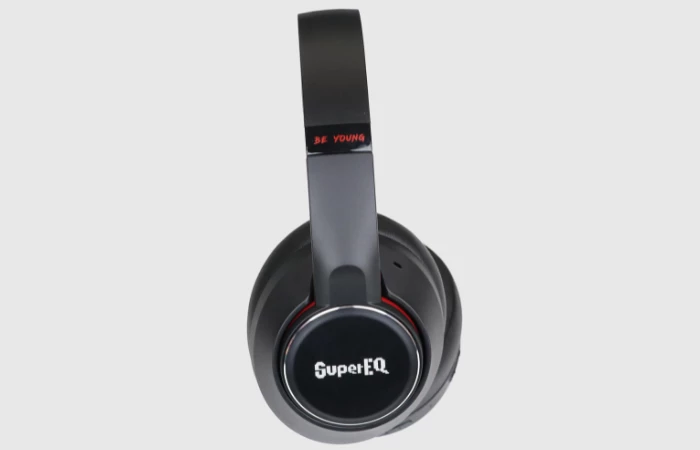 Fortunately, S1 did an average job with the soundstage. Although the vocal transition from a different angle is not too smooth, it did manage to balance it.
But, of course, the soundstage is not as spacious as I thought it would be. The stereo field displays minimum space, and sometimes it struggles a bit with clarity.
Does It Leak Sound?
Fortunately, it doesn't leak any sound even if you listen to music with high volume. Once I was listening to "Enemy by Imagine Dragons", and my colleague who was right next to me didn't hear anything.
It's a relief cause I absolutely hate it when headphones leak sound.
I am like, dude, please respect my privacy! If you let people hear what I am listening to, then you are straight-up cheating with me by revealing all of my secret songs.
Thus, I am glad SuperEQ S1 didn't deceive me in this regard.
Alright, as you already know that it's a noise-canceling headphone, we need to check whether this feature is up to the standard or not.
Noise Cancelation
According to SuperEQ, these headphones are equipped with advanced Hybrid ANC technology that can block low-frequency background noise up to 95% (28 to 33 dB).
Last day I used it with ANC mode on in my office, and it seemed okay. All the humming noises from the AC were completely eliminated.
Even in my house, it did block out all the noise coming from home appliances. And if you use them during traveling in an airplane, it can easily block out the rumbling noise coming from the engine.
So, my friend, as I said in my introduction, you can rely on these headphones to immerse in music and your own thoughts during commuting on the airplane.
The ANC function won't work if the battery has run out.
However, unfortunately, these headphones can't block out human voices or any other sudden bursts of sound. As they didn't even claim to block out this type of sound, there is nothing to complain about.
And while commuting, I think you need these kinds of headphones to hear all the announcements and be aware of any dangers.
In short, their noise cancelation is only effective with a low-frequency sound like machine and engine noise, but higher pitched sound will still get through.
Moving to ambient sound mode, you will be able to hear your surroundings. The music will come out low in this mode, and you can easily communicate with other people without removing the headphone.
How Is The Microphone?
These headphones don't come with any boom or in-line mic. Instead, it has a built-in microphone.
When I called my colleague, she couldn't hear my voice clearly and said my words were sometimes cut off.
Hence, I won't suggest you use these headphones for call or video conference purposes.
Also, the recording quality isn't great cause the mic picks up the background noise. So, they are not an ideal option for recording too.
By the way, do you even know how to control it?
It's okay if you are struggling with the control system, as I am gonna explain now.
Control System
All the controls are present on the right earcup. There are a total of 4 buttons.
Three buttons are placed in a sequence, and the separate one is for controlling ANC.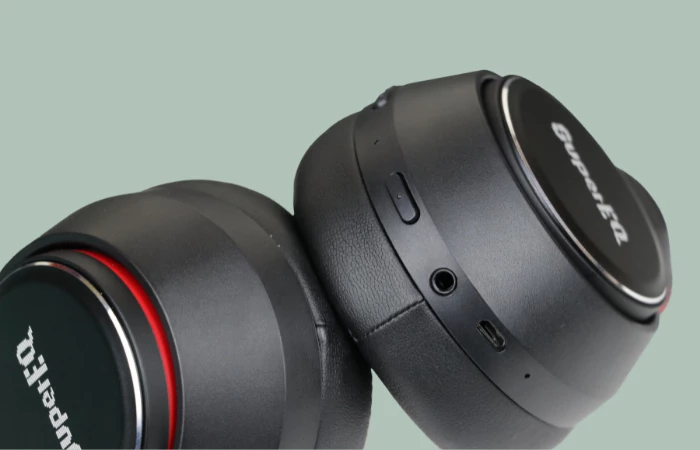 The middle button of the three is for controlling multiple functions. Now, follow the below steps to operate the headphone.
Hold the multi-function button 2 seconds to turn on and 3 seconds to turn off.
1 press on the button with two dots to increase volume. Press and hold this button to go to the next track.
1 press on the button with one dot ( the one right under the multi-function button) to decrease volume. Press and hold it to go back to the previous track.
1 Press on the multi-function button to answer call/hangup or play/pause music.
Press and hold the multi-function button for 2 seconds to an incoming call.
1 Press on the ANC button to switch between noise canceling and ambient mode.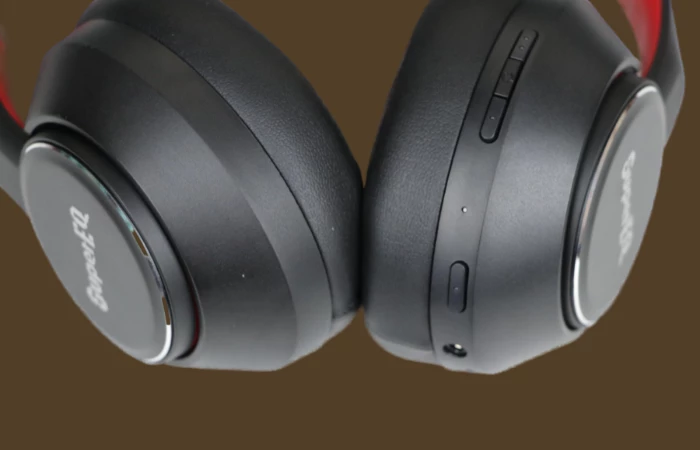 One significant drawback of these headphones is that the on-ear control doesn't work in wired mode. Even there is no in-line control with the wire, and you have to manage everything from your connected device while using the wire.
Alright, let's move on to its build quality and design.
Build Quality & Design
Most of the construction of this headphone is made with plastic except for the spring steel headband and the ear cushions. It helps them to weigh less.
The outlook is simple, and they come in two colors: black and white. And the headband of both colored headphone is red.
They have robust construction, and I feel that they can withstand a few accidental drops.
The padding under the headbands is made with soft silicone material, and the protein leather of the ear cushions feels sustainable.
One notable thing is that these headphones' ear cups don't rotate, so you can't place them flat on the desk or around your neck.
As SuperEQ offers 24 months of an extended warranty, I don't think that you should be worried about its durability.
Are They Portable?
This headphone is perfect for portability because of its travel-friendly collapsible design.
You can fold them into a compact form that fits nicely into the provided travel pouch, backpack, and suitcase.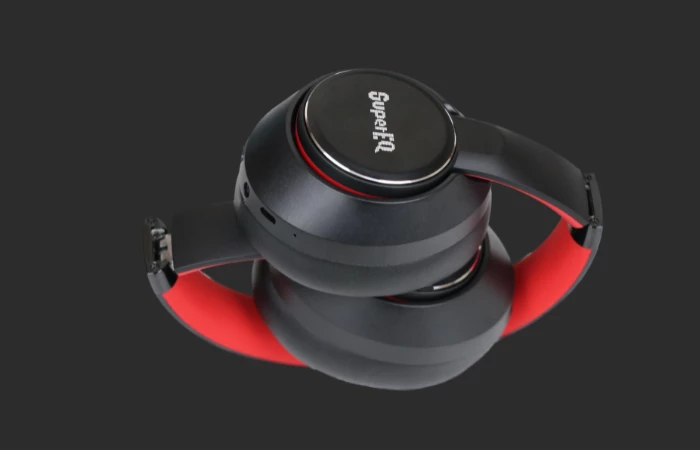 Hence, you can take them wherever you go for your personal entertainment.
They even come with an airplane adapter so that you can enjoy your airline journey to the fullest.
Stability
The headband and ear cups of SuperEQ S1 provide a snug fit on the head and ears. It never feels too tight or loose for me.
Still, you shouldn't wear them while doing heavy workouts or running as they may slip off your head.
However, you can use them during a light jog. Also, if you wear them and stay seated, you won't face any issues with stability.
Is It Waterproof?
These headphones don't come with any waterproof rating; hence you should not place them where water may come into contact with them.
Moreover, the earcups have a closed-back design, so they are not breathable either.
Therefore, if you start sweating after wearing it for a while, I suggest you take a break. In that way, the sweat won't sit on the leather pads for long, avoiding any damage.
Now, it's time to discuss its battery details.
All About Battery
The battery capacity is only 380mAh, which is nothing to brag on as I have seen far better examples. Even though the manufacturer claimed that the user would get 40 hours of playtime with both ANC and Bluetooth, I found them serving for around less than 30 hours.
Well, it may be because I used it with loud volume, which can drain the battery fast.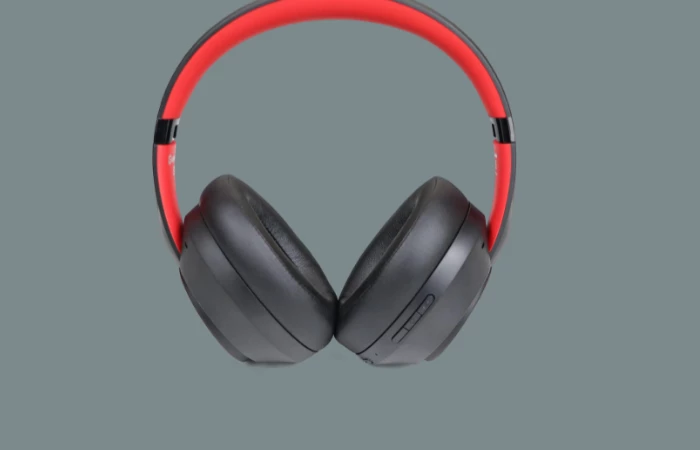 Therefore, I think the battery life is still quite decent, and you can easily rely on them for days.
When talking about recharging, the S1 takes more than 2 hours to go from 0 to 100%.
Additionally, there is no quick charging option available.
Wired Connection
The wired connectivity is straightforward. Just plug the 3.5mm to 3.5mm audio jack with your device.
Even you don't need to turn on the headphone. Simply attach the cable, and listen to your favorite song.
Point to be noted that the wired mode will not work if the battery has run out.
Bluetooth
The S1 headphone supports Bluetooth 5.0. The range is also good, and you can roam around within 10m/33ft.
During my use, I never experienced any dropouts. So, I can say that the connection is pretty stable too.
Even I didn't face any noticeable audio lag in Bluetooth mode. Hence, you can watch movies with them.
Furthermore, they support both AAC and SBC codecs, which is fine considering the price.
We have come far away; still, I didn't mention how to pair these headphones.
Don't worry. I won't make you wait any longer cause my next part is all about it.
How to Pair It with Devices?
Turning the headphone on for the first time will automatically put them in pairing mode.
Hold the power button until the device is turned on.
After that, turn on the Bluetooth function of your device.
Search the available devices and select SuperEQ S1.
The led will blink white means pairing is done.
If you are asked to provide a pin code during the process, enter 0000.
By the way, S1 supports a multi-point connection, a maximum of two devices at a time.
To do it, follow the below steps.
Make sure the headphone has been connected to the first device successfully.
Turn off the first device's Bluetooth.
Then turn on the second device's Bluetooth and pair it with the headphone.
Now turn on the first device's Bluetooth and select SuperEQ S1 to pair again.
It's done.
The whole procedure is simple, and I think you won't face any issue following the steps.
Yet, if the headphone doesn't pair with your device, then you may reset it.
Press and hold the one-dotted and two-dotted buttons together for 5 seconds.
Reset is done.
Anyway, don't you have a question in your mind regarding the compatibility of these headphones?
Well, we all get concerned with whether we will be able to use a gadget with as many devices as possible.
Don't be pressed as I will let you know about it now.
Compatibility
The S1 headphone is compatible with several Bluetooth-enabled devices such as mobile phones, tablets, computers, laptops, and so on.
You can also use them with Bluetooth TV.
Is It Suitable for Studio?
These are bass-boosted and closed-back style headphones. But, for studio work, you need open-back headphones and need to hear every nuance in music.
So, neither of the features of SuperEQ S1 matched for an ideal studio headset. Thus, it's not suitable for critical listening and studio work.
If you are looking for budget-friendly beginner-level studio headphones, you may check out OneOdio Hi-Fi Pro.
Is It Good for Gaming?
The S1 headphones are not ideal for gaming. Although you can use them for playing some video games on your phone or PC, don't expect them to work like the high-end gaming headphones.
On top of that, I am not satisfied with the mic quality. Therefore, if you play a multiplayer game, your teammates will struggle to hear your voice clearly.
But, if you play those games that don't require chatting, you may use these headphones.
Now, tell me, are you going to purchase SuperEQ S1 headphones, or still confused?
If you still struggle to reach a decision, then I can help you in this matter.
Just go through my next section to know who should give it a try.
Who Should Buy This?
If you want to avoid unwanted rumbling sounds during traveling, then you may go for these headphones. As they can reduce low-frequency background noise up to a limit, you will be able to concentrate on your music and immerse yourself in thoughts.
And, if you want to be aware of your surroundings, you can switch to ambient mode.
Also, their foldable design is perfect for carrying them wherever you go. As the battery life is long, you don't even need to worry about charging frequently.
Besides, they offer excellent sound quality. Therefore, if you want budget-friendly headphones for casual listening, just don't hesitate. You will be able to enjoy every genre's music.
Still, remember that all the performance is judged based on their price, and I think they did pretty well with all the mentioned features.
Who Might Skip It?
I am not satisfied with the mic quality; that's why I won't suggest these headphones for busy calls, online teaching, or recording purposes.
Because of their powerful bass response, these are not good for studio work, mixing, or producing.
Most importantly, if you have big ears and a large head, they will be tight on you.
Furthermore, don't buy it if you want to do heavy workouts, running, or other physical activities. They are quite bulkier for this sort of work.
For playing multiplayer games, you might skip this headset too.
Okay, here comes the final decision. Should you spend your bucks on it, or not?
Let's find the answer.
Is It Worth Buying SuperEQ S1 Headphones?
I already mentioned for which purpose these headphones are worthy. If you purchase them for those intentions, then you are not gonna regret it.
Above all, they are affordable, and the ANC performance and sound quality are relatively great for such a lower price.
After knowing all of their advantages and drawbacks, if you still don't want to buy them, I have some recommendations.
Alternative to It
The below two are excellent alternatives to S1.
You may consider either one of the above two. They have an affordable price and, in some cases, provide better performances than S1.
I have nothing left to inform you. Therefore, let's wrap it up here.
Conclusion
After going through my SuperEQ S1 review, I think you got a clear concept about their overall performance.
I have shared my own point of view, and it may vary from person to person as everyone has a different taste and perspective.
Yet, I believe that this writing will help you make the right decision.