Having a pair of headphones with great sound without spending much may sound like a dream. It is not impossible, though.
You may have asked, can a cheap headphone satisfy your high requirements for sound quality?
Your mind will change for sure once you know more about the Tascam TH-02 headphones.
It provides great features and well-balanced sound at such an affordable price.
Are you getting curious now?
Then don't delay. Just go through this Tascam TH-02 review.
Tascam TH-02 Review: A Budget Studio Headphone
At the very beginning, I would like to let you know about the important features of this Tascam headphone. See them at a glance.
At A Glance
Flat Frequency Response.
90 Degree Rotating Earcups.
Excellent For Studio Recording. ( Vocals Monitoring )
Excellent Audio Reproduction.
No Noise Isolation.
Cable Is Not Detachable.
Tascam TH-02 is an over-ear, closed-back headphone. This headphone is outstanding for home listening to studio monitoring.
Tascam makes a wide variety of headphones and speakers. If you want to know more about Tascam Brand, you can look at Tascam TH-200X, where I have described its brand overview.
At first, let's start with how was my first impression.
In The Box
When I first heard that Tascam released a low-budget studio headphone, I didn't waste any more time. I ordered this TH-02 headphone online.
When I received the parcel from the delivery man, I was so much excited. I got another studio headphone at such a low price!
I opened the box quickly and saw
The wired Tascam TH-02 headphone.
An attached cable.
A 1/4″ adapter.
A user manual.
A warranty card.
Tascam TH-02 manual gives all the instructions on how to use it.
Besides these, TH-02 doesn't provide any extra accessories, not even a carrying pouch.
I have included the cable details for your better understanding. Check it.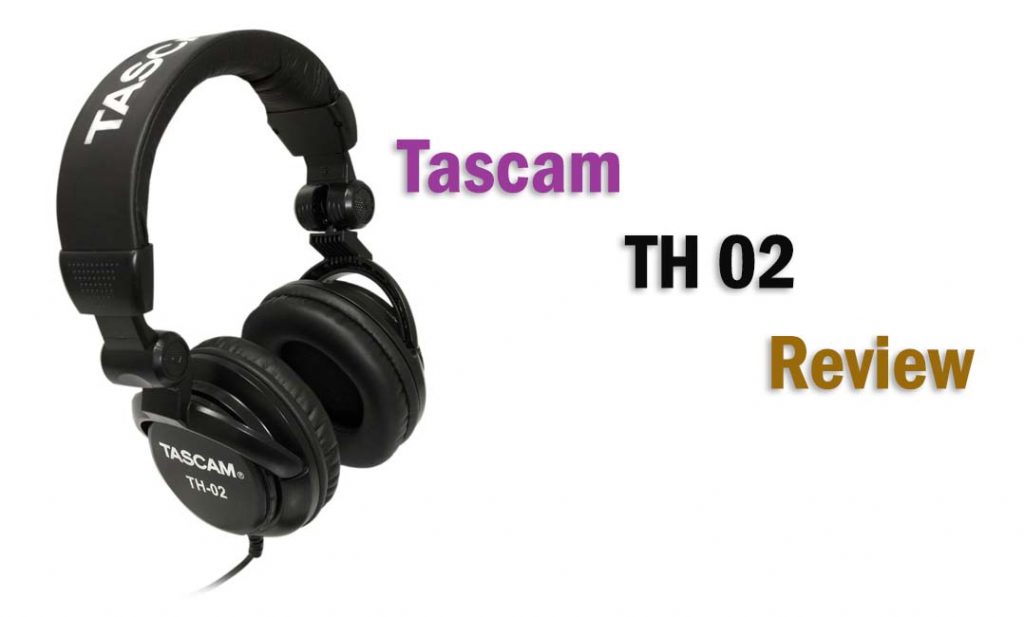 Cable Details
You know Tascam TH 02 comes with an attached cable with a 3.5mm audio jack. Unfortunately, the cable is not detachable.
The cable is straight, not coiled. Its length is 9.8 feet. So, it is long enough for comfortable moving.
The ¼" adapter makes this headphone compatible with most devices.
Now, let's see the specs and pros-cons of Tascam TH-02 in the twinkling of an eye.
Tascam TH 02 Specs
Headphone Type: Over-Ear, Closed-Back.
Driver: Dynamic 50mm.
Frequency Response: 18Hz-22kHz.
Sensitivity: 98 ± 3dB.
Impedance: 32 ohms.
Weight: 15 Ounces.
Color: Black.
Connector: Wired/3.5mm Audio Jack.
Cable Type: Straight.
Pros
Great Comfort.
Relatively Affordable.
No Sound Leakage.
Cons
Poor Build Quality.
Not Suitable For Big Heads And Ears.
You must want a headphone that can offer you great comfort. Who wants an uncomfortable headphone? So, let's find out about its comfortability.
How Much Comfortable?
Tascam TH02 is a comfortable pair of headphones. The earpads are very soft with nice faux leather.
It provides me extra comfort when wearing it for multiple hours (my ears are small).
The earcups are quite small, and they don't fit in bigger ears. They can't even cover the ears completely.
The small ear cups can make your ears warm after multiple hours if your ears are big. Once my friend was wearing this headphone, he felt the earpads hurt him ( his ear is bigger than average).
The earcups are 90 degrees rotating.
The headband has foam padding that is covered with cheap faux leather, not the same as earpads.
The headband also does not fit perfectly for those who have a large head.
The clamping force of Tascam TH 02 closed-back headphones is medium-light, which I personally prefer.
As it is a bulky wired headphone, you cannot listen by lying in bed. However, it is comfortable enough for wearing with glasses.
Overall I can say that it is a comfortable headphone for the average ear and head size.
Here comes the most important part of a headphone. Guess what it can be?
Yes, it is the sound profile. You will find every detail of its sound profile below.
Sound Profile
I was surprised to get such a neutral and well-balanced sound from this low-budget headphone.
When l was listening, the music sounded very crisp and clear. Also, it is suitable for all genres.
This TH-02 headphone allows you to hear every beat irrespective of the genres of music distinctly.
It has 50mm drivers, which you can rarely find in such low-priced headphones. The impedance is 32 ohms. It is also pretty good for this price point.
But that doesn't mean that its performance is similar to the performance of high-end headphones.
Overall the sound quality is extraordinary from this price point.
Frequency Response
The frequency response of Tascam TH-02 is 18Hz-22kHz. What a flatter frequency response it is!
This flat frequency response is better than many budget over-ear headphones.
You have to mind that the flatter the frequency response, the more pure the audio.
Bass Accuracy
The bass accuracy of Tascam TH-02 is good. The overall bass is quite boomy.
The bass delivery varies noticeably across the users and is sensitive to the quality of fit and seal.
The response here represents the average bass response, and your experience may vary.
Mid Range
The mid-range is decent and the overall response is very accurate.
But it is consistently overemphasized by about 4dB. This makes the sound noticeable at mid-range and brings vocals to the front of the mix.
Treble Accuracy
The treble performance of Tascam TH 02 is slightly excellent. I felt the highs are very natural and clear.
Soundstage
The soundstage performance is average.
As it is a closed-back headphone, the soundstage is relatively small. It feels like it is trapped inside the listener's head.
Sound Leakage
The sound leakage performance of Tascam TH-02 is decent. As an over-ear design, the earcups don't make sound leakage.
But if you listen to a loud volume in a quiet room, it might leak a little bit of sound.
Noise Cancelling
The Tascam TH-02 studio headphones don't come with Active Noise Cancellation. This headphone can not reduce ambient sounds.
But the over-ear closed-back design does a little bit of noise isolation but it's not enough.
You might hear all the sounds of airplanes and bus engines.
If you want a headphone with passive noise isolation, you may look at Sennheiser HD280 Pro. It can passively reduce plenty of ambient noise.
Microphone
If you are searching for headphones with a mic, Tascam TH-02 is not for you. This TH 02 doesn't come with a mic.
For a wired headphone with an excellent in-line microphone, you may check out the MAIRDI M USB Headset.
Build quality is another important feature that we need to check before buying a headphone. However, sometimes you need to compromise with it for other better features.
How Strong Is The Build Quality?
The build quality of Tascam TH02 is average at best. This headphone is totally made of plastic. The all-plastic design looks very cheap. Also, it is not very durable.
The hinges feel like they might break under moderate physical stress.
As the cable is not detachable and not replaceable, it may be torn apart by everyday use.
But the earcups are dense enough, and they won't get damaged from a couple of accidental drops.
If your headphone gets damaged within 1 year, don't be upset. Tascam committed you to give 1 year of hassle-free warranty.
Design
The overall look of the headphone isn't spectacular, but it looks pretty good to me.
The Tascam TH-02 has a generic design, with black color.
Let's know about its portability and stability now.
Are They Portable?
The Tascam TH 02 closed-back studio headphones are not great enough for portability. This headphone is bulky enough, and its weight is 15 ounces.
It is not lightweight at all.
But the compact and foldable design makes it somewhat portable.
You can carry it, but it won't be easy at all. You need an extra carrying bag for it.
Stability
It is not a stable headphone. You can use it for the studio, but It will quickly fall off your head if you use them while working out or doing any sports activities.
As it has a wired design with a non-detachable cable, it can slide off your head.
However, this headphone is slightly stable on the head for more casual activities and critical listening.
Is It Waterproof?
Tascam TH02 is not a pair of waterproof headphones, it is not even sweatproof.
If you want waterproof headphones, it is not for you. It is not ideal for swimming and shower time.
For a waterproof pair, you may go with TOZO T10 Earbuds.
Now, let's dig it to its compatibility.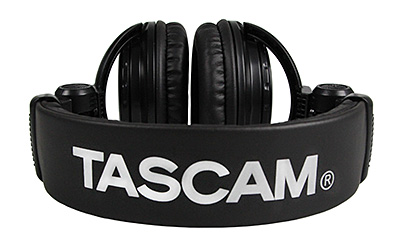 How Much Compatible With Other Devices?
The permanent 3.5mm audio jack and ¼" adapter makes the TH-02 more compatible with most devices.
Tascam TH-02 has excellent compatibility with Windows 10 and Mac. You can perfectly use it with Android, iPad but not with iPhone.
If you want to use it with iPhone, you need a third-party adapter.
How Much Suitable For Gaming?
Tascam TH 02 is not a professional gaming headphone but has an average performance for gaming.
This headphone doesn't have a mic or any app support. The range of its audio cable also limits it.
If you want to use this headphone for gaming, you can play, but you can hear only audio.
You won't be able to communicate with your team.
You can use this TH-02 headphone with PS4, Xbox One, Nintendo Switch only for listening.
You know the Tascam TH-02 headphones are studio-style headphones for studio monitoring.
But how ideal is it for studio use? You will get to know it right now.
How Much Suitable For Studio?
The Tascam TH-02 has decent performance for studio monitoring, especially for recording.
This headphone is superb for tracking instruments or vocals.
As it doesn't isolate background noise, it is not suitable for mixing.
This headphone is great for studio monitoring at this low price from my taste.
But don't expect a superior performance like high-priced headphones.
As it is a studio headphone, it won't be perfect for all purposes. Now I am going to reveal who should buy or skip these TH 02 headphones.
Who Should Buy This?
You know, at an affordable price, Tascam TH-02 performs great, from studio monitoring to home listening.
If you want a headphone that makes you immerse in the music world, TH 02 is great for that.
It is somewhat suitable for audiophile listening if you think of its price point.
If the voice chat is not needed, it is suitable for gaming also.
Who Might Skip It?
Do you want a headphone for commuting/traveling?
Then this headphone is not ideal for you. It can't prevent ambient noise, and most of all, it is not suitable for portability also.
Besides, you cannot use this headphone for outdoor sport, gym, cycling, running. Cause it is unstable for sport and high-intensity activities.
If you want a headphone for the everyday call, it is also not for you. You may go with Sony-WI-XB400.
This headphone is also not ideal for official use, zoom meeting, online teaching, or classes, as it has no mic.
Right now, I hope you have no question about the TH-02 headphone. So let's go for a comparison with other headphones.
Compare With Other Headphones
Comparision is also an important part that helps you understand the difference between TH-02 and other headphones.
1. Tascam TH-02 Vs Tascam TH-MX2
Tascam TH-02 and TH-MX2 both are over-ear closed-back headphones. TH-02 is suitable for recording tracks, while TH-MX2 is for mixing.
The TH-MX2 is more lightweight than TH-02.
Both are outstanding for their price point.
2. Tascam TH 02 Vs TH 03
There is no significant difference between Tascam TH 02 and TH 03. Both of the headphones are quite affordable.
They provide great sound quality. But the design and build quality of TH-03 is not as good as TH-02.
3. Tascam TH-02 Vs TH-05
Tascam TH 02 and TH 05 both are studio monitoring headphones.
TH-05 headphone provides a clear and balanced sound.
It is more flexible and comes with 180-degree cup rotation.
TH-05 is more comfortable than TH-02. Its portability is also better.
4. Tascam TH 02 Vs AKG K52
Both of them are over-ear closed-back headphones.
AKG k52 provides the perfect combination of sound quality, comfort, and durability. AKG k52 is more lightweight and durable than TH-02.
Overall, AKG k52 is somewhat better than TH-02.
5. Tascam TH-02 Vs Superlux HD 681
Tascam TH-02 and Superlux HD 681 both are over-ear headphones. The TH-02 is closed-back, while the Superlux HD 681 is semi-open-back.
The HD 681 has a self-adjusting headband and lightweight design for a comfortable fit.
It provides great noise isolation and minimal sound leakage.
Superlux HD 681 also comes with a carrying pouch and gold plated ¼" adapter.
6. Tascam TH-02 Vs Audio Technica M20X
Both are over-ear closed-back headphones for studio tracking. ATH M20X is good for mixing, while the 02 is for recording monitoring.
The M20X has circumaural design contours around the ears. It provides excellent sound isolation in loud environments.
It is also more lightweight than TH-02 studio headphones.
If you have a plan to buy Tascam headphones TH-02, let's see how worthy it will be.
How Worthy Is It?
If you want a headphone but never want to drop sufficient cash, Tascam TH-02 is ideal for you.
It provides a decent sound quality with a flat frequency response. These Tascam TH-02 recording studio headphones are suitable for critical listening.
Overall, if you compare this headphone with its price range, it will be worth buying.
Can't you choose the Tascam TH 02? Doesn't it seem suitable for you?
Don't worry.
I have come up with some alternative options for you.
Look below.
Alternative To Tascam TH-02 Headphones
You can go for……
Pick one out of these three if you need an alternative to Tascam TH-02 headphones.
Conclusion
Finally, you have got a clear concept of this headphone from my Tascam TH-02 review.
I shared my own experience with you from a neutral position. I hope it will help you make a wise decision.
If you think TH-02 is ideal for you, you can take it. Otherwise, you can go with an alternative.
I always respect your right choice.
Thanks For Reading This Article.